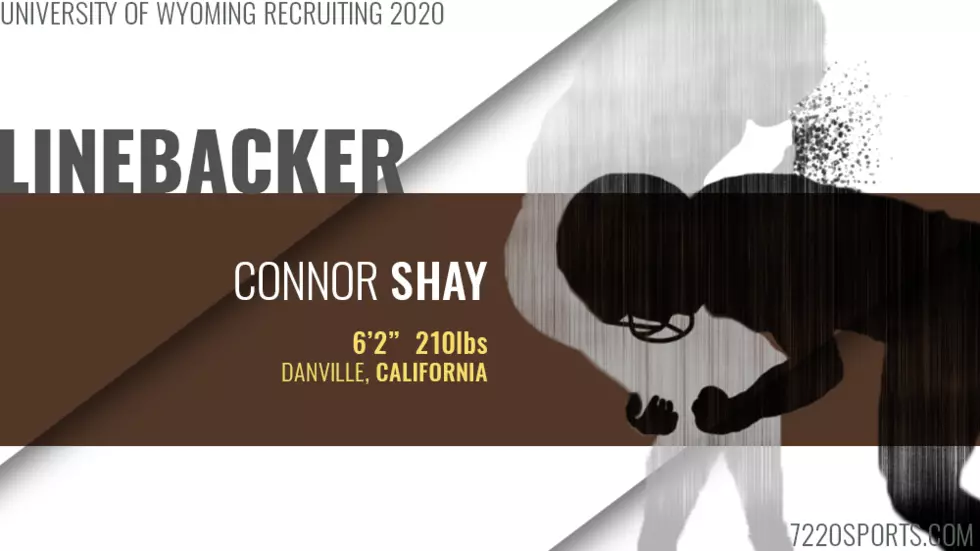 SHAY-FEB_FIXEDfeature-img
Height: 6' 2"
Weight: 210
High School: Monte Vista
Hometown: Danville, California
Position: Linebacker
Senior stats: 134 tackles, 11.2 tackles per game, 7 tackles for loss, sack
Also recruited by: Fresno State, Nevada, Utah, UNLV, Montana, Northern Arizona
Q: Why Wyoming?
A: I chose Wyoming because that's where I felt most loved out of all the schools I visited. I also love the cold weather and being in the mountains. I felt like I could make an impact at the school.
Q: What can fans expect you to bring to the table?
A: I will play Middle Linebacker and fans can expect me to be a play maker and make a lot of tackles.
Q: What other schools showed interest in you?
A: Other schools that showed interest and offered me were Utah, Nevada, Unlv, Fresno State, Montana and NAU.
Q: When did you visit and what are your thoughts on the facilities, coaching staff, players, fans?
A: I visited just last week and I was very impressed with the facilities and the campus. The coaching staff was awesome. I felt very comfortable around all of the coaches. The players were very welcoming and were people I would want to be around for the next four years.
Q: What are your thoughts on the current UW team?
A: My thoughts on the current UW team are very high. I feel it is a building program and it is only going to get better.
Q: What should fans know about you?
A: Wyoming fans should know that I am very hard worker and at the end of the day all I want is to win.
Q: Why did you wait until second signing day to make this decision?
A: I had to wait until the second signing day because I didn't have as many options before the first and I wasn't satisfied with my options. Wyoming didn't offer me until after the first signing day so I am very happy I was patient.