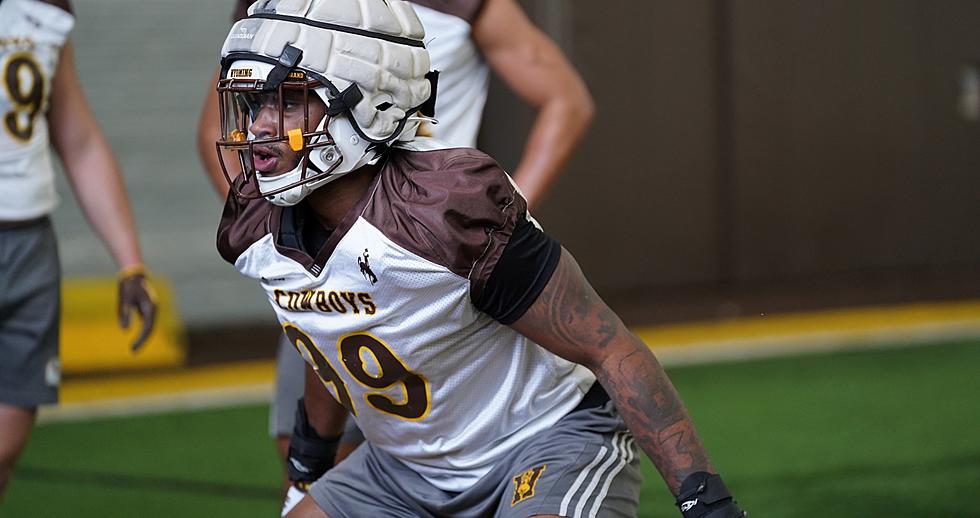 Pokes Practice Report: It's Go Time in Laradise
Wyoming defensive end Keelan Cox goes through drills in Laramie during one of the Cowboys' 15 spring practices./ UW courtesy photo
LARAMIE -- The snowflakes were the size of half-dollars Thursday afternoon inside War Memorial Stadium. Wet and heavy. And they were coming in sideways.
You know, the Laramie way.
Craig Bohl joked that he walked to work. He wasn't making the trek back.
"Needless to say, I'm going to have my wife come pick me up," Wyoming's head coach said with a grin. "Because I'm soft."
Bohl's team wrapped up its final practice of the spring -- inside the indoor practice facility, of course -- and the preparation for Saturday's annual Brown and Gold Spring Game is complete.
He once again stressed the importance of this outing, especially for the young players who litter this roster. It serves as a chance to slip that official jersey over your shoulder pads and run out of the tunnel. Bohl said this is also for the fans. He wants you to see what the Pokes have been working on. The plan isn't to open the entire playbook, but to show off the things he's been harping on: tackling, making contested catches and throwing the ball down field, among other things.
"There are some emerging guys, which, you know, we're really excited about," he added. "Hopefully they show up on game day. There's always a difference between what a guy does in practice, and then all of a sudden, what they do in a game."
I asked Bohl how he would split the teams up. The Gold team is mostly comprised of starters and experienced players on the offensive side of the ball. Same can be said for the Brown squad.
Bohl said it is 1's vs. 1's and 2's vs. 2's.
The Cowboys are slim at some spots, though, mainly at the offensive tackle position where three guys will fill four spots.
"I know the players and coaches are excited," he said. "I split up the coaches, so they always have fun with it, as well. And I get a chance to watch it from a bird's-eye view."
Kickoff is slated for 2 p.m. and entry is free. Want to tailgate? You can do that from 8 a.m. to 2 p.m. Parking is first come, first serve. The university is also throwing a "swag sale," emptying the team's closet for purchase. Vendors will be available inside the stadium, too.
Here are some other things we learned Thursday:
* While we don't have an official list, here are some guys who are expected to miss the spring game: Easton Gibbs, Shae Suiaunoa, Jakorey Hawkins, Cole Godbout, Frank Crum, DQ James, Caleb Cooley, Kaden Anderson, Cole DeMarzo, Caleb Driskill and Braden Siders. LJ Richardson, the redshirt freshman running back from Omaha, Neb., will be limited as he recovers from a hamstring injury, according to Bohl. Fellow ball carrier Harrison Waylee could also miss the spring game. The Northern Illinois transfer has some "knee swelling," Bohl added. "Hopefully, it's nothing that's going to exclude him for a long time," he said.
* This is a big outing for a number of players, but maybe none more so than quarterback Evan Svoboda. The UW staff has given him the lion share of the reps behind Andrew Peasley this spring. Now, they want to see if it translates to Saturday. "We think it's really important, but there's a body of work," Bohl said, referring to Svoboda's 15 prior practices. "But he's a primary guy ... You're playing in a game, how does the game feel? You know, there are fans in the stands, there's officials out here, coaches aren't on the field. You've got shot clocks, different personnel coming. So, it'll be important for him to show what he can do."
* Bohl once again praised Svoboda's arm talent, saying the sophomore can put the ball places that others can't. Sound familiar? "He's wearing No. 17. I'm not saying he's the No. 17, but it was a pretty bold statement for him to want that number," Bohl said of the 6-foot-5, 245-pound signal caller. "... Being an old defensive coordinator, there are certain areas of the field that you know, there's grass out there, nobody uses it. He can exploit it."
* Expect to see the ball handed to No. 22 a lot on Saturday. That guy is Sam Scott, the linebacker-turned-running back, who was forced to switch positions because of injuries right before the Arizona Bowl.
* Have any running backs established themselves as the opening day starter? Bohl mentioned two names right off the bat -- Dawaiian McNeely and Waylee. "We have a whole listing of guys," Bohl said. "But if you look at our system, we've really been much more effective when we have two big hitters."
Miss any of our UW football coverage? We got you covered:
* Here's what you need to know about Wyoming's spring football game
* Pokes Practice Report: Be careful when you question loyalty
* Caleb Cooley: 'It's hard to get that confidence back'
* Former Wyoming QB-turned-WR Gavin Beerup in the portal
* Pokes lose 240-lb RB, 4-star recruit to transfer portal
* Jayden Clemons: 'I definitely had to fight that demon'
* Pokes Practice Report: Who can make a play?
* Turns out, tough guys do come out of Orange County
* Wyoming's Craig Bohl still vows to develop despite P5 admiration
* Pokes lose three to NCAA Transfer Portal, overall count now at 12
LOOK: Pokes' unis through the years