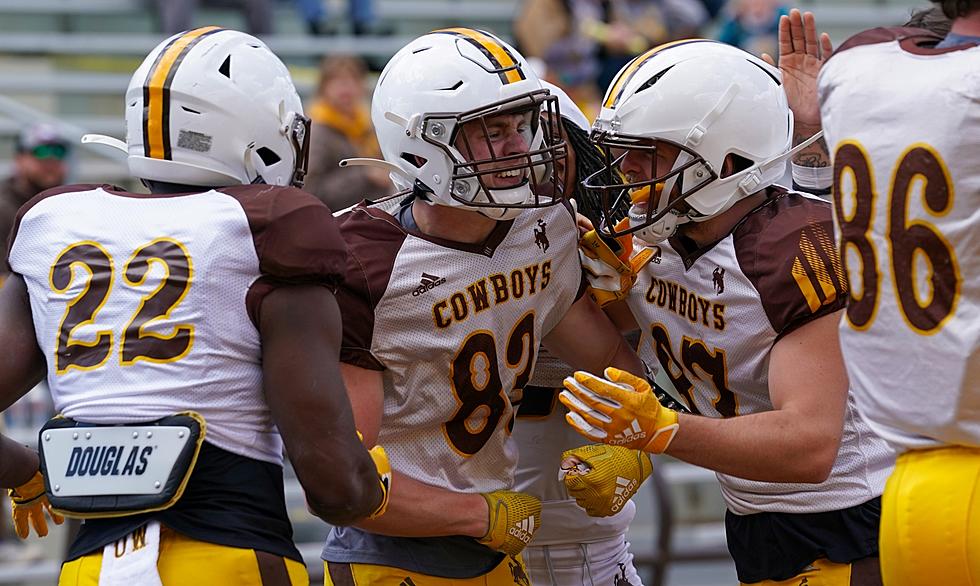 Here's What You Need To Know About Wyoming's Spring Football Game
Big Horn native Will Pelissier celebrates with his teammates after snagging a 34-yard touchdown reception from Levi Williams in Saturday's annual spring game./ UW courtesy photo
* University of Wyoming press release
LARAMIE -- The Wyoming Cowboy Football team will conclude their five weeks of spring practice on Saturday, April 29 when they will host the annual Brown and Gold Spring Game in War Memorial Stadium.
The game is scheduled to kick off at 2 p.m. on Saturday and is free and open to the public.
Fans Encouraged to Take Advantage of Tailgating Opportunity and Concessions on Saturday
The Ford Stadium Lot east of War Memorial Stadium will allow for open containers from 8 a.m. to 2 p.m. on Saturday.
Parking on Saturday is on a first-come, first-serve basis. Gates to the stadium will open at 1 p.m. with numerous concession options available to fans inside the stadium after 1 p.m. Most concessions will be located in the south end of War Memorial Stadium and some on the west side.
Swag Sale Prior to Saturday's Spring Game
University of Wyoming Athletics will conduct a SWAG Sale open to the public from Noon to 2:30 p.m. on Saturday in War Memorial Fieldhouse just west of the stadium. UW Athletics team apparel, shoes, t-shirts and novelty items will be available for purchase. All sales are final.
Autographs Following the Game
Immediately following Saturday's game, Cowboy players will be available for autographs in the north end zone.
Season Tickets on Sale
Season tickets for the 2023 Cowboy Football season are on sale now.
Fans who have not renewed, as well as fans wishing to purchase new season tickets can go online at GoWyo.com/tickets, call (307) 766-7220 or stop by the UW Athletics Ticket Office on the west side of the Arena-Auditorium.
On Saturday, UW Athletics Ticket Office staff will be in the ticket booth on the east side of War Memorial Stadium beginning at 1 p.m. to assist fans interested in purchasing season tickets.
Head Coach Craig Bohl's Philosophy on the Importance of Holding a Spring Game
Asked what he wants the public to see in Saturday's Spring Game, Bohl said, "I think it's important for our players to be able to play in front of our fans. Particularly for a younger player, even though it's not a game, it gives them a sense of what a game is like. I think it is important for our coaches to be on the sidelines, to have officials, game clock, players in game uniforms."
You'll notice that our Spring Game is one of the latest in the country to try and cooperate with Mother Nature and have a decent game with weather. I encourage our fans to come out and take the opportunity to embrace this football team. They're going to like this team. I personally like it, as well. You'll see guys play with great energy and class. There will be some unsung hero, probably from the state of Wyoming, who everybody gets fired up about. That is how "Big Horn" (Will Pelissier) made his splash a couple years ago.
MORE UW FOOTBALL NEWS VIA 7220SPORTS:
* Pokes Practice Report: Be careful when you question loyalty
* Caleb Cooley: 'It's hard to get that confidence back'
* Former Wyoming QB-turned-WR Gavin Beerup in the portal
* Pokes lose 240-lb RB, 4-star recruit to transfer portal
* Jayden Clemons: 'I definitely had to fight that demon'
* Pokes Practice Report: Who can make a play?
* Turns out, tough guys do come out of Orange County
* Wyoming's Craig Bohl still vows to develop despite P5 admiration
* Pokes lose three to NCAA Transfer Portal, overall count now at 12
"Thursday's practice will be in spiders and will be somewhat of a tune-up for the Spring Game. We think it's still important to have a Spring Game. I know a lot of schools have departed from that and do a showcase, but we think it is still important for players to go out and get the feel of what a game is like and to showcase to our fans and the media our team."
About the 2023 Wyoming Cowboy Football Team
Wyoming returns an impressive core of veterans from last season's 7-6 team that finished second in the Mountain West Mountain Division, earned a bid to the Arizona Bowl and defeated rivals Air Force, Colorado State, Hawai'i and Utah State along the way.
Among the returning veterans are all four of Wyoming's 2022 captains: linebacker Easton Gibbs, defensive tackle Cole Godbout, quarterback Andrew Peasley and tight end Treyton Welch. All four of those Cowboy captains have also earned All-Mountain West Conference honors during their careers.
Including the four team captains from last year, a total of 10 returning Cowboys received All-Conference recognition last season. Among the others are defensive tackle Jordan Bertagnole, offensive tackle Frank Crum, defensive end DeVonne Harris, place-kicker John Hoyland, punter Clayton Stewart and center Nofoafia Tulafono.
Hoyland was named Second Team All-American by Pro Football Focus (PFF) in addition to his All-Conference honors and was named one of 20 semifinalists for the Lou Groza Award that is presented to the nation's top collegiate place-kicker each season.
Cowboy defensive end Braden Siders is also returning after earning Honorable Mention Freshman All-America honors from College Football News (CFN) last year.
Exciting Seven-Game Home Schedule in 2023
The 2023 University of Wyoming Football season will kick off with a big home game on Saturday, Sept. 2 when the Wyoming Cowboys will host the Texas Tech Red Raiders from the Big 12 Conference in War Memorial Stadium. That will be the first of seven home games for the Cowboys in 2023.
Of those seven home games, five will be played in the first six weeks of the season.
In addition to hosting Texas Tech on Sept. 2, Wyoming will host: Portland State of the Big Sky Conference on Sept. 9, Appalachian State of the Sun Belt Conference (Sept. 23), New Mexico in UW's Mountain West opener (Sept. 30) and Fresno State (Oct. 7).  The only road game in the first six weeks of the season will be at Texas on Sept. 16 in Austin, Texas. The Cowboys other two home games in 2023 will be on Saturday, Nov. 4 vs. rival Colorado State and on Saturday, Nov. 18 vs. Hawai'i.
Keeping with its tradition of bringing exciting non-conference opponents to War Memorial Stadium, Wyoming's 2023 season opener vs. Texas Tech will mark the most recent in a series of top-level non-conference opponents that Wyoming has hosted over the past 20 years, including: Kansas of the Big 12 (2003), Ole Miss of the SEC (2004), Virginia of the ACC (2007), Texas of the Big 12 (2009), Nebraska of the Big Ten (2011), Oregon of the Pac-12 (2017), Washington State of the Pac-12 (2018), Missouri of the SEC (2019) and now Texas Tech of the Big 12 (2023).
The Texas Tech Red Raiders will be the first Big 12 team to visit Jonah Field at War Memorial Stadium since Texas in 2009. The only other time the Red Raiders have played in Wyoming's War Memorial Stadium was 1991. The Cowboys won that game, 22-17.
Texas Tech is coming off a 2022 season that saw them post an 8-5 record and defeat Ole Miss in the Texas Bowl to end the 2022 season.
2022 Mountain West Conference Champion Fresno State will visit Laramie on Saturday, Oct. 7. Rival Colorado State will be visiting War Memorial Stadium on Saturday, Nov. 4 for the 115th edition of the Border War.
Appalachian State visits Wyoming on Sept. 23. The Mountaineers have pulled off some of the biggest upsets in college football in recent years. Last season, the Mountaineers went on the road and defeated Texas A&M of the SEC in College Station, Texas, by a score of 17-14 and App State nearly defeated North Carolina of the ACC in its 2022 season opener before losing a heartbreaker, 63-61.
Just The Facts: Size Doesn't Matter For Wyoming's War Memorial Stadium
Did you know it would take the populations of
Gillette
(32,857),
Laramie
(32,381),
Rock Springs
(23,319),
Sheridan
(17,844) and Wright (1,200) to create a sellout inside Michigan's famed 107,601-seat
Big House
, the largest college football stadium in the nation?
For those of you not familiar with the
Cowboy State
, those are Wyoming's third through sixth most inhabited cities, along with the small mining town in Campbell County.
- Just The Facts: Size Doesn't Matter For Wyoming's War Memorial Stadium