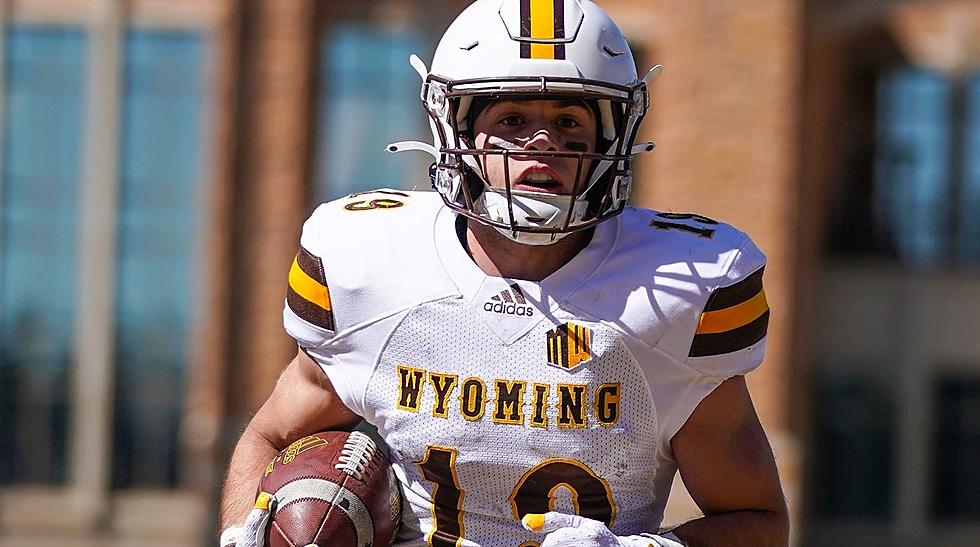 'It's Hard To Get That Confidence Back'
Wyoming's Caleb Cooley suffered a torn ACL early in the 2022 season. Now, he's on the comeback trail and closer than ever to being cleared./ UW courtesy photo
LARAMIE -- Trust.
That's one reason Caleb Cooley was handed punt-return duties late in the 2021 season. There's another far more simple example of why Craig Bohl felt comfortable throwing the junior-college product in the fire.
"He was always catching the ball," Wyoming's head coach said bluntly. "He is really, really talented at that. It will be great to have him back out there."
Cooley was handed that title once again last fall.
In the opener at Illinois, the Chico, Calif., native returned just one punt. He weaved his way to a 10-yard gain. He thought he was close to making a house call, he said with a grin. Elusiveness and speed is how you get a nickname like "Cobra."
There would be plenty of other opportunities.
Or so he thought.
Cooley's season came to an abrupt end on the soggy North 40 practice fields on a late September afternoon.
The Cowboys were having a rare mid-season practice on natural grass. A Trip to BYU was on the docket. That was the only game on the slate that didn't feature a synthetic field. He remembers hauling in a kick, making a cut and feeling that dreaded "pop."
His right ACL was toast. So was his lateral meniscus.
"I knew instantly," Cooley said. "I couldn't feel my right leg at all. I couldn't really stand."
The physical pain, he said, was dull. The mental anguish, though, was excruciating.
One by one, his teammates made their way over to him as he was loaded on a cart. Cooley said he tried to control his breathing. He squeezed his eyes shut. He didn't want to cry in front of them. The doctor did a quick field check. His face told the tale.
That bumpy ride back to the football facility seemingly took forever. So did last season.
MORE UW FOOTBALL NEWS VIA 7220SPORTS:
* Former Wyoming QB-turned-WR Gavin Beerup in the portal
* Pokes lose 240-lb RB, 4-star recruit to transfer portal
* Jayden Clemons: 'I definitely had to fight that demon'
* Pokes Practice Report: Who can make a play?
* Turns out, tough guys do come out of Orange County
* Wyoming's Craig Bohl still vows to develop despite P5 admiration
* Pokes lose three to NCAA Transfer Portal, overall count now at 12
All that downtime gave him a chance to reflect on his journey. Despite racking up 960 receiving yards and 14 touchdowns as a senior at Pleasant Valley High School, Cooley was overlooked in the recruiting process. It didn't matter that he was named a First-Team All-Northern Selection, there was still an issue -- he is just 5-foot-7.
"Of course, it shook me a little bit," he said last September, just a week before suffering that season-ending injury. "I just had to get over it, still do what I do and play the best that I can."
That first opportunity came just 17 miles down the road at Butte Community College.
During his one JUCO season, Cooley hauled in 26 catches for 229 yards and a score. He also returned kicks for the Roadrunners. Still, recruiters weren't calling. To make matters even worse, COVID-19 was spreading around the globe. His sophomore season at Butte was in serious jeopardy.
That's when Gordie Haug called.
"I was shocked," Cooley said of hearing from Wyoming's recruiting coordinator. "... It was the best thing ever."
Two weeks later he was on a plane heading for the Cowboys' spring game.
Trust.
That's what Cooley is currently trying to establish with his right knee. The three pink scars surrounding his kneecap serve as a constant reminder of the hardships he has faced over the last seven months.
While he hasn't been cleared to practice this spring, Cooley said he just started working on lateral movements. He's sprinting, too. June 30 -- the nine-month mark -- is circled on his calendar.
Yes, he's thought about what that first plant and cut will be like when he returns to action.
"It's tough because you worry about it not being stable still," the junior said. "It's hard to get that confidence back. That's why I think the process is so long, because you have to trust your knee again.
"I'm close. I'm getting there."
Will his job be waiting for him? That's the plan.
"It's an honor for coach Bohl to say he trusts me back there," Cooley added. "I love doing it and I'm excited for the season. Hopefully I can keep my job and do whatever I can for the team to help us win a Mountain West Championship."
LOOK: Pokes' unis through the years