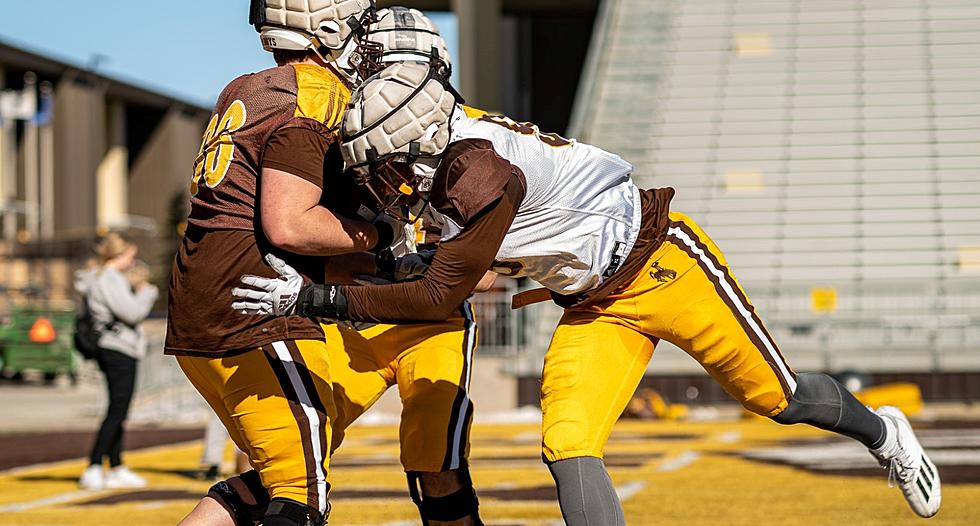 Pokes Practice Report: Who Can Make a Play?
Wyoming defensive end DeVonne Harris blows up an offensive lineman during a midweek practice in Laramie./ UW courtesy photo
LARAMIE -- Wyoming has an important dress rehearsal this Saturday.
Craig Bohl is looking for depth and playmakers.
The annual spring game, set for April 29 inside War Memorial Stadium, is all about the game-type atmosphere for this football team. This scrimmage is about evaluation heading into the offseason, according to the Cowboys' 10th-year head coach.
"This scrimmage will be important and will solidify some things," he said Thursday night. "While we may think we're thin at some spots, we're deeper than we have been and we have more proven players. So we'll look at those guys."
Bohl pointed to a player like nickel corner Wrook Brown. The then-freshman tallied 36 tackles last fall after stepping into a starting role at the midway point of the season. This staff knows what he can do.
What about Malique Singleton? Buck Coors?
"As we compose our football team going into next year, you're saying, 'OK, who's going to rise up?' Like say, for instance, we have three really good defensive ends -- who's going to be our fourth?" Bohl said.
Here are some other tidbits from Bohl's meeting with the media:
* Caleb Driskill suffered a potential MCL sprain in practice Thursday, per Bohl. The big fullback, he said, has been getting work at the tight end spot, too, this spring. The Gillette product is expected to miss the next couple of weeks. "(It's) too bad because he'd really become a weapon catching the ball," Bohl said. "... He has established himself as a guy to really have an impact." UW's head coach joked that with Driskill on the sidelines, the stands might be emptier in Laramie next weekend. "That'll probably hurt our spring-game attendance with the people from Gillette not coming," he said. "He's made great strides, but you know, (we're) a little bit disappointed for him."
* So, who fills in at fullback with Driskill on the shelf? Bohl said that responsibility has now fallen on the shoulders of Mountain View native Kimball Madsen. The 6-foot-1, 235-pound sophomore did not play last fall.
* Ben Florentine has a new nickname -- "Mustard gas." Bohl said those words Tuesday night in reference to the sophomore defensive tackle's toughness. You can read that entire story right HERE.
* The Cowboys spent a majority of Thursday practice doing goal-line work, according to Bohl. But what really impressed him -- brace yourself -- was the play-action passing game and throwing the ball downfield. "With Treyton (Welch) and John Michael (Gyllenborg), I think that can be really beneficial for us to utilize that," he said. You can read all about Gyllenborg's story HERE.
* On the defensive side, Bohl pointed to a pair of edge rushers. Those guys are Sabastian Harsh and DeVonne Harris. "Harsh is really progressing," he said, referring to a season-ending knee injury the sophomore sustained in fall camp in 2022. "It's good to see him playing with confidence." You can read all about Harsh's road to recovery right HERE.
* Bohl was blunt when asked about the progression of redshirt freshman tight end Isaac Schoenfeld. "I didn't think he scrimmage real well on Saturday," Bohl said of the Rock Springs product. "... He had shown good things in practice and last scrimmages kind of went out. He did not operate at the level (we need him to), so I challenged him today and he had a really good practice. I said, 'what we're seeing today, you need to do come Saturday when the lights are on.'"
* Frank Crum was in pads Thursday for the first time this spring. The big right tackle has been dealing with an unspecified ailment that has limited him to a coaching role this April. While he is not a full go, he told me it feels good to be back on the field. "A lot of sixth-year guys would do everything they could not to go through spring football, and he's like breathing down everybody's neck to get out there," Bohl said.
* Wyoming's spring game is slated for a 2 p.m. kickoff next Saturday.
MORE UW FOOTBALL NEWS VIA 7220SPORTS:
* Turns out, tough guys do come out of Orange County
* Wyoming's Craig Bohl still vows to develop despite P5 admiration
* Pokes lose three to NCAA Transfer Portal, overall count now at 12
* Cole Godbout prepping for final ride in Laramie
* Wyoming QB Hank Gibbs entering NCAA Transfer Portal 
* Potential Landed an Untapped John Michael Gyllenborg at UW
* DQ James on fallen teammate Tony Evans Jr: 'I think about him a lot'
* Wyoming's staff sticks with Texas QB despite two ACL tears
University of Wyoming's Top 50 Football Players
The rules are simple: What was the player's impact while in Laramie? That means NFL stats, draft status or any other accolade earned outside of UW is irrelevant when it comes to this list.
This isn't a one-man job. This task called for a panel of experts. Joining 7220's Cody Tucker are Robert Gagliardi, Jared Newland, Ryan Thorburn, and Kevin McKinney.
We all compiled our own list of 50 and let computer averages do the work. Think BCS -- only we hope this catalog is fairer.
Don't agree with a selection? Feel free to sound off on our Twitter:
@7220sports
- #Top50UWFB
- University of Wyoming's Top 50 Football Players