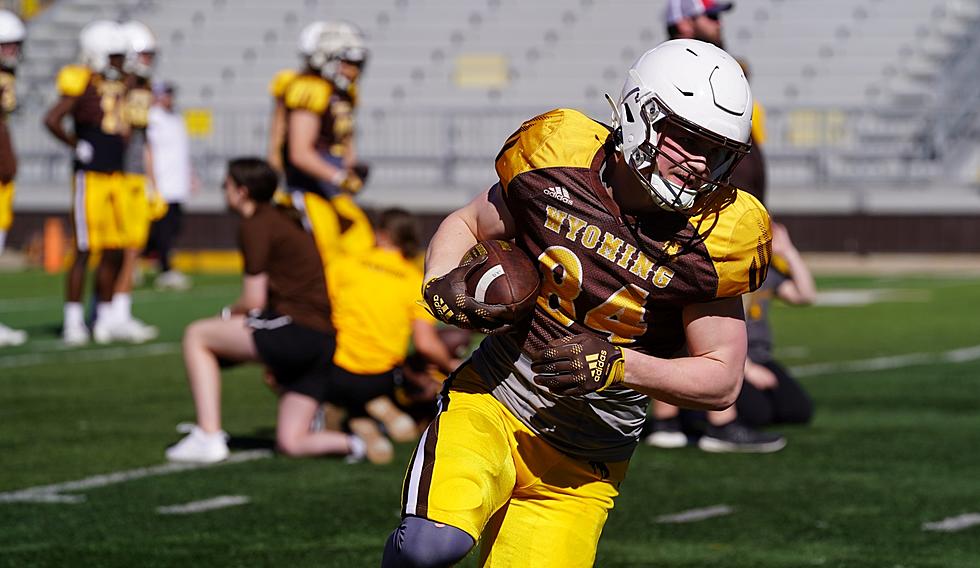 Potential Landed an Untapped John Michael Gyllenborg at Wyoming
Wyoming tight end John Michael Gyllenborg hauled in three passes for 21 yards during the 2022 season, all coming in the finale against Fresno State./ UW courtesy photo
LARAMIE -- Don't bother looking for John Michael Gyllenborg's high school football stats.
You'd have better luck spotting bigfoot in Lock Ness Lake.
There's a perfectly valid reason for that, too. Before arriving in Laramie in the fall of 2020, Wyoming's 6-foot-5, 243-pound tight end had appeared in just three football games in his life that didn't involve wearing flags around his waist.
That sample size came during his senior year at Rockhurst High School where he says he caught "three or four touchdowns" before suffering a torn lateral collateral ligament in his left knee that would sideline him for the remainder of the season.
So excuse Gyllenborg if he gets a little sheepish when hearing the news that his head coach has been singing his praises early in spring camp. It's not that he doesn't appreciate the compliments, he just wants to keep things in perspective.
"It's definitely good to hear, as a young guy, but I don't want it to get in my head too much," the sophomore said. "It definitely boosts my confidence just knowing the coaching staff and the head man has enough confidence to say that to people outside the team.
"I just want to keep it out and not let it get in my head."
Why is Craig Bohl so high on a guy with three career catches for 21 yards, all of which came in last year's regular-season finale at Fresno State?
Potential.
No one word better describes Gyllenborg's ascent to the FBS level.
"He really challenged our defense when he was running scout team. I mean, he made a lot of plays," Wyoming's 10th year head coach said. "Sometimes a guy can run off cards and just look at arrows (in practice), but he made some plays out there. But getting in and getting involved in a big time game like that gave him a sense of, 'OK, I belong.'"
MORE UW FOOTBALL NEWS VIA 7220SPORTS:
* DQ James on fallen teammate Tony Evans Jr: 'I think about him a lot'
* Wyoming's staff sticks with Texas QB despite two ACL tears
* Wyoming's Connor Shay vying for starting linebacker spot
* Sam Scott has found a permanent home in Pokes' backfield
* Pokes Practice Report: Does Wyoming finally have cornerback depth?
* War Memorial Stadium upgrades to begin this fall
* Wyoming's newest running back looking for larger role in Laramie
Bohl called Gyllenborg explosive and said he has the capability to stretch the field vertically. That responsibility once fell on the shoulders of Treyton Welch.
"He's put on some good lean muscle mass and he can run," Bohl added. "He has really good hand-eye coordination. We're going to utilize him this next year."
That's the plan.
Offensive coordinator Tim Polasek used the word "raw" when describing the Leawood, Kan., product. His blocking -- a major component of his position, especially in the Cowboys' run-first scheme -- needs work. His route running is also untapped.
That comes with experience.
"He's so big and strong and fast," Polasek said. "His ability to put pressure on people is going to afford him a lot of opportunities. You know, quite frankly, at Fresno State he should have probably had another 15 yards in hidden depths of routes."
Gyllenborg will be the first one to tell you he is a work in progress.
After all, his focus used to be reserved for spotting fast balls and hitting mid-range jumpers. The only reason he even gave football a second thought was constant convincing of a new head coach and his desire to be more physical on the hardwood, he said.
An offseason prep combine put him on the recruiting radar. He "earned" a three-star rating, though Gyllenborg, then a wide receiver, admits he "hadn't done anything" and didn't even know what a hitch route was.
"I watch my film sometimes and I look kind of goofy -- like really goofy, actually," he said with a grin. "But you could see I'm pretty fast and tall and big. I have naturally pretty good hands from baseball, I presume. I was definitely raw."
A devastating season-ending injury derailed his opening act on the gridiron, but he proved something to himself.
"I think I can actually do this," he said. "Wyoming gave me the opportunity and I'm forever grateful for it."
LOOK: Pokes' unis through the years