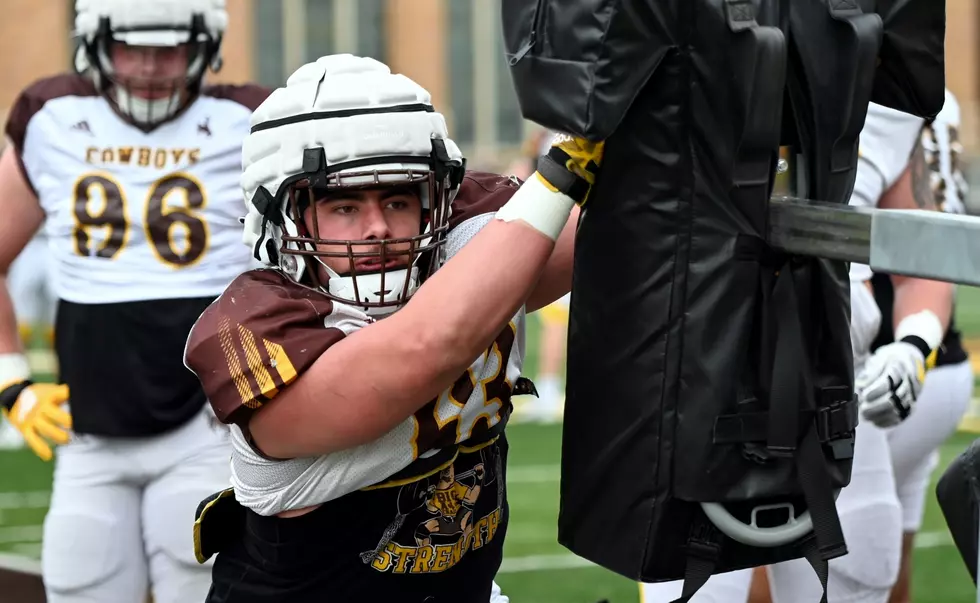 Turns Out, Tough Guys Do Come Out Of Orange County
Defensive tackle Ben Florentine hammers a blocking sled during a drill last Tuesday in Laramie./ DJ Johnson photo
LARAMIE -- Orange County?
But he's a tough guy.
"OK, I'm stereotyping," Craig Bohl joked when asked how Ben Florentine, a native of Anaheim, Calif., made his way to Laramie to play college football. "... He's stronger than mustard gas, plays hard and has great technique."
There's no pigeonholing this SoCal kid. He just doesn't fit the mold.
"He's come up to me and said that a couple of times," the 6-foot-1, 268-pound sophomore said. "I say, 'coach, you might as well quit saying that because that isn't me. We get a good laugh out of it."
If you're looking for an example of Florentines' toughness, you've come to the right place.
The walk-on said he engaged an offensive lineman on a four-play set during a live scrimmage in Week 4 of the 2022 season. Immediately, he knew something was amiss with his right pointer finger. He couldn't bend it. Was he in pain? A little, he said, but that was only the second snap.
Florentine wasn't leaving the field.
When it was time to rotate out, he made his way to the sideline. It was time to assess the damage. It wasn't pretty.
"Blood poured out. It was gross," he said. "This was an open dislocation and basically everything was out. The bone, the tendon. I had to get it repaired and now it's fat like this forever."
That image hasn't been lost on his teammates and coaches, either.
"I was pretty disgusted," fellow defensive tackle Gavin Meyer said. "I'm not one to shy away when I see blood, but when I saw that, it was a runaway, queasy look and feel."
"You know, it was one of the few things I've seen that you're not wanting to put in your memory box," said his position coach, Oscar Giles.
That gruesome injury would cost Florentine three weeks worth of practice time.
Only three weeks?
"I couldn't stand being out," he said. "It was just my finger, so I felt like I could just club it up."
MORE UW FOOTBALL NEWS VIA 7220SPORTS:
* Wyoming's Craig Bohl still vows to develop despite P5 admiration
* Pokes lose three to NCAA Transfer Portal, overall count now at 12
* Cole Godbout prepping for final ride in Laramie
* Wyoming QB Hank Gibbs entering NCAA Transfer Portal 
* Potential Landed an Untapped John Michael Gyllenborg at UW
* DQ James on fallen teammate Tony Evans Jr: 'I think about him a lot'
* Wyoming's staff sticks with Texas QB despite two ACL tears
* Wyoming's Connor Shay vying for starting linebacker spot
* Sam Scott has found a permanent home in Pokes' backfield
Where does this crazy determination originate? For one, despite being a First-Team All-Trinity League selection out of one of the nation's top prep programs, Servite High School, Florentine's phone wasn't exactly ringing off the hook with offers. A pandemic-shortened 2020 campaign didn't help matters. Games were limited. The season didn't start until March, either.
Wyoming always stuck out to him, he said. So, after an unofficial -- and uninvited -- trip to Laramie with his parents, Florentine was sold. He was attracted to the mountains and small-town atmosphere. He loved that it wasn't California.
So, naturally, he pestered. That persistence paid off.
"I kept sending my film on Twitter and all that stuff," he said with a grin. "They finally gave me a preferred walk-on."
Florentine was buried on the depth chart last year behind two of the top tackles in the Mountain West, Cole Godbout and Jordan Bertagnole. Gavin Meyer emerged when injuries decimated that unit. So did Caleb Robinson. Ethan Drewes, a transfer from Northern Colorado, and Florentine mainly manned the scout team.
That all changed when Boise State came to town in late November.
Florentine finally got his opportunity. Though he didn't register a stat in that heartbreaking loss to the eventual Mountain Division champions, he proved to himself he was meant to be here.
Florentine tallied his first solo tackle in the Cowboys' regular-season finale at Fresno State.
He didn't surprise everyone.
"That man is one of the hardest workers on the team," Meyer said. "I'm really proud of him for where he's come from. He's kept his head down and worked to get where he is. He has a lot of natural ability and I think that shows every day in practice."
"Ben has really been a spotlight this spring," Giles added. "I'm proud of him. He's come back strong."
The rotation in the defensive trenches should be deep this fall, but make no mistake, Florentine's plan is to be in it. With Godbout sidelined this spring and Drewes making the move to the offensive line, reps have been plentiful. Florentine is taking full advantage. He now also has some experience, which has only fueled his fire even more.
"It meant a lot, honestly, because all of last season was a grind," he said. "To get that feeling to finally get in in my first couple games was a good feeling. Having that under my belt going into this year makes me really ... it's a confidence booster, for sure."
Florentine is hellbent on cracking the lineup. He has another dangling carrot, too -- earn a scholarship.
"That's for sure the goal," he added.
LOOK: Pokes' unis through the years