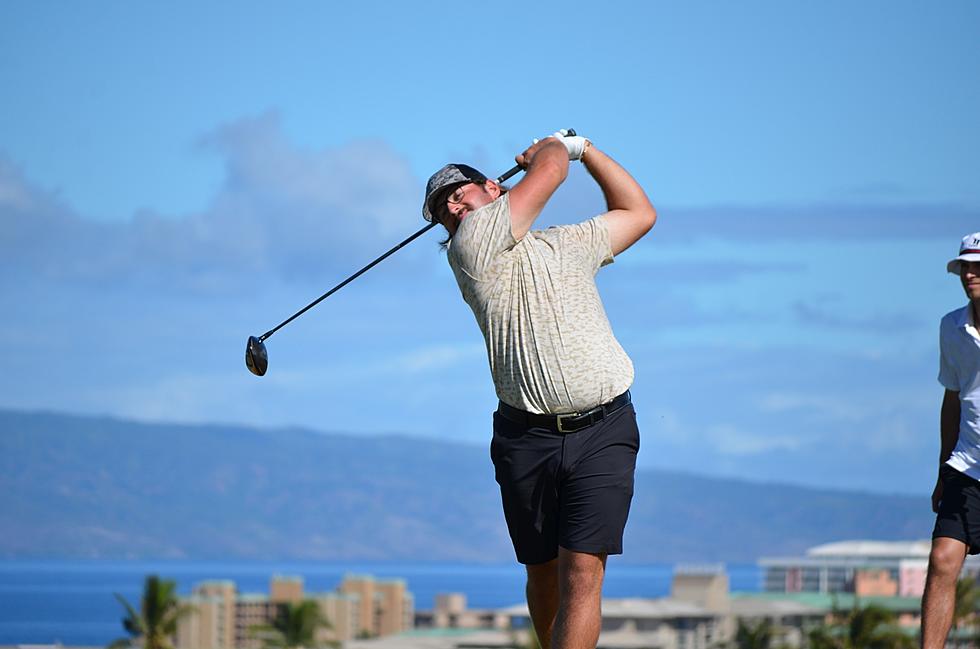 Cowboy Golfers Shoot Lowest Round of the Week
Saturday marked the final round of the 2023 Ka'anapali Classic Collegiate Invitational in Maui, Hawai'i and the Wyoming Cowboys saved their best round of the tournament for last as they fired a seven-under par round of 277 to finish 16th in the field of 20 teams./ UW courtesy photo
* University of Wyoming press release
LAHAINAL, Maui -- Saturday marked the final round of the 2023 Ka'anapali Classic Collegiate Invitational in Maui, Hawai'i and the Wyoming Cowboys saved their best round of the tournament for last as they fired a seven-under par round of 277 to finish 16th in the field of 20 teams.
Wyoming had three individuals also shoot their low rounds of the tournament. Graduate Jimmy Dales posted a 66 (-5). Junior Kristof Panke shot a 67 (-4), and freshman Evan Johnson, who played as an individual in the tournament, fired a 68 (-3).
Dales finished the week tied for 47th at 210 (-3)and Panke tied for 52nd at 211 (-2). They were the two Cowboys to finish the tournament under par.
Cowboy juniors, Jaren Calkins and Davis Seybert, tied for 71st and 75th, respectively, posting totals of 215 (+2) and 216 (+3). True freshman Noah Wagner made his first appearance in the starting lineup this week and finished with a 54-hole total of 238 (+25) to finish in 119th place. Freshman, Johnson, tied for 98th at 221 (+8).
"I'm proud of the guys," said Joe Jensen, Wyoming Director of Golf. "Jimmy (Dales) and Kristof (Panke) played well today, as did our freshman Evan Johnson. They all shot final rounds in the 60s. Shooting seven-under today as a team against a good field is a real positive to end our fall season. I wanted us to finish with a good final round, and we did that today. Finishing the tournament at even par was another positive way for us to finish the fall season. I also liked the experience our two freshmen got this fall season and this week particularly with our top player Patty (Pat Azevedo) out due to injury."
East Tennessee State and Oklahoma entered Saturday's final round tied for second and trailed tournament leader Liberty by five strokes. Both East Tennesse State and Oklahoma fired final rounds of 271 (-13) for three-round totals of 810 (-42) to move past Liberty, which shot a final round of 279 (-5) and finished third at 813 (-39). Oklahoma's Luke Kluver posted a final round of 64 (-7) on Saturday to improve his 54-hole total to 195 (-18) and held off Mats Ege of East Tennessee State, who finished second at 198 (-15).
This year's Ka'anapali Classic was played in support of Maui Wildfire victims, who suffered catastrophic fires in early August 2023. Funds raised by teams, alumni and fans will directly benefit families who lost their homes, including associates of the Ka'anapali Golf Courses who lost everything. The fundraising efforts during the tournament were done in partnership with 501(c) 3 organizations Spare for Change and Member for a Day.
To donate go to: https://go.memberforaday.co/kaanapaliclassic/Campaign/Details
The Ka'anapali Classic Collegiate Invitational was played at the Royal Ka'anapali Course in Lahaina, Maui, Hawai'i. The course measured 6,700 yards and played to a par 71.
Team Standings
1. East Tennessee State 272-267-271=810 (-42)
Oklahoma 272-267-271=810 (-42)
3. Liberty 262-272-279=813 (-39)
4. North Florida 276-269-271=816 (-36)
San Jose State 269-277-270=816 (-36)
6. Georgia 266-285-270=821 (-31)
7. CSU - Northridge 288-280-264=832 (-20)
8. Kansas 280-277-277=834 (-18)
9. Hawaii 273-278-285=836 (-16)
10. Clemson 288-276-275=839 (-13)
11. Sacramento State 276-281-283=840 (-12)
12. Louisiana 280-282-280=842 (-10)
Boise State 277-278-287=842 (-10)
14. Gonzaga 285-278-284=847 (-5)
15. Connecticut 280-290-281=851 (-1)
16. Wyoming 284-291-277=852 (Even)
17. Colorado 288-293-272=853 (+1)
18. Denver 288-291-281=860 (+8)
19. Mount St. Mary's 290-295-283=868 (+16)
20. Air Force 291-295-293=879 (+27)
Wyoming Cowboys
T47 Jimmy Dales 71-73-66=210 (-3)
T52 Kristof Panke 73-71-67=211 (-2)
T71 Jaren Calkins 70-72-73=215 (+2)
T75 Davis Seybert 70-75-71=216 (+3)
119 Noah Wagner 82-79-77=238 (+25)
Wyoming Cowboys Playing as Individuals
T98 Evan Johnson 74-79-68=221 (+8)
From Bison to Triceratops - All of Wyoming's Official Things
Every state in our nation has chosen things that represent the state in one way or another to be official state things. Like a flower, or animal.
Wyoming
is no different.
The Equality State, or the Cowboy State, depending on which state slogan you want to go with, has a state flower. But did you know we also have a state tree and a state fish? Yes, we even have a state code.
To be an official thing, a member of the state legislature must write and submit a bill to the legislature declaring that a thing will be the official state thing. Then the legislature votes to pass the bill, or not, if it passes, the governor signs the bill into law and we have a new official state thing.
Here is what we have so far, all of Wyoming's official things. Now you can win big on Wyo Trivia Night if that's a thing that exists.
Gallery Credit: Ben Kuhns
- From Bison to Triceratops - All of Wyoming's Official Things