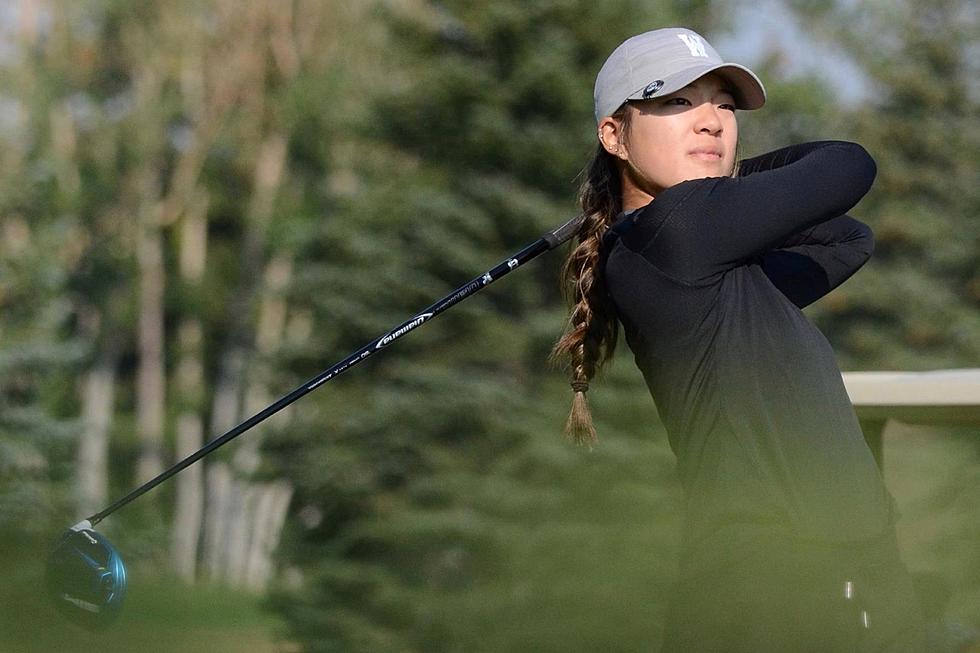 Cowgirl Golfers Conclude Play at Red Rocks Invitational
The Wyoming Cowgirl Golf squad wrapped up play at the Red Rocks Invitational on Sunday at the Oak Creek Country Club in Sedona, Arizona./ UW courtesy photo
* University of Wyoming press release
SEDONA, Ariz., – The Wyoming Cowgirl Golf squad wrapped up play at the Red Rocks Invitational on Sunday at the Oak Creek Country Club in Sedona, Arizona. A pair of Cowgirl golfers finished the weekend inside the top 50 while Wyoming finished 16th in the team standings.
"Really good week of competition for both Meghan and Jadan in back-to-back events. Unfortunately, as a team we did not play the way we know we can," UW head women's golf coach Josey Stender said. "We have a lot to learn and have positive takeaways from two very different results with a lot of season left."
The duo of Meghan Vogt and Jadan Gonzalez were the top finishers for the Cowgirls on the weekend with each of them finishing tied for 39th with a three-round total of 227 (+11). Morgan Ryan shot a third round of 78 (+6) brining her three-round total to 233 (+17) putting her in a tie for 66th. Rounding out the Cowgirl lineup, Samantha Hui and Sophie Spiva finishes tied for 71st and 95th respectively.
Competing as an individual, Grace Dunkleberger closed out the tournament with her best round of the weekend shooting a 72 (E) to finish tied for 66th with a three-round total of 233 (+17). Also competing as an individual, Rachel Stoinski finished the weekend tied for 71st.
As a team, the Cowgirls finished in 16th with a score of 921 (+57) coming in two strokes ahead of Utah Tech and just one stroke behind Southern Utah. Navy captured the team title with a score of 880 (+16) finishing four strokes ahead of second place Grand Canyon. Gonzaga rounded out the top three finishing one stroke behind GCU.
Up next for the Cowgirls will be an idle week as they prepare to host they Wyoming Cowgirl Classic in Maricopa, Arizona at the AK-Chin Southern Dunes golf course April 3-4.
Team Results
1. Navy 880 (+16)
2. GCU 884 (+20)
3. CSU-Fullerton 885 (+21)
4. Gonzaga 886 (+22)
5. Weber State 887 (+23)
6. Delaware 891 (+27)
T7. Northern Arizona 895 (+31)
T7. CBU 895 (+31)
9. Creighton 899 (+35)
10. Illinois State 903 (+39)
11. Idaho 905 (+41)
12. Eastern Washington 911 (+47)
13. Wichita State 913 (+49)
14. Northern Colorado 914 (+50)
15. Southern Utah 920 (+56)
16. Wyoming 921 (+57)
17. Utah Tech. 923 (+59)
18. NDSU 928 (+64)
19. Montana 937 (+73)
20. Towson 948 (+84)
Cowgirl Results
T39 – Jadan Gonzalez – 76+75+76= 227 (+11)
T39 – Meghan Vogt – 75+60+73= 227 (+11)
T66 – Morgan Ryan – 77+78+78= 233 (+17)
T71 – Samantha Hui – 76+79+79= 234 (+18)
T95 – Sophie Spiva – 77+86+80= 243 (+27)
Cowgirls Playing as Individuals
T66 – Grace Dunkleberger – 83+78+72= 233 (+17)
T71 – Rachel Stoinski - 78+77+79= 234 (+18)
From Bison to Triceratops - All of Wyoming's Official Things
Every state in our nation has chosen things that represent the state in one way or another to be official state things. Like a flower, or animal.
Wyoming
is no different.
The Equality State, or the Cowboy State, depending on which state slogan you want to go with, has a state flower. But did you know we also have a state tree and a state fish? Yes, we even have a state code.
To be an official thing, a member of the state legislature must write and submit a bill to the legislature declaring that a thing will be the official state thing. Then the legislature votes to pass the bill, or not, if it passes, the governor signs the bill into law and we have a new official state thing.
Here is what we have so far, all of Wyoming's official things. Now you can win big on Wyo Trivia Night if that's a thing that exists.
- From Bison to Triceratops - All of Wyoming's Official Things