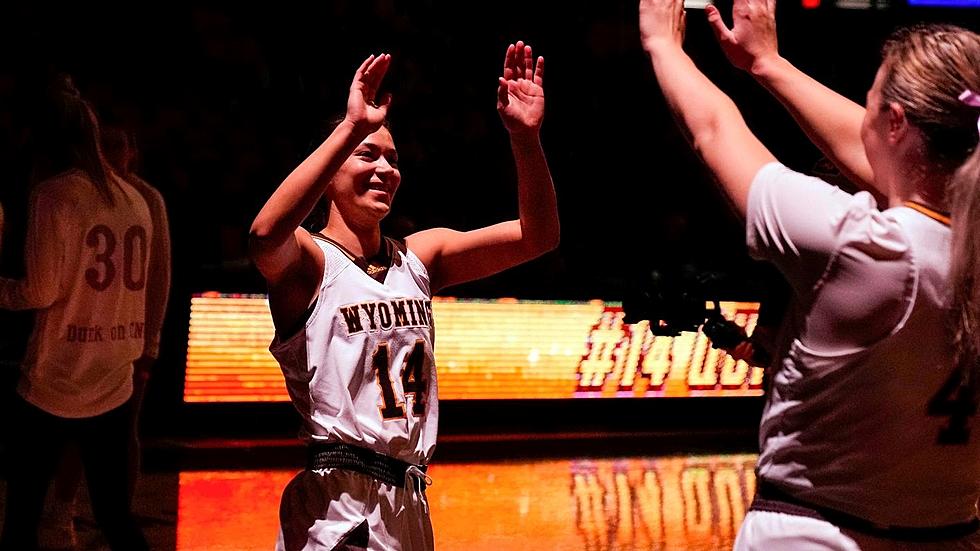 Cowgirls Open Final Week of Regular Season Thursday in Laramie
The Wyoming Cowgirls open their final week of regular season play with a pair of home contests this week. The Cowgirls open play with a 6:30 p.m., contest Thursday against Nevada./ UW courtesy photo
* University of Wyoming press release
LARAMIE -- The Wyoming Cowgirls open their final week of regular season play with a pair of home contests this week. The Cowgirls open play with a 6:30 p.m., contest Thursday against Nevada. UW begins enters its final two games in a three-way tie for second place in the Mountain West standings.
Thursday's game will be broadcast live on the Mountain West Network and can be heard across the Cowgirl Radio Network with David Settle on the call.
ABOUT THE COWGIRLS
Wyoming (18-9, 11-5 MW) is coming off a come-from-behind 70-58 victory over San Diego State Saturday in California. The Cowgirls shot nearly 80-percent (19-of-24) from the field in the second half of Saturday's contest to erase a 12-point halftime deficit and scored 50 points in the game's final 20 minutes. The 50 points scored are the most in a single half for UW since scoring 52 in the first half against Mississippi Valley State in December of 2019. The 12-point deficit at the break, was the largest deficit overcome by the Cowgirls since they rallied from 14 down against Utah State at the 2020 Mountain West Tournament.
Allyson Fertig, who was named the Mountain West Player of the Week for the second time this season Monday by the league office, scored 20 points, grabbed nine rebounds, tied a career-high with four assists and had three blocks in the victory. Fertig, who shot 9-of-14 from the field, recorded her second consecutive 20-point performance and fourth of the season. In Wyoming's last four games, Fertig is averaging 20.8 points and nearly eight rebounds per game while blocking three shots per. Fertig is also shooting 35-of-44 (79.5-percent) from the floor and is 13-for-17 at the free-throw line during that stretch.
A trio of Cowgirls are averaging in double figures during league play this season and are led by Fertig's 14.5 points per game on nearly 63-percent shooting. Quinn Weidemann is averaging 11.1 points per game and along with Emily Mellema, leads Wyoming with 1.1 steals per contest. Malene Pedersen is also in double-figure scoring at 10.8 points a contest while averaging four rebounds and 2.7 assists per contest and is shooting 48-percent from the field and 97-percent from the charity stripe.
Tommi Olson enters the final two games of the regular season leading the Cowgirls with three assists per game in Mountain West action and has a team-leading 21 3-pointers on 45.7-percent shooting from beyond-the-arc. Off the bench, Mellema leads UW reserves with 6.7 points per game while Tess Barnes is at 4.3 per and has hit 40-percent of her 3-pointers. As a team, Wyoming is scoring nearly 66 points per game on 46.2-percent shooting and 81.8-percent from the free-throw line. The Cowgirls averaging 14.7 assists per game and is out-rebounding their opponents by nearly nine boards per contest in league play.
SCOUTING NEVADA
Nevada is well-balanced offensively, as three players are averaging double-figures in scoring and have five that score nine-plus per game. Audrey Roden leads the Wolf Pack with 10.8 points per game. Alyssa Jimenez is averaging 10.5 per contest and leads Nevada with 59 assists, 45 steals, 15 blocks and 6.3 rebounds per contest. Lexie Givens is averaging 10.3 points and 6.2 rebounds per game. Victoria Davis and Megan Ormiston average 9.4 and 9.0 points per game, respectively.
As a team, the Wolfpack averages 65.2 points per game and are allowing 67.6 a contest. Nevada shoots it at a 39.7-percent clip and 32-percent from 3-point range. Opponents are shooting 42.2-percent overall and 30.4-percent from beyond-the-arc. Nevada averages nearly five more turnovers per game than assists and is outrebounding its opponents by one a contest. The Wolf Pack are 2-7 on the road in 2022-23 with both wins coming during conference play.
SERIES HISTORY AGAINST NEVADA
Wyoming leads the all-time series 22-9 and is 12-1 in Laramie. The Cowgirls won the last meeting at home, 62-53 in January of last season. That contest was the lone meeting between the two teams in 2021-22. Earlier this year, the Cowgirls won 57-53 in Reno. Fertig and Mellema led UW with 16 points each in the victory while Pedersen added 15.
30 Wyoming Attractions To Visit