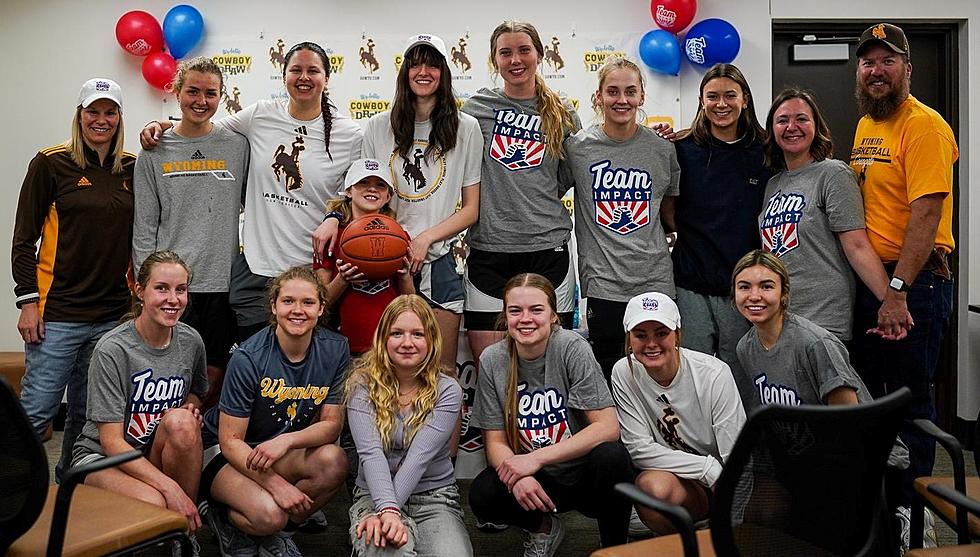 Cowgirls Sign Josie Sharpe Through Team IMPACT
Wyoming Women's Basketball Head Coach Heather Ezell has announced the signing of Josie Sharpe through Team IMPACT./ UW courtesy photo
* University of Wyoming press release
LARAMIE -- Wyoming Women's Basketball Head Coach Heather Ezell has announced the signing of Josie Sharpe through Team IMPACT.
Josie spent the 2022-23 season with the Cowgirls and on Tuesday, officially became a member of the Cowgirls with her signing day press conference. Josie was at all the Cowgirl home games and even made the trip to Las Vegas for the Mountain West Tournament to support Wyoming.
Josie and the team have enjoyed a lot of team activities this past season including bowling, ice skating, lunches and Easter Egg dying.
"Josie was the sunshine that we needed this season on the team, she just brightened all of our days," said Ola Ustowska.
"It was great to build relationships with her off the court," said Emily Mellema. "It was a great experience with Josie, and we did a lot of fun things together."
"At first she was really shy, but eventually she became comfortable around us and she's so fun to be around," said Allyson Fertig. "She brings out the child in all of us. We're excited for her to join us for the next few years and thanks to Team IMPACT for giving us the opportunity to work with Josie."
Fertig, Mellema and Ustowska were a part of the Leadership Team with Josie along with Lexi Bull, Paula Salazar, Tommi Olson, Grace Moyers and Tess Barnes.
"This is our biggest recruit of the season," said Ezell at the press conference. "Here at Wyoming, we recruit hard workers who are positive and tough, and Josie embodies all of those qualities. She always has a smile on her face and has a great attitude. Before every game this season in the locker room we'd write two things, 'Cowgirl Tough' and 'Josie Tough'. She was always with us this season, no matter where we were. Josie, you were such a huge part of our 23-win season this year. In order to be a Cowgirl, you have to carry yourself with pride, honor, respect and integrity and Josie has all of those traits. We're excited to make this signing official today."
This is the first season that Wyoming has worked with Team IMPACT as the state of Wyoming became the 50th state to work with the organization.
About Team IMPACT
Team IMPACT's unique multiyear program signs children facing serious illness and disabilities onto college athletic teams across the country. Based on a clinical model, Team IMPACT guides a symbiotic relationship between the teams and children focused on socialization, empowerment, resilience and ensuring everyone involved has the personalized game plan they need to win – effectively building confidence and independence. Founded in 2011, Team IMPACT has matched over 2,600 children with 700+ colleges and universities in all 50 states, impacting more than 65,000 student-athletes. If you know a child or team who may be interested, please visit www.teamimpact.org.
10 Reasons Why You're Lucky to Be Living in Wyoming
Here Are the Top 10 Reasons Why You're Lucky to Be Living in Wyoming
- 10 Reasons Why You're Lucky to Be Living in Wyoming,