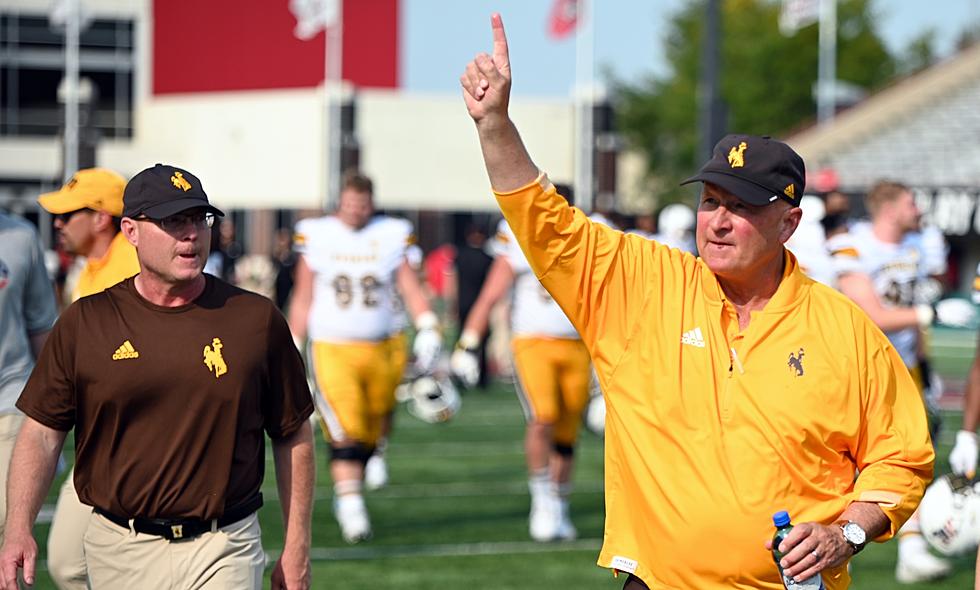 Craig Bohl says he wants to 'connect' more with players
Wyoming head coach Craig Bohl waves to Cowboys' fans in attendance Saturday inside Huskie Stadium./ DJ Johnson photo
LARAMIE -- Instead of drinking beer with his father and watching the cattle graze on his eastern Nebraska ranch after the Cowboys bowl victory over Kent State, Craig Bohl and his staff were forced right back into the office in search of new blood.
The NCAA Transfer Portal had just done a number on his current roster, claiming 10 of his own players, including both quarterbacks who took snaps during the 2021 season -- Levi Williams and Sean Chambers -- along with star wide receiver Isaiah Neyor, who hauled in a team high 44 catches for 878 yards and 12 touchdowns.
Wyoming also lost both of its starting cornerbacks, CJ Coldon and Azizi Hearn, safeties Rome Weber and Cam Murray, along with nickelback Keyon Blankenbaker and hybrid defensive lineman Victor Jones.
The program's second all-time leading rusher, Xazavian Valladay, also found a new home in Tempe, where he will exhaust his last season of eligibility at Arizona State University.
Those moves, according to Bohl, were not entirely unexpected.
During a near 58-minute interview with the local media Wednesday, UW's ninth-year head man said he also took some time to do some self-reflection as he often does at seasons' end.
Without prompting, Bohl admitted he needs to be more personally involved with his players on a day-to-day basis.
In numerous off-the-record conversations with departing Wyoming players this offseason, a common theme emerged.
Many claimed there was a lack of a relationship with Bohl.
"The first place you look at is yourself to see where you can improve," he said. "One of the things that I felt like I needed to get better on was connecting more with our players.
"... I needed to get more engaged and let players know where they stood, where we are going. Not so much recruit all the time, but I think people want feedback, even if it's negative feedback. They want to know that they matter and I think that we can do a little bit better. Now, I'm not saying that's why we had the number of guys that went in the portal."
MORE UW FOOTBALL NEWS:
* Bohl criticizes QB play in 2021, says he wanted to throw more
* Wyoming adds four new commitments to 2022 recruiting class
* NSD 2022: Wyoming lands highest-rated recruit ever
* PODCAST: Pokes have sights set on first place
Bohl claims he knew during the season roughly "90%" of those players were on their way out the door.
But did he try to change their minds?
"Some of our assistant coaches might have probed a little bit on what you're thinking," he said. "But I can tell you this, around here, we have a really good program and we want players that are bought in to play Cowboy tough football. You got to be all in.
"You know, maybe if there's some decisions that are being made, some advice that's ill-advised from who knows what -- some third party -- maybe we could present some information that might counter some of that information, but most of these guys were kind of like, 'you know what, best of luck to you. See you down the road. We'll see how things go.'"
Bohl and Co. signed 15 new high school recruits during the early signing period in December and added two more scholarship players Wednesday on the final official National Signing Day. Wyoming was also busy in the portal, snagging five players, two from the BIG TEN -- Cole DeMarzo (Michigan State) and Deron Harrell (Wisconsin) -- along with former Ole Miss cornerback Jakorey Hawkins.
TJ Urban, a safety prospect who spent last season at the Air Force Academy Prep School, also joined the program, though technically he will be a preferred walk-on.
The Cowboys also inked a pair of quarterbacks. Utah State's Andrew Peasley is now enrolled in Laramie. So is Evan Svoboda, who spent last season at Snow College in Utah.
While Bohl said he won't rest on his laurels, adding he only wants players who want to be in Laramie, relationships will be important with this new crop of Cowboys.
"The first thing I came back to is, OK, with our younger guys that are in our program right now to make sure they know that they're important," he said. "You can say, 'hey, you know what, we care about you -- we care about you. Well, what means that you care (about me)? ...
"Well, are you critiquing me on that film? Am I being watched? Am I being evaluated? Am I being given feedback on what I need to do to get better? Am I being given feedback that my presence here on this football team matters? I think any coach is going to look at that and say what they can do better."
LOOK: Pokes' unis through the years