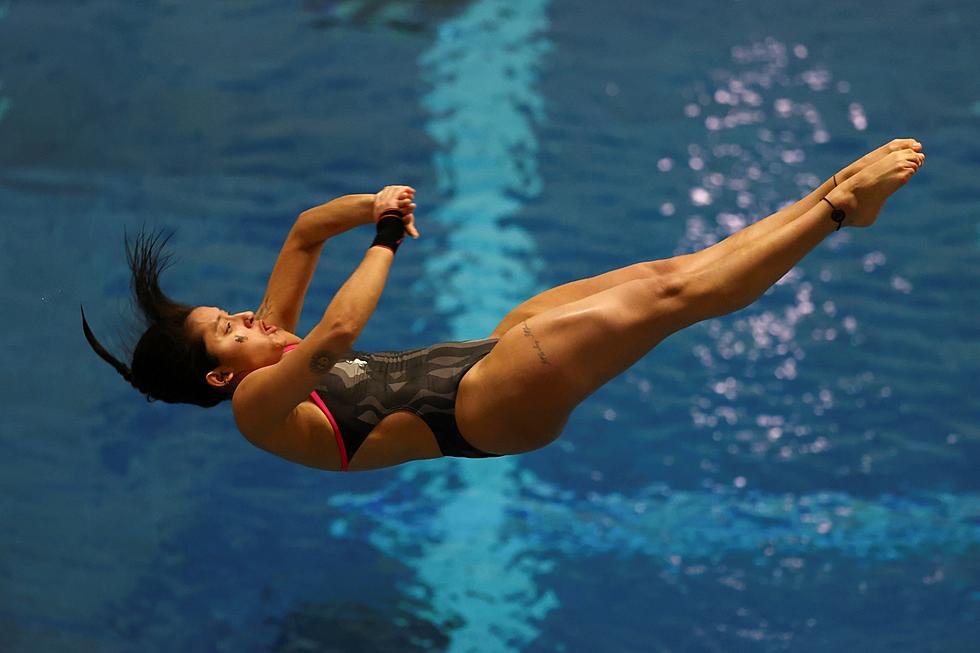 Denniston announces 2022-23 Wyoming swimming & diving schedule
Each of the last two nights featured a three-peat for the University of Wyoming swimming & diving team at the Mountain West Conference championships. Junior Melissa Mirafuentes made it three nights in a row for the Cowgirls on Saturday at Paup Pavilion. Mirafuentes dominated in platform. She tallied a final score of 328.20 to win her third consecutive MWC title./ UW courtesy photo
* University of Wyoming press release
LARAMIE -- The University of Wyoming swimming & diving team released its 2022-23 schedule Tuesday. The Cowboys and Cowgirls are slated to compete in nearly 20 events from September through March.
The main goal for head coach Dave Denniston was to give his student-athletes the opportunity to race. Taking into account the last two seasons where most teams lost meets due to COVID-19 cancellations, UW's head man wanted to provide his swimmers with many chances to show their capabilities in a competitive atmosphere.
"Our sport is about racing," Denniston said. "Having opportunities for everybody on the team to race and compete on a regular basis, that's what we love to do, so I tried to create as many opportunities as I could."
The 2022-23 season begins like it did last year at the Horsetooth Open Water Swim on Sept. 11. The annual Brown & Gold Meet occurs at the end of September with a new twist with the Brown, Gold & Old Meet.
The regular season includes home dual meets against New Mexico (Oct. 13-14), Air Force (Oct. 29) and Denver (Jan. 7). The Pokes will travel to the DU Relays, Northern Colorado, Colorado Mesa, Colorado State, the SMU Invitational, an Air Force Tri-Meet, Colorado School of Mines, UNLV and the DU First Chance Meet.
The divers have a couple diver-only competitions on the slate. They'll travel to the UCLA Diving Invite and the Air Force Diving Invite.
"The schedule gives a lot more athletes an opportunity to race and showcase their talents," Denniston said. "With nearly 20 new swimmers that are all very, very talented, I'm excited to see the young bloods get up there and race.
"That's what the focus was in setting up the schedule."
The postseason begins with the Mountain West Conference Championships from Feb. 15-18 in Houston, Texas. The Western Athletic Conference Championships occur from Feb. 22-25 in Pharr, Texas.
The NCAA Zone "E" Diving Championships are from March 9-14 at a location that's yet to be determined. The NCAA Women's Swimming & Diving Championships are March 15-18 in Knoxville, Tennessee, while the Men's Championships are March 22-25 in Minneapolis, Minnesota.
From Bison to Triceratops - All of Wyoming's Official Things
Every state in our nation has chosen things that represent the state in one way or another to be official state things. Like a flower, or animal.
Wyoming
is no different.
The Equality State, or the Cowboy State, depending on which state slogan you want to go with, has a state flower. But did you know we also have a state tree and a state fish? Yes, we even have a state code.
To be an official thing, a member of the state legislature must write and submit a bill to the legislature declaring that a thing will be the official state thing. Then the legislature votes to pass the bill, or not, if it passes, the governor signs the bill into law and we have a new official state thing.
Here is what we have so far, all of Wyoming's official things. Now you can win big on Wyo Trivia Night if that's a thing that exists.
- From Bison to Triceratops - All of Wyoming's Official Things