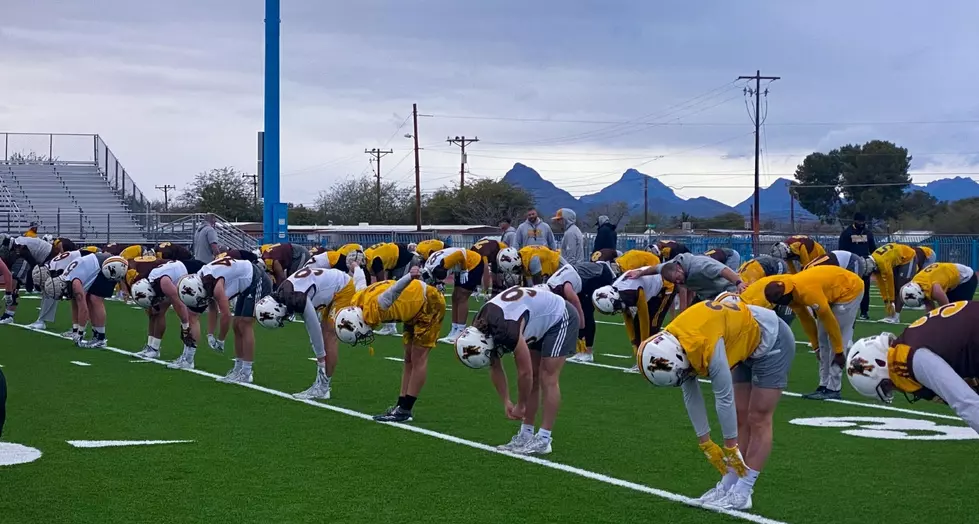 Gear Up For Gameday: Arizona Bowl
Wyoming goes through its final practice of the 2022 season Wednesday afternoon at Sunnyside High School in Tucson. The Cowboys will take on Ohio in the Barstool Sports Arizona Bowl Friday afternoon./ Lindsay Bugas photo
TUCSON, Ariz., -- "What channel is the game on?"
It isn't -- but no need to panic.
Here's a few questions you need to first ask yourself: Do I have a smart TV? Do I have the internet? If you answered "yes" to both of those questions, you're in luck. Search for the Barstool app and download it. Once that's accomplished, open it.
You don't even have to login.
If you take those necessary steps -- which is the only way to watch the Arizona Bowl -- at roughly 2:30 p.m. Mountain Time Wyoming and Ohio should be playing a football game.
You can also watch it on your computer, phone, tablet or anything else (I'm not techy, either) that allows you to download the Barstool app. Here is the link right here: BARSTOOL.TV. (I just clicked on it myself, it works ... trust me.)
RANDOM THOUGHTS:
When I say random, I mean random. Stick with me.
The Mountain West is currently 3-3 in bowl games. One of the most impressive wins of the postseason came courtesy of Air Force, which knocked off Baylor 30-15 in the Armed Forces Bowl last week. Kudos to the Falcons, but that's not why I bring this up.
How impressive was that Wyoming win against the Fly Boys in September?
The Cowboys held AFA to 171 yards rushing. The visitors that night in Laramie were just 6-of-13 on third-down conversions and UW actually won the time of possession battle. That is flat out getting it done.
That got me thinking -- was that Craig Bohl's most impressive win since arriving in Laramie? No, probably not. Missouri comes to mind. So does Boise State. But it's up there.
I was told Tucson was hot?
I know, you don't feel sorry for me one bit, but it has been pretty cool down here in the desert. The Pokes practiced at a local high school Wednesday afternoon and it felt like I was watching a spring practice in Laramie.
Really.
The wind was howling, it was cold and the rain was coming in sideways. Even the palm trees outside of Sunnyside High School were breaking apart and crashing to the ground. Sure felt like home there for a minute.
MORE UW FOOTBALL NEWS VIA 7220SPORTS:
* Show us your picks: Bowl season
* Bohl remains mum on starting running back in Arizona Bowl
* Pokes, Bobcats to square off Friday in Arizona Bowl
* Know Wyoming's foe: Ohio Bobcats
* Did Wyoming find its quarterback of the future?
* Wyoming moved quickly when Harrison Waylee hit the portal
* Pokes ink 'dynamic' three-star cornerback on signing day
* Where are all the local football recruits?
* Wyoming football announces early signing class
* Bohl: Expect blend of portal, prep players at Wyoming
When the Pokes came off the bus, it was good to see Cole Godbout all taped up and ready to go. Dude looks like an absolute beast, too. We all noticed he looks bigger and healthy as an ox. As far as his lower-body injury, a coach told me they were going to observe him in workouts and if he felt fine, he would play.
On the flipside, it was not ideal to see Parker Christensen in street clothes. Was hoping we might see the Sheridan product get a few carries for the Cowboys as they turn to an inexperienced stable of running backs for the bowl game.
There is a lot of brown and gold wandering the streets of Tucson this week. I've already met fans from Cheyenne, Gillette, Douglas, Glenrock and Casper. Even ran into some old friends at the bar Wednesday night. We watched the UW basketball game and I got to witness real-life griping, not just in the comment section.
Speaking of opinions, can we not enter guys in the transfer portal before they have even stepped foot on campus, please? I wrote two stories this week about incoming recruits Kaden Anderson and Naz Hill, and after some fans read about the exploits of these kids and all the upside that could be on the way, many responded with "He'll be in the transfer portal."
If that's the thinking, why even play the game or have a program?
This fanbase is one I was a big part of for the better part of my life. Believe me, I was once crying about losing good coaches to bigger programs. Dana Dimel broke my heart. I told him face to face back in 2019. But, if you really think about it, Dimel was the last coach to leave Laramie due to success.
That was in 1999, almost a quarter of a century ago.
My point is, why worry? If a coach comes, has great success, gets lured away, fine. Get another one. If a player leaves in the portal, grab another one. I know it's not quite that simple, but it's possible.
Just enjoy the ride and root for the uniform. That's my two cents on it.
It was great observing Tim Albin during his press conference Wednesday afternoon in downtown Tucson. Ohio's head coach has led one of the biggest turnarounds in the nation, going from five victories over the previous two seasons to nine and a division title this fall.
Look, I'm sure this guy knows all the X's and O's and runs a great program. That's evident. What was cool to see is the relationship he has with his players. While he was chatting with the media, he would pat his guys -- Kurtis Rourke and Keye Thompson -- on the leg or arm and smile at them after they spoke or when he said something about them. It was genuine -- all of it.
This will be a color-on-color matchup in Tucson. Wyoming is wearing its gold jerseys and Ohio will be decked out in all green. I personally love it.
Here's something we probably don't often think about, but can you imagine being a UW student and having kids in your class sporting, oh, say Utah, BYU or even Colorado State shirts? That's not a reality in Laramie. In Athens, Ohio, though that town takes a ton of pride in its school, it has been known to happen, according to Rourke and Thompson.
I asked them if it gets frustrating seeing classmates wear Ohio State gear, for instance. They basically laughed it off and said it wasn't a big deal and that they are even pulling for the Buckeyes in the College Football Playoff.
Call me crazy, but that would be a big deal to me.
I guess we're lucky to only have one university. In Ohio, there are eight FBS football programs.
The transfer portal window closes Jan. 18 and there is still time to add some players. I'm hearing the focus for UW's staff is in the secondary, mainly at the cornerback spot. Makes plenty of sense with Cam Stone bolting for Hawaii this offseason and not a lot of depth behind freshman Kolbey Taylor. Wyoming, I'm told, is also looking for more help on the back end at the high school level. Remember, traditional signing day is still a thing. That will take place Feb. 1.
The Bobcats give up nearly 300 yards passing per game. That's bad. How bad? Ohio ranks 130th in the country in that department. That's out of 131 FBS teams. Wyoming has to take advantage and it sounds like that could be the plan on Friday. A source tells me the ball has been flying around the yard in practice.
We'll see.
Here is all you need to know -- and the links -- for Friday's tilt in Tucson:
WHO: Wyoming (7-5, 5-3) vs. Ohio (9-4, 7-1)
WHEN: Friday, Dec. 30 at 2:30 p.m. MST
WEATHER: High of 62, low of 44, winds at 6 mph, partly cloudy
WHERE: Arizona Stadium, Tucson, Ariz. (50,800 capacity)
STREAMING: BARSTOOL.TV
RADIO: Cowboy Sports Network
TICKETS: gowyo.com
BOX SCORE: ESPN
ROSTERS: Wyoming / Ohio
BETMGM ODDS: UW +2.5, O/U 41.5 (Subject to change)
HISTORY: Wyoming leads the series 2-0
HEAD COACHES: Craig Bohl / Tim Albin
LOOK: Pokes' unis through the years