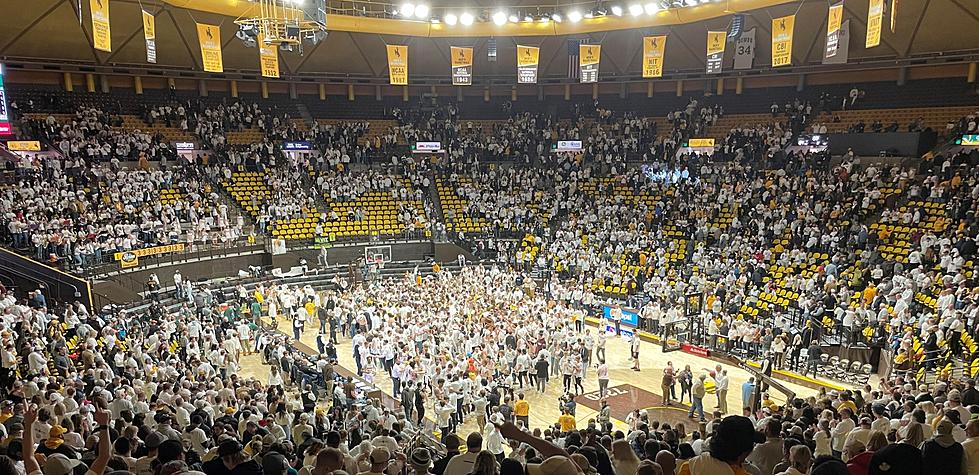 Going to the Air Force game? Better get tickets now
UW is expecting more than 9,000 fans at this Saturday's game against Air Force in Laramie, by far the biggest crowd of the season./ Cody Tucker photo
LARAMIE -- The lower level of the Arena-Auditorium is already sold out for Saturday's 2 p.m. meeting with Front-Range rival Air Force.
The rest of the seats, well, they're going fast, too.
Five of the 20 sections in the upper deck are also filled to capacity, according to the UW website.
The university is in hopes it can eclipse 9,000 tickets sold, according to Assistant Athletic Director of Ticketing and Sales, Cameron Osburn, making this the largest crowd to come through the turnstiles this season. In fact, this attendance could rival numbers that haven't been seen since 2005 when Wyoming welcomed more than 10,000 for games against Colorado State and Utah.
Osburn said a solid student turnout and walk-up crowd could give the school its biggest sales day since 2017.
"We have already sold more than we did for the CSU game and that was on a Monday night," he said of the 7,539 who attended the Cowboys' 84-78 overtime victory over its Border War rival. "9,000 is definitely possible. We're hoping to get there by tipoff."
UW also sold 7,063 tickets when Boise State came to town Feb. 3. A meeting with Utah State five days later drew 5,558. Both of those games, like the CSU contest, were on weeknights.
MORE UW HOOPS NEWS:
* No. 22 Wyoming falls at New Mexico, 75-66
* Tuck's 10 takes: No. 22 Pokes 'Housed' in The Pit
* UW cracks Top 25 for first time since 2015
* Wyoming's Graham Ike named MW Player of the Week
According to the UW record books, just 9,073 total fans came to the Cowboys' 12 home games during the 2020-21 COVID-19 shortened season. The school capped attendance at just 2,000 per game due to the virus.
"When you do walk down the ramp into the Double-A on game day and you see the atmosphere, man, that's why you do it," UW head coach Jeff Linder said Thursday. "As I've said before, I mean, you have to have that crowd. It's a big part of why we're in the position we're in. I mean, just giving us that extra energy that you need to find ways to finish and close games."
The Cowboys (21-4, 10-2) are in a two-way tie for first place with Boise State with just six regular-season games remaining. Air Force (10-14, 3-10) enters Saturday's match up losers of six straight. Hunter Maldonado, a Colorado Springs native, laid in a buzzer-beater back in late January to lift Wyoming to a 63-61 win inside Clune Arena.
Wyoming is 81-41 all-time against the Falcons. These two longtime conference foes have been playing each other since 1958 with the Cowboys holding a 41-16 advantage in Laramie.
The Pokes and Falcons opened the Arena-Auditorium back on Feb. 20, 1982. Wyoming rolled to a 59-29 victory in front of 15,004. Capacity was cut back to 11,612 before the 2014 campaign.
All remaining tickets cost anywhere between $20 and $30. You can purchase them online at gowyo.com or call 307-766-7220.
Wyoming's much-anticipated rematch with the Rams next Wednesday night inside Moby Arena, has also already been sold out, according to CSU.
Osburn added sales for the Mountain West Tournament in Las Vegas have been the best he's seen since 2017. Each school is allotted 500 tickets. Osburn said UW has already surpassed that mark. In fact, he said, Wyoming has the top ticket sales in the league.
"I talked to UNLV on Friday," Osburn said. "They said we have sold the most in the conference, so far. There will definitely be a good Brown & Gold turnout in Vegas this year."
The men's tourney kicks off March 9-12 inside the Thomas & Mack Center. You can also purchase those tickets on the UW website.
"If you don't have those types of crowds, I mean, who knows if you win some of those close ones," Linder said. "You need a championship crowd to have a championship team. Thankfully the crowd and the students are doing their part."
POKES: The Seven Best Games In The History Of The Wyoming-CSU Border War Rivalry (Naturally, they were all Wyoming wins)