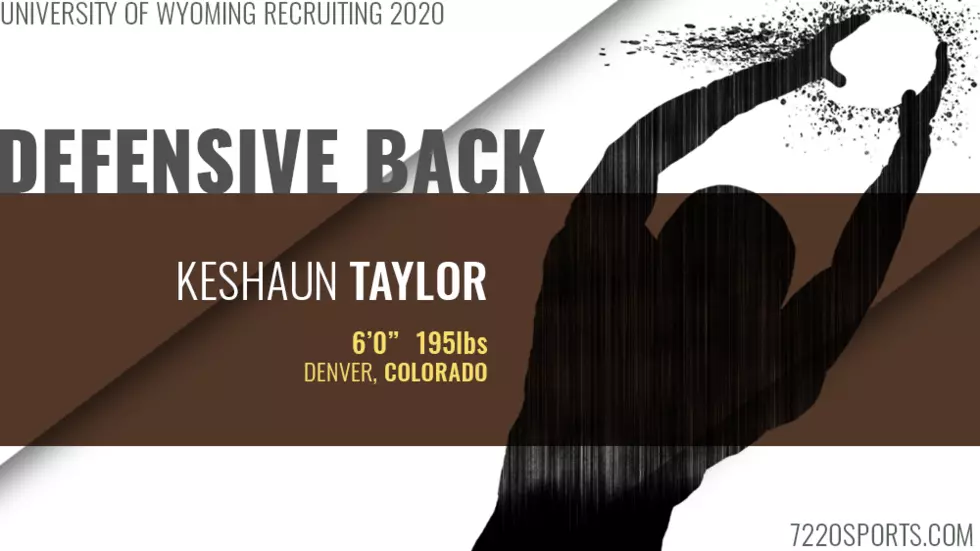 TAYLOR_player-ind-feature-img2
247sports.com ranks Taylor as the 13th best player in Colorado
Q: Why Wyoming?
A: I've always thought of myself as a high-standard player. I thought I wanted a lot of love and I got a lot from Wyoming. They told me last year "we want you. We like you." They showed love ever since and have been one of the consistent colleges that talked to me on the phone, sending mail and stuff. They are good people. These are coaches that I'd love to continue being associated with.
Q: What position will you play in Laramie and what can fans expect you to bring to the table?
A: I'll be playing nickel and defensive back. I bring nothing but energy. I'm an energy guy, but I'm very humble and will do anything to make people love me. Whatever the team needs from me, I'll do it.
Q: What other schools showed interest in you?
A: Colorado State and the University of Northern Colorado. I got texts from -- I don't even remember these schools. Colorado, too.
Q: When did you visit and what are your thoughts on the facilities, coaching staff, players, fans?
A: I love the facilities. They are so nice. I've never experienced anything like that before. The coaches -- those are some funny dudes. Coach (AJ) Cooper is one of my favorites, along with (Craig) Bohl and (defensive coordinator Jake) Dickert. The whole staff is great. The fans -- the whole state comes out. I've never seen that. The whole state loves Wyoming. That's amazing to see.
Q: What has (former Wyoming cornerback) Derrick Martin, who was your former high school coach, told you about UW?
A: He was my head coach for the first three years of high school. Him, being a Cowboy, told me it's a very special place to be in. People stick by you for life. That's something I wanted a piece of.
Q: What are your thoughts on the current UW team?
A: I think this team is very young. There's a lot of guys from Colorado that I've bumped into along the way. This team we have coming back is going to be a special team to watch. I'm happy to come be in with those guys after what they did this year.
Keshaun already looks good in brown and gold.



Q: What do you want Wyoming fans to know about you?
A: I want Wyoming fans to know I'm a big goof. I have a lot of energy, and do gestures and celebrations. I have fun on the field. I'm bringing that Colorado swagger out there to Wyoming. I told coach (AJ) Cooper and Craig Bohl I was going to bring it and that's what they expect from me. 
Q: You played wide receiver, defensive back and returned kicks in high school. Would you be open to doing those things in Laramie if needed?
A: Of course. If they need me to catch a punt, I'll take it back 60 for him.
Q: Did staying close to Colorado mean anything in this process?
A: I come from a small family, just me and my mom. I wanted to be close to my mom give her a chance to see me play. Colorado still pretty close, but that was a big factor.  
Taylor and his Thomas Jefferson High School teammates.