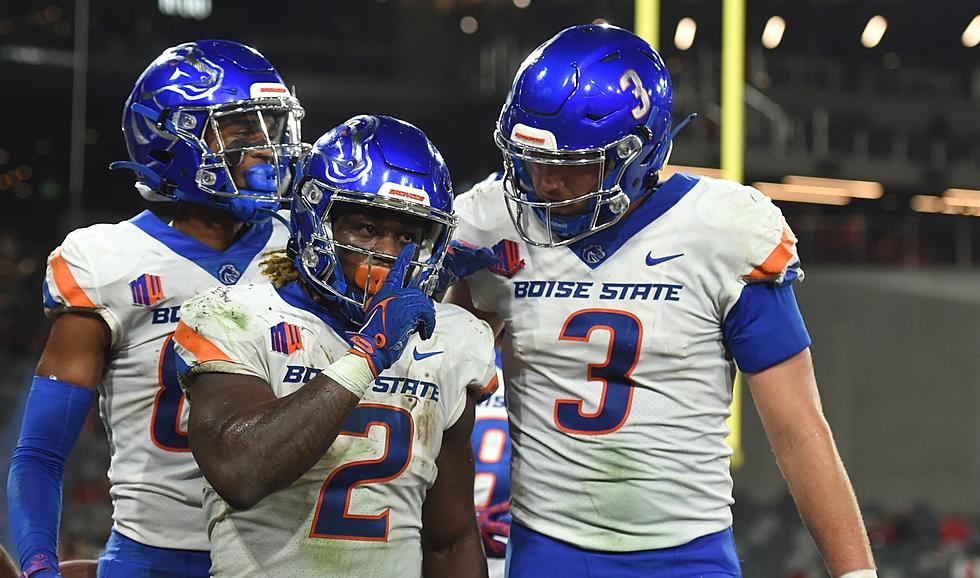 Know Wyoming's foe: Boise State Broncos
SAN DIEGO, CA - SEPTEMBER 22: Boise State running back Ashton Jeanty (2) celebrates with his team mates Boise State wide receiver Eric McAlister (80) and Boise State tight end Riley Smith (3) after running for a touchdown in the fourth quarter during a college football game between the Boise State Broncos and the San Diego State Aztecs on September 22, 2023, at Snapdragon Stadium in San Diego, CA. (Photo by Chris Williams/Icon Sportswire via Getty Images)
BOISE, Idaho -- No one in college football has more all-purpose yards than Ashton Jeanty.
Boise State's all-world running back has accounted for an eye-popping 1,264 yards from scrimmage in just seven games. That's an average of nearly 181 yards per game, 124 of which come on the ground.
The 5-foot-9, 210-pound wrecking ball from Jacksonville, Fla., has eclipsed the 100-yard rushing mark four times this season. He's even cracked 200 yards twice, including a 212-yard performance in his last outing against Colorado State. He did all that damage on 31 carries and scored three touchdowns in a last-second loss in Fort Collins. He also snagged five passes for 42 yards.
Craig Bohl said throughout the years Boise State has done a great job featuring its playmakers. That has certainly been the case with Jeanty, who already has 151 carries and 30 catches.
"He's got great vision and he's got a low center of gravity," Wyoming's head coach said, referring to the sophomore running back. "He's able to break tackles, he's able to make you miss and he's able to run away. So, all the things. Then, like I said, they utilize him in the passing game, as well. They feature him, and whenever he has a football, you know, very rarely does one guy bring him down. We're going to have to have great pursuit angles, prevent the big play -- the explosive play -- and make sure we get a lot of hats around the football.
"He's a big time player."
MORE UW FOOTBALL NEWS VIA 7220SPORTS:
* Boise State a 'different animal' inside Albertsons Stadium
* Wyoming QB Andrew Peasley focused on finishing, finding extra 2%
* Adversity, until now, hasn't been part of John Hoyland's story
* Wyoming Cowboys in the NFL: Week 7
* Wyoming High School playoffs shouldn't conflict with Border War
* Around the MTN: Panic time on Montezuma Mesa?
* UW Difference Makers Campaign nears completion
* Wyoming Football: News and notes ahead of Boise State
* 7220sports.com Kickoff Show: Cowpokes need to regroup, refocus
* Wyoming's Craig Bohl remembers the late Paul Roach
* Wyoming Cowboys in the NFL: Week 6
* Wyoming, Boise State kickoff time set
* Wyoming Football: News and notes ahead of bye week
Since the Broncos joined the Mountain West back in 2011, Wyoming has been tasked with stopping some of the best backs that program has ever produced, beginning with Doug Martin, who rushed for 3,431 yards during his four-year career.
There has also been Jay Ajayi (3,796), Jeremy McNichols (3,209) and George Holani (2,848).
The latter will reportedly make his return to the field this Saturday against the Cowboys after suffering an injury in the Broncos' season opener at Washington.
"We've had a challenge with him, as well," Bohl continued. The senior has made light work of Wyoming in the previous two meetings, rolling up 234 yards on 40 carries.
Holani was also responsible for a fourth-quarter fumble last November that gave the Cowboys new life with just 30 seconds remaining in regulation. Jayden Clemons would go on to throw a game-sealing interception in the end zone one play later and the Broncos survived in Laramie 20-17, punching their ticket to the conference championship game.
Jeanty, who has rushed for 868 yards and caught 396 yards worth of passes this fall, averaged seven yards per carry in that win inside War Memorial Stadium. He carried the ball just 13 times and amassed 91 yards.
"This No. 2 is for real," Bohl said. "I mean, he's garnering, I know, a lot of national recognition and that's well deserved."
The Cowboys (5-2, 2-1) and Broncos (3-4, 2-1) are set to kickoff at 3:30 p.m. Saturday inside Albertsons Stadium. The game will be televised on FS2.
* Head coach: Andy Avalos (3rd year) 20-13 overall record, 15-4 in MW play
* Offensive coordinator: Bush Hamdan (1st season); Defensive coordinator: Spencer Danielson (3rd season)
* Record in 2022: 10-4 overall, 8-0 in Mountain West Conference
* Offense in 2023: Average 29.7 ppg, 425.4 ypg (190.9 rush, 234.6 pass)
* Defense in 2023: Allow 30 ppg, 428.3 ypg (124 rush, 304.3 pass)
* Key Returners - Offense: Taylen Green (QB - 79-149, 1,041 yds, 5 TD, 5 INT; 43 rush, 230 yds, 4 TD), Maddux Madsen (QB - 41-64, 584 yds, 5 TD, 2 INT; 16 rush, 41 yds, TD), Ashton Jeanty (RB - 151 rush, 868 yds, 11 TD; 30 catch, 396 yds, 4 TD), Jambres Dunbar (RB - 24 rush, 129 yds), Eric McAlister (WR - 32 rush, 628 yds, 4 TD), Stefan Cobbs (WR - 21 catch, 216 yds, TD), Billy Bowens (WR - 12 catch, 186 yds)
* Key Returners - Defense: Marco Notarainni (LB - 52 tackles, 3 sacks, PBU, FF), Andrew Simpson (LB - 29 tackles, 3 sacks, INT, 2 FR), Seyi Oladipo (S - 29 tackles, 3 PBU), Rodney Robinson (S - 28 tackles, PBU, FF), Zion Washington (S - 27 tackles, sack), Ahmed Hassanein (DE - 27 tackles, 5 sacks, FF)
* Overview: What is wrong with Boise State's defense? The Broncos are allowing more than 300 yards per game through the air. That ranks that unit 126th out of 130 FBS teams. They have snagged just four interceptions through four games and have recovered the same number of fumbles. If it wasn't for those turnovers, these numbers could be even worse. Of course, when it comes to passing yards, you must first look at the defensive front seven and what kind of pressure is being applied. Boise State has just 16 sacks to its collective credit, five of which have come courtesy of edge rusher Ahmed Hassanein. This group has registered just two sacks in its last outing, a stunning, last-second 31-30 loss at Colorado State. Boise State is also allowing 124 yards per game on the ground. If there was ever a time for Wyoming to jump on this team and win a game inside Albertsons Stadium -- the Cowboys are 0-8 all-time in Boise -- it's now. Wyoming's offense brings experience and, dare I say, balance, into this critical meeting. Quarterback Andrew Peasley helplessly watched from the sideline last November as his back-up completed just three passes and tossed three interceptions in a 20-17 loss to the Broncos. That loss knocked the Cowboys from contention. It vaulted Boise State into a place its become all-too familiar with -- the Mountain West title game. Can this Cowboys' defense limit Ashton Jeanty? That unit is coming off its worst performance of the season, allowing Air Force and its vaunted triple-option attack to roll up 356 yards on the ground in a 34-27 loss. Can they actually bring down Taylen Green? Boise State's sophomore signal caller was hurried nine times in Laramie last season. He wasn't brought down behind the line of scrimmage once. I don't think the Cowboys are prepared to get in a shootout with this team, but if it comes down to defense, Wyoming's is just simply better.
* Thoughts on Boise State: "This is a big, big ball game for us and I know its probably a big game for Boise State, as well. Going to Boise, it's a really challenging place. They play particularly well at home. I know they take a great deal of pride playing at home. Coach Avalos is doing a great job there and instilling those traditional blue-collar values that they really believe in at Boise. We're playing a prolific offense, as you guys know, putting up about 30 points per game. So that poses a real challenge and how they do it poses a challenge, as well -- 235 yards in the passing game, 190 yards in the rushing game. So, that really stresses the defense. They're playing two quarterbacks, (Taylen) Green and (Maddux) Madsen. There's some differences, but it's not a drastic difference. Several years ago, they played two quarterbacks and it was just like 180 degrees difference. So, both those two guys operate that offense well. They have another great running back, Ashton Jeanty. He's a prolific football player -- 124 yards per game, and he's getting 57 yards per game in the passing game. So, they feature him a lot ... (Eric) McAlister is the leading receiver. He's getting about 20 yards per reception. So, big-time playmaker there. So, a lot on the line for both programs. There's still a lot to play for and we're taking them one at a time. This is a big one. This is a game at the beginning of the year that I had circled, too, simply because of the tradition and the rich tradition they have and how they play at home. We're playing, I think, good football. We need to play great football against these guys." -- Wyoming head coach Craig Bohl
Here is all you need to know -- and the links -- for Saturday's tilt in Boise:
WHO: Wyoming (5-2, 2-1) at Boise State (3-4, 2-1)
WHEN: Saturday, Oct. 28 at 3:30 p.m. MST
WEATHER: High of 49, low 25, mostly sunny, winds at 12 mph
WHERE: Albertsons Stadium (36,387 capacity)
TRAVEL: Idaho511
STREAMING: FS2
TV: FOX Sports Network
RADIO: Cowboy Sports Network
TICKETS: Wyoming Ticket office
BOX SCORE: ESPN
ROSTERS: Wyoming / Boise State
HISTORY: Boise State leads the all-time series 16-1
ODDS: Boise State (-5)
HEAD COACHES: Craig Bohl / Andy Avalos
LOOK: Pokes' unis through the years