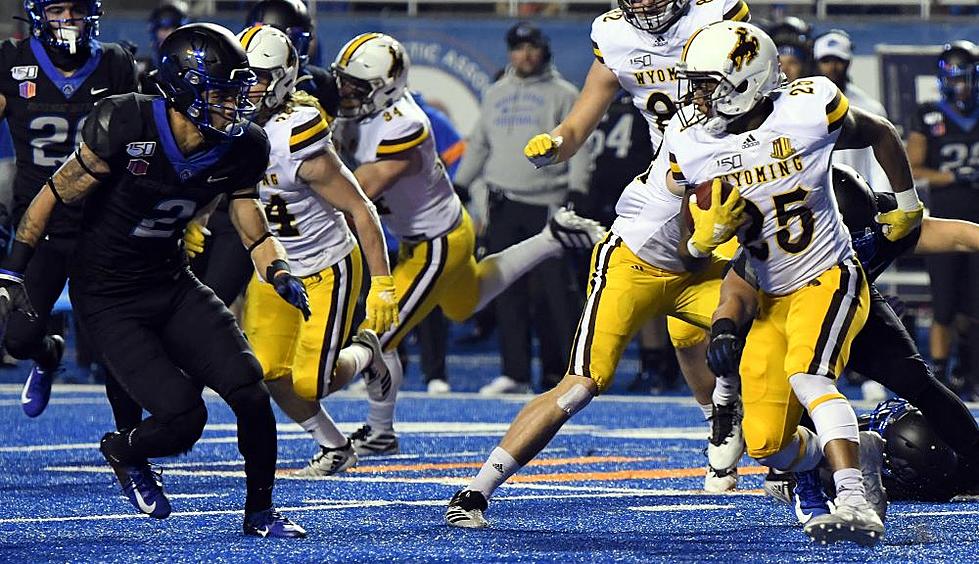 Making the grade: UW vs. Boise State
ConwayAustin
BOISE, Idaho. -– We all get graded, right?
Whether it's in school, at work or your significant other, we are always under some sort of pressure to learn and produce results.
So, let's see what Wyoming's final grades were after a heartbreaking 20-17 overtime loss to No. 22 Boise State at Albertsons Stadium Saturday night.
QUARTERBACK: B
In his first start in nearly a calendar year, sophomore Tyler Vander Waal showed grit, toughness and made plays through the air for the Wyoming offense. He completed 15-of-23 passes for 160 yards and scored the Pokes first touchdown of the night on a three-yard rush in the second quarter. The moment didn't look too big for Vander Waal, who completed passes to seven different receivers. Most importantly, he didn't turn the ball over in a tough environment against a Top-25 team. If there is any criticism of Vander Waal in his initial start since replacing Sean Chambers last week it's that he made a pair of questionable throws that maybe should've been picked off and handed the ball off in the RPO game when he probably should've tucked it and ran himself. He admitted both of those things Monday. All in all, great performance from the kid in a tough situation.
RUNNING BACKS: A+
Yeah, there's no way Xazavian Valladay gets anything less than a 100 percent on this test. He was the only Wyoming running back to touch the ball Saturday night. That was 37 times, a career-high for the sophomore, who is basically a lone wolf in the Pokes backfield these days. Valladay, for the third straight game, went over the 100-yard mark. In Boise, it was a hard-earned 124 yards. Early in the third quarter, Wyoming fans held their collective breath as Valladay fell awkwardly to the blue turf after trying to make a cut up field. He gingerly walked off the field under his own strength. On the very next series, he broke into the clear for a 21-yard touchdown rush. Try these numbers on for size -- in the last three week's, Valladay has carried the ball 96 times for 457 yards and 2 touchdowns. He has also caught five balls for 120 yards and a score. When asked Monday about the probability of Valladay's workload being too heavy, Wyoming head coach Craig Bohl said, "We're going to keep running him."
WIDE RECEIVERS/ TIGHT ENDS: B-
Josh Harshman has waited a long time to have a game like this. Roughly five years to be exact. The fifth-year senior out of Natrona High School in Casper caught a career-best six passes for 48 yards in Boise. He became the main outlet for Vander Waal and was sure-handed. Where Harshman was even more impressive was on the line as a blocker. Numerous times he drew the toughest assignment in the Mountain West Conference, Curtis Weaver. Numerous times, Harshman handled the All-American and future NFL draft pick. Raghib Ismail Jr. continued his stellar play of late, snagging three passes for 37 yards, including an 18-yard catch where he shook what seemed like the entire Boise State secondary. Valladay was the other Cowboy who had double-digit catches for the Cowboys. Austin Conway, Gunner Gentry, Ayden Eberhardt and Jackson Marcotte all hauled in one pass on the night.
OFFENSIVE LINE: B-
Wyoming center Keegan Cryder blew his guy off the ball and went seeking out another pour soul. he found him, laying him out, too. All the while Valladay was making one cut and off to the races for that 21-yard go-ahead touchdown in the third quarter. There were moments like that. There were also the tough ones, like coming up short on a crucial 4th and 1 inside Boise State territory on the last offensive drive of regulation. If the Cowboys pick up that yard, another pass completion probably had Cooper Rothe setting up for a game-winning field goal. In overtime, UW offensive coordinator, Brent Vigen, went with a run play on a critical 3rd and 4. Valladay was stuffed in the backfield and Rothe missed the 37-yard field goal to give the Broncos the victory. Though Frank Crum got beat twice by the league's all-time sacker, Weaver, he also had a solid night for a redshirt freshman. That's a tough assignment for anyone. This group has been arguably the Pokes' best unit all season long. I was told yesterday that the thinking behind those two failed play calls was this -- Valladay and the O-line were Wyoming's most successful option. They just couldn't get it done.
READ MORE UW FOOTBALL COVERAGE HERE:
Behind the numbers
Turning point, unsung hero and what's next for UW football
3 Quick takes: Questionable play calling aides in OT defeat
Rants & Raves: Boise State Edition
DEFENSIVE LINE: B+
Javaree Jackson was a beast in the middle of the Cowboys' defensive front. The 6-foot, 5-inch, 276-pound junior from Wisconsin spent the majority of his Saturday night in the Bronco backfield. In the third quarter, he met Boise State running back, George Holani, behind the line of scrimmage, not just dropping him for a loss but stripping the football. For good measure, Jackson went ahead and recovered it, too. Minutes later, Valladay was standing in the end zone and the Cowboys had a 17-10 lead. Cole Godbout added three tackles, including one for loss from his defensive tackle position. Solomon Byrd and Garrett Crall each finished with three tackles, too. They also had a meeting with Boise State quarterback Chase Cord, sandwiching him for the shared sack. These guys are a major reason the Broncos rushed for just 91 yards on 28 carries. That's an average of 3.3 yards per rush. If there was one criticism of this bunch it's that they didn't get to Cord enough. He was on one good leg midway through this one.
LINEBACKERS: A
In his final attempt to win on "The Blue," Logan Wilson laid it all on the line, tying a team high with 10 tackles and a sack on the night. The senior from Casper was all over the field, per usual, and even picked off a pass on the Broncos final possession of regulation. If he could've stayed on his feet -- or picked up at least 10 more yards -- with at least one tick remaining on the clock, Wyoming might have been able to line up for a long game-winning field goal. That's easy to say now, of course. Wilson said he knew the clock was running low and had defenders bearing down on him anyway. He played a whale of a game. Would anyone expect anything different? Fellow senior linebacker, Cassh Maluia, was great in this one, too. He went sideline to sideline all night, racking up seven tackles and a tackle for loss. Chad Muma could've had the game-changing play of the night. He came untouched on a blitz late in the first half and hammered Cord to the turf. Clearly limping, Cord finished the game out with a brace on his right leg. Wyoming defenders gave him plenty of credit for his toughness. A sad moment for this unit came in the second half when senior Ben Wisdorf was hurt on punt coverage. He was assisted off the field, putting zero pressure on his right leg. Bohl said Monday it doesn't look good for the senior. He will get official word this week.
SECONDARY: C+
This unit doesn't have a full-time coach. They are playing shorthanded without the aide of Allen Smith, Antonio Hull or CJ Coldon. A true freshman is playing a major role. Boise State featured four receivers with more than 400 receiving yards this season. Considering all of that, Wyoming's secondary stepped up to the plate in this one, limiting the Broncos' explosive plays. The Cowboys allowed 20 receptions for 194 yards through the air. That's an average of just 9.7 yards per catch. They did allow a 43-yarder, but that was it. As always, Alijah Halliburton was Johnny on the spot, racking up 10 tackles to match Wilson. Azizi Hearn had five tackles and a pass breakup, and nickle corner, Keyon Blankenbaker finished with four stops. Tyler Hall had a pair of pass breakups and two tackles on the night. Esaias Gandy added three stops. This group has been beat up all year. Depth is a major question with three games to go. They really played well, considering the odds inside Albertsons Stadium.