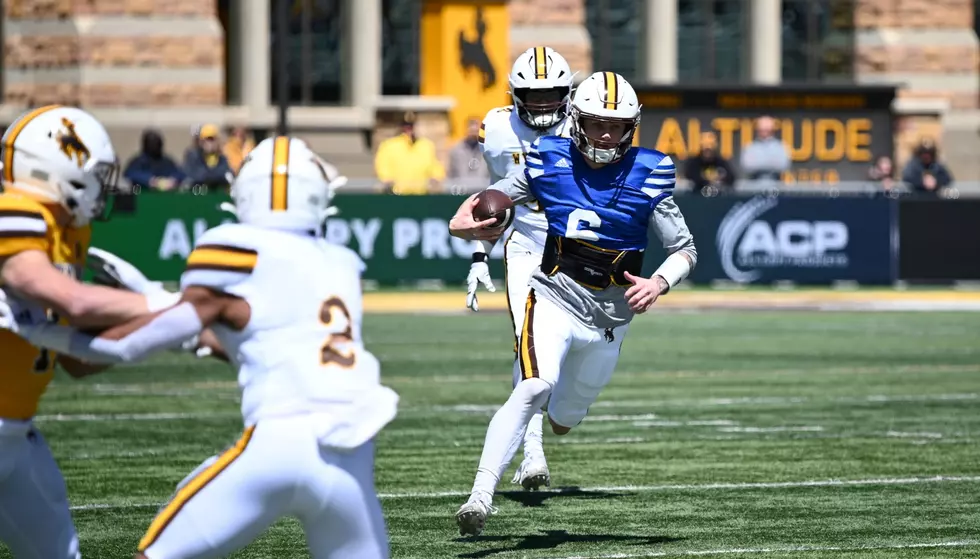 Peasley, Gold team capture 26-22 victory in Wyoming spring game
Wyoming QB Andrew Peasley splits the defense during a 26-22 win over the White team Saturday during the Cowboys annual spring game in Laramie./ DJ Johnson photo
* University of Wyoming Athletics media relations release
LARAMIE -- It was a Spring Game that featured an exciting day of football, with several big plays on both the offensive and defensive sides of the ball and five lead changes before the Gold Team secured a 26-22 win over the Brown Team on Saturday in Wyoming's War Memorial Stadium.
The Gold Team featured the No. 1 offense and No. 2 defense, while the Brown Team was anchored by the No. 1 defensive unit and No. 2 offense.
After a scoreless first quarter, Brown would take the first lead at 7-0 in the second quarter only to have Gold tie the game at 7-7 on the very next possession. With 3:46 left in the second quarter, Gold would add a field goal to take a 10-7 lead and would convert a second field goal with only 24 seconds remaining in the half to take a 13-7 advantage into the locker room at halftime. It wouldn't be until late in the third quarter before the Brown squad would recapture the lead at 14-13 for the second lead change of the game.
The fourth quarter would see three more lead changes before Gold prevailed 26-22.
In terms of explosive plays, the Gold Team had a 67-yard touchdown pass from quarterback Andrew Peasley to tight end Jackson Marcotte, a 35-yard TD pass from Peasley to wide receiver Jaylen Sargent and a 64-yard touchdown run by running back Dawaiian McNeely. The Brown Team added a 51-yard touchdown scamper by running back Joseph Braasch and a 32-yard pass completion from quarterback Jayden Clemons to Braasch.
"There were some really good things out there today and then obviously things to work on," said Wyoming head coach Craig Bohl in his postgame press conference. "To the naked eye some of the things that became apparent to me is we have some really good speed at the tailback position.
"(Andrew) Peasley is learning our offense and is still a work in progress, but I do think he has some maturity as a college quarterback. I think he is resourceful with the football.  It's going to be important that he has a good summer. I was pleased with his body of work during the spring.
"I thought our defensive line did some good things today. I was pleased with the push up front. I was a little bit concerned about where we'd be (with that group). 
"We did come through the game without any significant injuries. I am a little bit concerned about Caden Barnett (offensive tackle). He's got a thumb issue that they're going to take a look at. I want to say thanks to the fans who showed up and to you guys also (the media covering the game). It is great to be playing college football again."
Among the standout offensive performances on the day was an outstanding day by transfer quarterback Peasley, who completed 12 of 21 passes (57.1 percent) for 201 yards, two touchdowns and one interception for the Gold Team. Running back McNeely rushed for 96 yards on 13 carries, including a 64-yard TD run for the Gold squad, and Gold wide receiver Joshua Cobbs caught six passes for 58 yards. Peasley's two touchdown passes went to tight end Marcotte for 67 yards and wide receiver Sargent for 35 yards.
MORE UW FOOTBALL COVERAGE:
* Wyoming's Chad Muma is officially on the clock
* Are you ready for some football?
* Pokes Practice Report: White and Gold game?
* Wyoming's Gavin Beerup now in at ... wide receiver?
For the Brown Team, running back Braasch carried the ball 14 times for 80 yards and scored two rushing touchdowns of five and 51 yards. Braasch also caught two passes for 34 yards to lead the Brown Team in receiving. Quarterback Clemons completed 5 of 10 passes (50.0 percent) for 63 yards and added 46 yards rushing on seven carries.
Top defensive performances went to three Cowboys who intercepted passes on Saturday. Cornerback transfer Jakorey Hawkins intercepted one pass that he returned 17 yards for the Brown Team. On the Gold Team, cornerback Kolbey Taylor intercepted one pass for no yards and linebacker Brent VanderVeen intercepted a pass and returned it two yards.
For the Brown defense, linebacker Connor Shay recovered a fumble that was forced by safety Miles Williams. That turnover later turned into a Brown touchdown. Four Brown defenders each recorded four tackles to lead their defensive unit.
Those four were: cornerbacks Cameron Stone and Hawkins, linebacker Shay and defensive tackle Jordan Bertagnole.
The Gold defense had three Cowboys lead their team with four tackles. Those three were: cornerback Zaire Jackson and linebackers Nic Talich and Micah Young.
Bohl was asked about Hawkins performance in Saturday's Spring Game and about Hawkins performance as a transfer throughout spring.
"Jakorey (Hawkins) is learning our defense and is applying the skills that Coach (Benny) Boyd is teaching him. Jakorey has meshed in well in our locker room, has good speed and play-making ability."
The Gold offense generated 399 yards of total offense on 58 plays -- 188 rushing and 211 passing. The Brown offensive unit accounted for 249 total yards on 56 plays -- 162 rushing and 87 passing. The Brown defense forced two turnovers (one interception and one fumble) and the Gold defense also forced two turnovers (two interceptions).
Bohl also mentioned that with new NCAA rules that now allow coaches to spend some time with players in the summer, providing them instruction, that the added time will be valuable for the continued development of his team.
"The NCAA allows us some time with the players during the course of the summer," said Bohl. "We can have up to two hours of meeting time and some field work. Utilizing that time effectively is going to be important for our team."
Saturday's spring game began with the Gold team receiving the opening kick off.  Peasley started at quarterback for the Gold team. After an incomplete pass on first down, running back McNeely carried for two yards followed by Peasley's first completion of the game of 11 yards to wide receiver Wyatt Wieland for a first down.  Peasley followed that up with an eight-yard run.
After a run of three yards by running back D.Q. James, Peasley was sacked for six yards. Wide receiver Will Pelissier gained four yards on a jet sweep to take the ball to the Gold 47. The first big play of the game came on the next play when Brown Team cornerback Hawkins intercepted a pass from Peasley that was intended for wide receiver Wieland.
The pass was on target, but Hawkins came away with the ball at the Brown 38-yard line. Hawkins returned the pick 17 yards to the Gold 45.
After Brown was unable to move the ball, Gold took over at its own 43-yard line. Gold's second possession started with a six-yard run by McNeely. Peasley then completed a pass of 17 yards to wide receiver Cobbs down to the Brown 38-yard line.
After a four-yard loss by running back James and a four-yard pass completion from Peasley to running back Titus Swen the Gold team faced a fourth and 10 at the Brown 38. Place-kicker John Hoyland came in to attempt a 55-yard field goal but he missed the kick wide left.
The two teams exchanged punts on their next series, and the first quarter ended with the game scoreless
On its first possession of the second quarter, the Brown team, with Clemons at QB, moved the ball 30 yards in eight plays to the Gold 49-yard line. Clemons completed 4 for 6 passing for 29 yards on the drive and had one rush for 12 yards. He completed two passes to wide receiver Caleb Cooley for 10 and eight yards, one to tight end Colin O'Brien and one to tight end John Michael Gyllenborg for five yards. Wide receiver Ryan Marquez also added a five-yard run.
But the Gold defense stiffened and forced a punt. Brown punter Ralph Fawaz unleashed a 44-yard punt that was fair caught at the Gold five-yard line by wide receiver Sargent.
On first down, Gold running back James broke through the line of scrimmage for nine yards, but Brown safety Williams knocked the ball loose from James and linebacker Shay recovered the fumble at the Gold 12-yard line and carried it for 10 yards down to the two.
Brown running back Braasch lost three yards on first down back to the five-yard line, but on second down Braasch powered his way into the end zone for the first score of the game. Luke Glassock added the extra point to give Brown a 7-0 lead.
Gold was quick to respond. On first down, McNeely carried for eight yards out to the Gold 33. On second down, Peasley dropped to throw and found tight end Marcotte down the middle for a 67-yard catch and run and after Hoyland's point-after-touchdown the game was tied at 7-7.
After tying the game at 7-7, it was time for the Gold defense to come up with a turnover. The Brown offense was facing a third and 14 at its own 21-yard line when quarterback Evan Svoboda dropped back and tried to connect with wide receiver Cooley, but Gold linebacker VanderVeen picked off the pass at the Brown 30-yard line and returned it to the Brown 28.
Gold running back James would break a 22-yard run down to the Brown six-yard line. It was there that the Brown defense would make its stand and place-kicker Hoyland would come in on fourth and goal and make a 22-yard field goal to give Gold its first lead at 10-7.
On the Brown Team's ensuing drive, Clemons would lead his team on a six-play, 30-yard drive to the Gold 45-yard line. He completed a 12-yard pass to Marquez. Braasch broke a 13-yard run, and Clemons had a run of five yards. But on a fourth and five from the Gold 45, they were not able to convert on fourth down and had to turn the ball back to the Gold team on downs, with 2:27 remaining in the first half.
Peasley proceeded to guide the Gold Team on a 10-play, 45-yard drive.
He completed his first four passes on the drive, including completions of 12 yards to McNeely, nine yards to Cobbs, nine yards to Wieland and 17 yards to Cobbs. McNeely also added two runs of two and 10 yards, and Peasley had one rush for six yards on the drive. The drive stalled at the Brown 10-yard line and Hoyland came in to make his second field goal of the game, this one from 27 yards to give Gold a 13-7 lead with 24 seconds remaining in the half.
That is how the first half would end.
The Brown team received the opening kickoff of the second half, but it was the defensive units for both teams that took control of the third quarter. Neither the Brown nor Gold teams were able to cross the 50-yard line on each of their first two possessions of the third quarter.
On the third possession of the period for the Brown Team, they took over with good field position at their own 42-yard line.
After a first-down incompletion, the Brown squad ran the ball five consecutive plays. Clemons had runs of 9 and six yards.  Braasch rushed for five and minus two yards, and Cooley added a two-yard run. On fourth and four at the Gold 38-yard line, Clemons found Braasch on a wheel route for 32 yards down to the Gold six.
The very next play wide receiver Cooley carried the ball in from the six to give the lead back to Brown at 14-13, and that is where the score would remain entering the fourth quarter.
Gold and Brown exchanged punts on the first two possessions of the fourth quarter.  Gold began its second drive of the final period with excellent field position at its own 49-yard line. James would start off the drive with a six-yard run. Peasley followed that up with a 10-yard completion to Cobbs.
On first and 10 at the Brown 35-yard line, Peasley would find redshirt freshman wide receiver Sargent in the end zone for a 35-yard TD pass and Gold regained the lead but their two-point attempt failed to give them only a five-point lead at 19-14, with 8:17 remaining in the game.
The Gold lead would not last for long, however. The Brown team went back to its running game and ran five straight rushing plays. Braasch gained one yard. Clemons ran for six and eight yards. Wide receiver Isaac Sell gained nine, and then Braasch exploded through the Gold defense for a 51-yard TD gallop to put the Brown back in the lead at 22-19 after a successful two-point conversion on a pass from Clemons to tight end Colin O'Brien.
With only 5:52 left in the game, the pressure was back on the Gold squad.
Peasley couldn't connect with Cobbs on a first down pass attempt. James gained 11 yards on second down for a first down out to the Gold 36. The next play called was a sweep right to McNeely. He turned the corner up the sideline and no one would catch him as he sped down the field for 64 yards into the end zone. The PAT kick from Hoyland gave Gold a 26-22 lead with 4:39 on the clock.
Brown would get two more possessions to try and swing the game in their favor, but their final possession would end when wide receiver Marquez' pass attempt was intercepted by cornerback Taylor with only 12 seconds remaining.
The final score would be Gold 26, Brown 22.
University of Wyoming's Top 50 Football Players
The rules are simple: What was the player's impact while in Laramie? That means NFL stats, draft status or any other accolade earned outside of UW is irrelevant when it comes to this list.
This isn't a one-man job. This task called for a panel of experts. Joining 7220's Cody Tucker are Robert Gagliardi, Jared Newland, Ryan Thorburn, and Kevin McKinney.
We all compiled our own list of 50 and let computer averages do the work. Think BCS -- only we hope this catalog is fairer.
Don't agree with a selection? Feel free to sound off on our Twitter:
@7220sports
- #Top50UWFB
- University of Wyoming's Top 50 Football Players