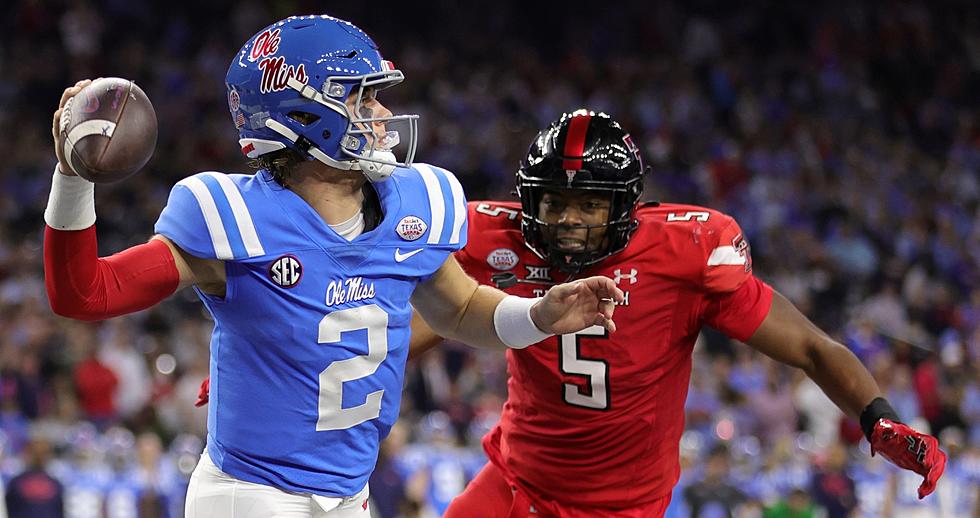 Red Raiders Feature a 'Freak' Edge Rusher
HOUSTON, TEXAS - DECEMBER 28: Jaxson Dart #2 of the Mississippi Rebels looks to pass ahead of Myles Cole #5 of the Texas Tech Red Raiders during the first half at NRG Stadium on December 28, 2022 in Houston, Texas. (Photo by Carmen Mandato/Getty Images)
LARAMIE -- Freak.
In most cases, that might be considered a dig. Not on the football field.
Myles Cole earned that label two weeks ago when he was named to Bruce Feldman's annual "Freaks" list. Texas Tech's 6-foot-6, 280-pound edge rusher features an 86-inch wingspan to go along with 35 5/8-inch arms.
He's reportedly even faster than the guy he is replacing, Tyree Wilson, who was selected No. 7 overall in last spring's NFL Draft by the Las Vegas Raiders.
"Cole's max speed is 20.3 MPH, and that's an area he's really improved upon since he got to Lubbock after transferring from Louisiana-Monroe," Feldman penned on TheAthletic.com. "Tech is hoping Cole -- 12 tackles, 2.5 TFLs, three quarterback hurries and a blocked kick -- takes a big step forward for what should be a Top-25 squad."
None of this is breaking news for Wyoming's left tackle Frank Crum.
The sixth-year graduate will likely go toe-to-toe with Cole throughout the Cowboys season opener against Texas Tech this Saturday night in Laramie. It's a meeting Crum said he has been looking forward to since June, the first time he took a look at the visiting Red Raiders on film.
"He's almost like the second coming of what they had last year at the end," said the 6-foot-8, 315-pound Laramie native. "He plays into who I am, as well: big, tall and long. I think it's a good matchup for me. I'm really excited to get the opportunity to play against him."
Cole, a super senior himself, appeared in all 13 games a season ago, rotating between the defensive front and outside linebacker. His numbers don't jump off the page -- his best statistical game was tallying two tackles for loss against Ole Miss in the Texas Bowl -- but his head coach, Joey McGuire, is convinced he could fill the void left by Wilson.
MORE UW FOOTBALL NEWS VIA 7220SPORTS:
* Texas Tech arriving early in hopes of adjusting to altitude
* Wyoming hosts Texas Tech Saturday in '23 season opener
* Wyoming HC on Tyler Shough: 'I think he's outstanding'
* Wyoming Football: News and Notes Ahead of Texas Tech
* Wyoming's young safety depth facing major test in opener
* PODCAST: Let's put a bow on Pokes training camp
* Pokes Practice Report: Texas Tech is officially on the clock
* Wyoming WR Alex Brown: 'I think this will be a big year for me'
* Throwback Thursday: Neff's rainbow turns tide for Cowboys
* UW quarterback Evan Svoboda trying to win 'race to maturity'
* Senior Bowl eyes pair of Pokes, Easton Gibbs, Cole Godbout
* Ayir Asante looking to add new element to Pokes offense
* Q&A with Wyoming DC Jay Sawvel
* Wyoming RB Jamari Ferrell sits atop initial fall depth chart
* Wyoming's proud Poly's Suiaunoa, Tulafono up for national award
* Pokes Practice Report: Sabastian Harsh nearing return
Crum agrees, but added he's not losing any sleep.
"It's definitely a guy I will and have put a lot of preparation into the past week," he said. "I'm definitely taking him very seriously. It's good competition that's legitimate."
Crum also knows Cole isn't the only player he can focus on. Syracuse transfer Steve Linton poses plenty of problems. So does Jesiah Pierre and Jacob Rodriguez. Texas Tech deploys a four-man front on certain formations. Other times, a nickelback -- or "star" -- enters the fray and linebackers drop into coverage.
"They're deep and very versatile," Crum said. "Length, speed, power, they have all those types of guys out there on the end. I'll definitely be challenged with a lot of different things from those guys you just mentioned, but I'm excited."
Texas Tech defensive coordinator Tim DeRuyter knows a good edge rusher when he sees one. He coached Von Miller at Texas A&M. While at Oregon in 2021, he mentored Kayvon Thibodeaux, the fifth overall selection in the following NFL Draft.
"If you want to rush the passer, if you want to play in a pro-style defense — talking about edge players — then you come play for Tim DeRuyter," McGuire told the Lubbock Avalanche-Journal in March. "That's the thing for Steve. He's so athletic. He's such a great kid.
"Our guys who were on campus ... Tyree talked to them and was like, 'If you want to change your trajectory in football, come play for coach DeRuyter.' You're going to see the same thing with Myles Cole. He had a really good bowl game. I think the plays that he did make have created a lot more self-confidence. That was the one thing that we've really got to build with him."
Linton, a 6-foot-5, 235-pound senior, racked up 22 sacks, four sacks and a forced fumble during his final season with the Orange. Pierre added 40 tackles, 4.5 sacks and a forced fumble. Rodriguez also punched a ball out and registered 29 stops.
Tech was credited with 30 quarterback takedowns a season ago. Wyoming allowed just 19 sacks.
Crum doesn't want anyone touching quarterback Andrew Peasley. That's one of the main reasons he was moved from right tackle to left this offseason. But the fact remains, the Cowboys' focus is flying off the line and opening running lanes for Jamari Ferrell, DQ James and crew.
The Red Raiders did allow nearly 170 rushing yards per game in '22.
"I'm confident in our run game no matter who we go against," Crum said. "We're not going to be a run-around party with these guys, we're going to attack them head on. We're going to take it to them. You can be confident in Wyoming's run game. That's our M.O. and what we pride ourselves in.
"So, we'll leverage that versus any opponent, and that includes Texas Tech."
Kickoff between the Pokes and Red Raiders is set for Saturday at 5:30 p.m. from War Memorial Stadium in Laramie. The game will be televised on CBS.
2022 Wyoming Football