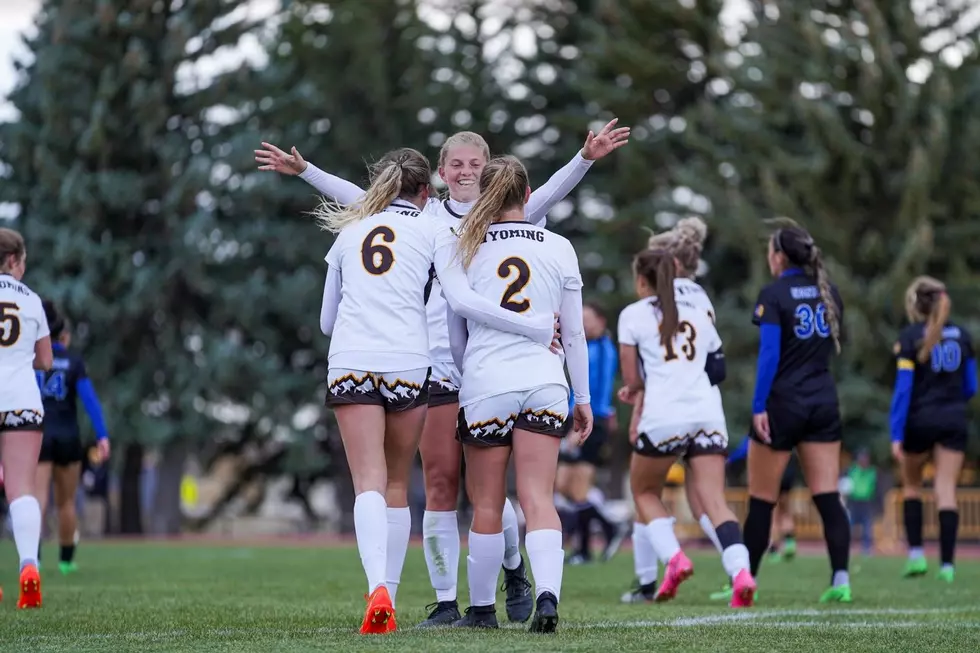 Tatum nets late goal to rally UW past SJSU, clinch spot in MW Tourney
The win propels Wyoming to 6-6-5 on the season and 5-3-2 (17 points) in Mountain West Conference play, while also punching a ticket to the league's postseason tournament. The loss drops the Spartans to 6-6-5 overall and 5-3-2 (17 points) in conference play./ UW courtesy photo
* University of Wyoming press release
LARAMIE -- University of Wyoming soccer head coach Colleen Corbin is continually having to reach deeper into her internal thesaurus to find new ways to describe her 2022 squad. The Cowgirls have broken records, rallied numerous times and scored in the waning moments on more than on occasion this season, and that's tested the breadth of Corbin's vocabulary.
Speechless would have been an understandable reaction to Sunday's 2-1 come-from-behind victory over San Jose State at the Madrid Sports Complex. But Corbin found a way to detail her team's resiliency.
"I will never run out of things to say about this team," Corbin said. "It's their fight, it's their grit, it's their tenacity, it's their commitment to the grind, and the legacy they want to leave on this program. They're doing things that have never been done in Wyoming soccer history, and it's for no reason other than because that's what they want."
The win propels Wyoming to 6-6-5 on the season and 5-3-2 (17 points) in Mountain West Conference play, while also punching a ticket to the league's postseason tournament. The loss drops the Spartans to 6-6-5 overall and 5-3-2 (17 points) in conference play.
The Cowgirls are positioned in second in the conference standings, tied with San Jose State and San Diego State. All three teams are chasing New Mexico, which lays claim to 19 points.
Wyoming is in a spot to contend for a league title going into the regular-season finale due to another 89th minute goal Sunday. Just like Thursday against Fresno State, senior Jamie Tatum scored with just over a minute to play to give the game its final tally.
"I have so much respect for every single person on this roster right now," Corbin said. "It's not a single-person effort. Every single person on this team impacted the game in a positive way today. I feel grateful to coach them. We have a flare for the dramatic. I'm just so proud of them."
Sophomore Maddi Chance put the Cowgirls level on the scoreboard. She found the back of the net during the 49th minute, which tied the game, 1-1.
San Jose State's Kiana Myazato opened the scoring with a goal in the fourth minute off a feed from Taylor Phillips. In the 34th minute, Isabella Shallou-Enes received her second yellow card of the game, and that forced the Spartans to compete with 10 players for the reminder of the contest.
Sunday marked the fourth comeback win in conference play this season for Wyoming. Prior to this year, the Cowgirls had never had more than two such wins in any one season.
Tatum's goal, her eighth of the season, was the 21st of her career, That puts her third all-time in program history and her 55 career points are tied for second in school history.
The victory Sunday was made even sweeter for the fact that it was done on Senior Day. Alex Daws, DeLaney Hallcroft, Haylee Rice, Kennedy Schomer and Maria Allen were celebrated for their contributions to the program over the last few years.
"They've left an incredible legacy," Corbin said. "They've paved the path for future Cowgirls to come. They're part of program that is in flux and is going through change, and they've been completely and totally committed to that process."
Wyoming takes to the road for its final regular-season game. The Cowgirls battle Colorado State in Fort Collins on Thursday at 3 p.m.
15 Questions You Should Never Ask Someone From Wyoming
- 15 Questions You Should Never Ask Someone From Wyoming