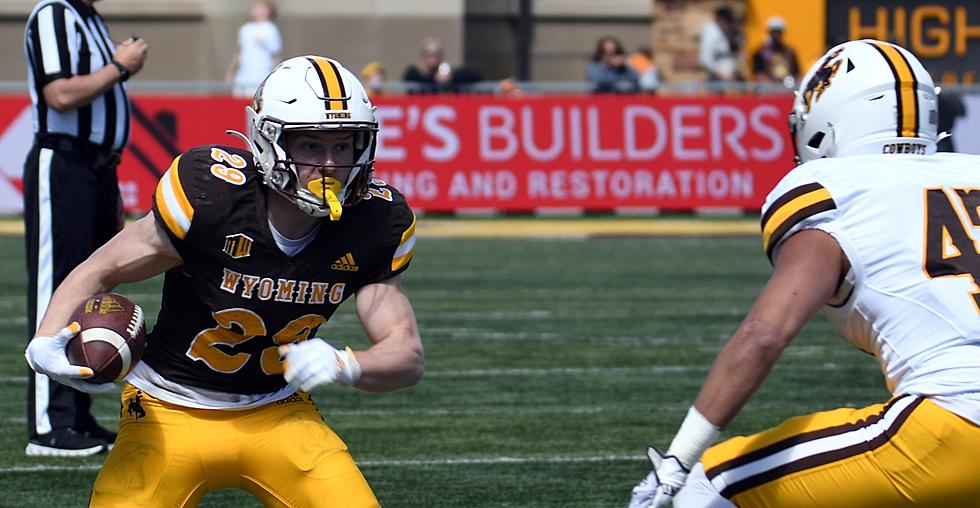 Three Stars of the Game: Brown vs. Gold
Wyoming wide receiver and Laramie native Isaac Sell snagged a game-high eight passes for 79 yards in Saturday's spring game./ DJ Johnson photo
LARAMIE -- An unexpected player -- typically one from the Cowboy State -- always seems to be the star of the spring game, Craig Bohl said late last week.
That was true again this Saturday.
While this honor could go to a number of players, here are the three that stood out to me as the Gold Team held on for the 17-10 victory over Brown inside War Memorial Stadium:
1st star: Jaden Williams - Defensive tackle - Gold Team
Wyoming has a wealth of talent in the defensive tranches.
Cole Godbout and Jordan Bertagnole are arguably the best defensive-tackle combo in the Mountain West. You can probably ditch the "arguably" word. Gavin Meyer, Caleb Robinson and Ben Florentine showed they are more than serviceable backups.
But wait, there's more.
Jaden Williams was nothing short of dominant Saturday, tallying a team-best six tackles, including four for loss. He also registered a pair of quarterback sacks. With the Brown squad driving in the first half, the 6-foot-4, 278-pound redshirt freshman blew through his blocker and met Sam Scott in the backfield. The ball popped loose on the hit and was scooped up by Keelan Cox.
Scoring threat averted.
The Inglewood, Calif., product appeared in two games last fall, the regular-season finale at Fresno State and the Arizona Bowl. He capped his first year in Laramie with a pair of tackles.
2nd star: Isaac Sell - Wide receiver - Brown Team
Here's your hometown star of the spring game.
Laramie native Isaac Sell was all smiles Saturday after snagging a game-high eight passes for 79 yards. The 5-foot-10, 194-pound wideout made a perfect adjustment to haul in a 30-yard strike from Evan Svoboda late in the second half. Safety Brennden Warady didn't see the throw and Sell squirmed out of coverage to make the grab.
Bohl said Sell has been giving the starters "fits" on the scout team since arriving on campus in 2021. The former Plainsman shared his emotions behind the postgame podium.
"It's a super surreal moment," Sell said. "I mean, being a kid from Laramie, I feel like this is a moment that a lot of kids envision in their heads. Being able to fulfill that is a pretty exciting feeling."
3rd star: Tyrecus Davis - Cornerback - Brown Team
Tyrecus Davis was clearly nervous addressing the media after this one.
After all, the questions weren't pouring in during his three-year stint at Navarro Community College. The junior cornerback even joked that there were more people in attendance at the Cowboys' spring game than any regular season game at the JUCO level.
Nerves clearly weren't an issue on the field.
With 13 ticks remaining in the first half, UW quarterback Andrew Peasley, from the far hash, heaved a pass to the far sideline, intended for Ryan Marquez.
It didn't make it that far.
Davis, a 5-foot-10, 181-pound Greenville, Texas product, jumped the route and streaked 42 yards to the end zone to put the Brown Team on the board.
He said his eyes got really big watching that ball float in his direction. You could tell.
UW FOOTBALL STORIES FROM SPRING FOOTBALL:
* Behind the numbers: Wyoming spring football game
* Peasley, Gold Team wins Wyoming spring game, 17-10
* Tuck's Takes: Wyoming corners are thriving on the island
* Sky's the limit for Wyoming's Andrew Johnson
* Pokes Practice Report: It's go time in Laradise
* Here's what you need to know about Wyoming's spring football game
* Pokes Practice Report: Be careful when you question loyalty
University of Wyoming's Top 50 Football Players
The rules are simple: What was the player's impact while in Laramie? That means NFL stats, draft status or any other accolade earned outside of UW is irrelevant when it comes to this list.
This isn't a one-man job. This task called for a panel of experts. Joining 7220's Cody Tucker are Robert Gagliardi, Jared Newland, Ryan Thorburn, and Kevin McKinney.
We all compiled our own list of 50 and let computer averages do the work. Think BCS -- only we hope this catalog is fairer.
Don't agree with a selection? Feel free to sound off on our Twitter:
@7220sports
- #Top50UWFB
- University of Wyoming's Top 50 Football Players