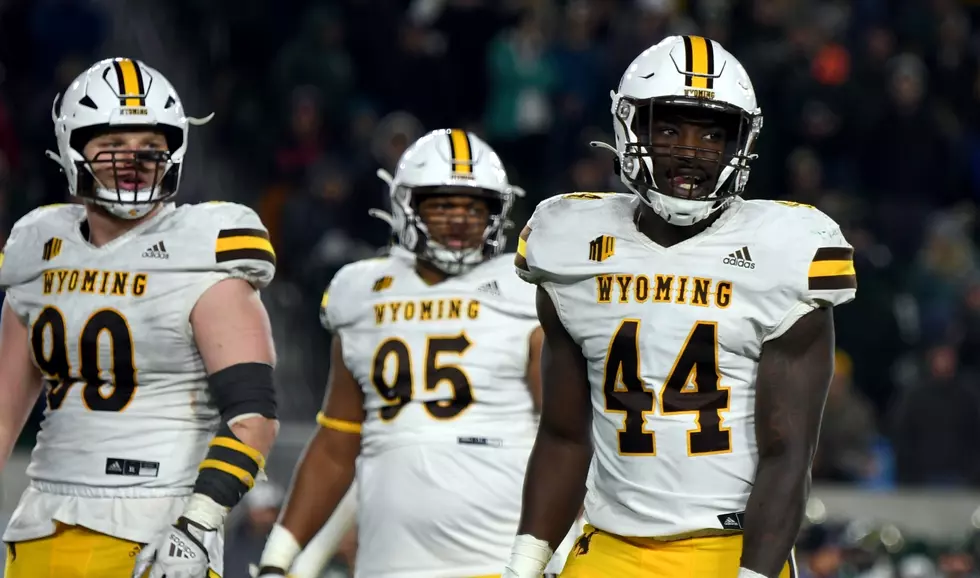 Turning Point, Unsung Hero and What's Next for UW Football
Oluwaseyi Omotosho (No. 44) and other members of the Cowboys' defensive front look to the sideline for a call during a 14-13 victory over Colorado State./ DJ Johnson photo
FRESNO, Calif., -- It's easy to rattle off excuses for the Cowboys' 30-0 blanking Friday night in front of 41,000-plus inside Valley Children's Stadium.
Two interceptions didn't help. Neither did a couple of blocked punts or three Jordan Mims touchdowns. Lining up without the services of 10 players, who have all started at least one game this fall, certainly did the visitors no favors.
The truth of the matter is, there was no single turning point in this lopsided loss to the Mountain West title-game bound Bulldogs, that already took place before Wyoming even loaded onto the plane in Laramie.
In reality, this game was lost six nights prior inside a frigid War Memorial Stadium.
"I think we had a hangover effect," Craig Bohl said postgame, referring to a 20-17 loss to Boise State the week prior that axed the Cowboys' championship aspirations thanks to a last-minute interception in the end zone. "I'd like to think I would be the Dalai Lama and could snap them out of it and I didn't. We didn't."
Wyoming's ninth-year head coach admitted he was concerned about the team's state of mind during the week. One of four team captains, Easton Gibbs, told Bohl the heartbreaking setback against the Broncos would require more than 24 hours to get over.
That became apparent early on in central California.
MORE UW FOOTBALL NEWS FROM 7220SPORTS:
* Tuck's Takes: Bulldogs blank 'hungover' Pokes
* Fresno State shuts out Cowboys for second straight year
* Behind the numbers: Wyoming vs. Fresno State
* Rants and Raves: Fresno State Edition
It took Jake Haener and Co. just five plays to march 66 yards on the opening possession of the night. That drive culminated with a Mims' four-yard touchdown run. The third time this high-powered Fresno State offense got its hands on the ball, it cruised 41 yards on eight plays. Haener, the conference's passing leader with 2,432 yards through the air, connected with Nikko Remigio on a six-yard crossing route.
The rout was on.
"It was a rough night for all of us," Bohl said. "I do believe Fresno is the real deal and they are West (Division) champions for a reason. I think it was a combination of they played well and we didn't play particularly well."
That's the understatement of the year.
Wyoming converted on just three of 14 third-down opportunities. The Cowboys rolled up just 191 yards of total offense, including just 87 on the ground. Titus Swen accounted for 75 of those yards. It took him 24 carries to get there. That's an average of just 3.1 yards per carry.
The 'Dogs won the turnover battle and were a perfect 4-for-4 in the red zone. Four trips, four touchdowns.
Wyoming's defense played without both of its starting defensive tackles -- Cole Godbout and Jordan Bertagnole. Cornerback Jakorey Hawkins missed this one. So did nickelback Keonte Glinton.
The offense didn't have tight ends Treyton Welch or Parker Christensen. Running backs DQ James and Dawaiian McNeely didn't suit up. Neither did wideouts Alex Brown or Will Pelissier.
That's a lot of skill wearing street clothes.
Peasley completed just 12-of-29 throws for 104 yards in his return from a concussion he sustained two weeks ago, early in a road victory over Colorado State. The junior didn't see underneath linebacker Malachi Langley early in the third quarter. That accounted for his first interception of the night. Fresno State was back in the red-and-white checkerboard for the third time on the night two snaps later.
Peasley also tossed a pick in the fourth. This time deep down the seam into double coverage. Cam Lockridge secured that one.
The Utah State transfer tossed just three interceptions during the Cowboys' first eight games. Over his last three outings, Peasley has thrown five of those to the opposition.
"I wouldn't say I'm trying too much," he said. "I think that I have to prepare better. I have to see the looks that they're giving me. There's some different stuff that's been going on during the games with pressures and, I think, I have to make better decisions."
Gibbs, who tallied a team-high 12 tackles in the loss and eclipsed 100 stops on the year, didn't beat around the bush when asked about the impact that loss to Boise State had on this young team.
"No doubt, I think it's something you try to avoid always, but, I mean, you guys all saw that game last week," he said. "It was pretty detrimental. It was a fast swing of emotions, really quick, in a short period of time. So, it was definitely tough ... It definitely took a little bit more than 24 hours, I'd say. At least for me."
FINAL: Fresno State 30, Wyoming 0
UNSUNG HERO
This honor goes to the tight ends.
On a night when Wyoming completed just a dozen balls, seven of those were hauled in by guys who were filling in for Welch and Christensen. Two of those players -- John Michael Gyllenborg and Nick Miles -- caught their first-career passes in the loss.
Gyllenborg, a 6-foot-5, 225-pound redshirt freshman from Leawood, Kansas, was targeted three times and snagged each one of those, racking up 21 receiving yards. The former three-star recruit from the Kansas City area played only one year of football at Rockhurst High School.
Peasley raved about "J Mike" after the loss.
"Yeah, he's one of the most athletic tight ends we have with route running and his skill," UW's quarterback said. "Obviously, three plays he did his job and I was pumped for him. We work all the time on routes on air."
Miles is a sophomore from Parker, Colorado. The 6-foot-5, 261-pound Chaparral High School product appeared in 11 games for the Cowboys in 2021, all on special teams.
Colin O'Brien pulled in back-to-back grabs early in the fourth quarter. He chalked up 31 receiving yards. O'Brien now has four catches for 83 yards this fall. Jackson Marcotte also added a reception for seven yards.
QUOTABLE
"They did a really good job last week of running the ball against Boise State and I thought coach (Kevin) Coyle and the defensive staff did a really nice job of putting a plan together and the kids really executed well. I think that's as good as we have played run defense all year long."
-- Fresno State head coach Jeff Tedford on holding the Cowboys to just 87 yards rushing and keeping the visitors off the scoreboard
"I took pictures. I thought it was an absolutely perfect night just walking around the stadium one last time and seeing the sun kind of setting or getting close to the sky. The ambiance of the stadium was awesome."
-- Fresno State QB Jake Haener on playing his final home game as a Bulldog
"I wouldn't necessarily say the game plan. I think we didn't execute very well as an offense. I think I made bad decisions and underthrew two important big plays, you know? There's a lot of work that we need to be getting done these next two weeks before the bowl game. Coach Bohl said it's a reward (to go to a bowl), so we have to stay positive. It's not the way we wanted to finish the season, obviously. So, yeah, we have to come back and stay positive. That's my main goal to keep leading and try to get better."
-- Wyoming QB Andrew Peasley on what went wrong Friday night in Fresno
"We came in this year and everyone saw we were picked pretty low. Just the fact that our team banded together and didn't believe in any of the outside noise and kind of came together as one, I think it really shows a lot. So, it's really exciting stuff."
-- Wyoming linebacker Easton Gibbs on his thoughts on the program
WHAT'S NEXT?
The waiting game. Will the Cowboys (7-5, 5-3) head to New Mexico in the postseason? How about Boise, Tucson, Honolulu or elsewhere? We will all soon find out. Boise State and Fresno State will duke it out for the Mountain West title Saturday afternoon inside Albertsons Stadium. One that conference championship tilt, and all the others around the nation, the bowl selections will begin. Expect to hear where UW is heading next Sunday afternoon. Once that destination is announced, Bohl's boys will have 15 postseason practices.
LOOK: Pokes' unis through the years