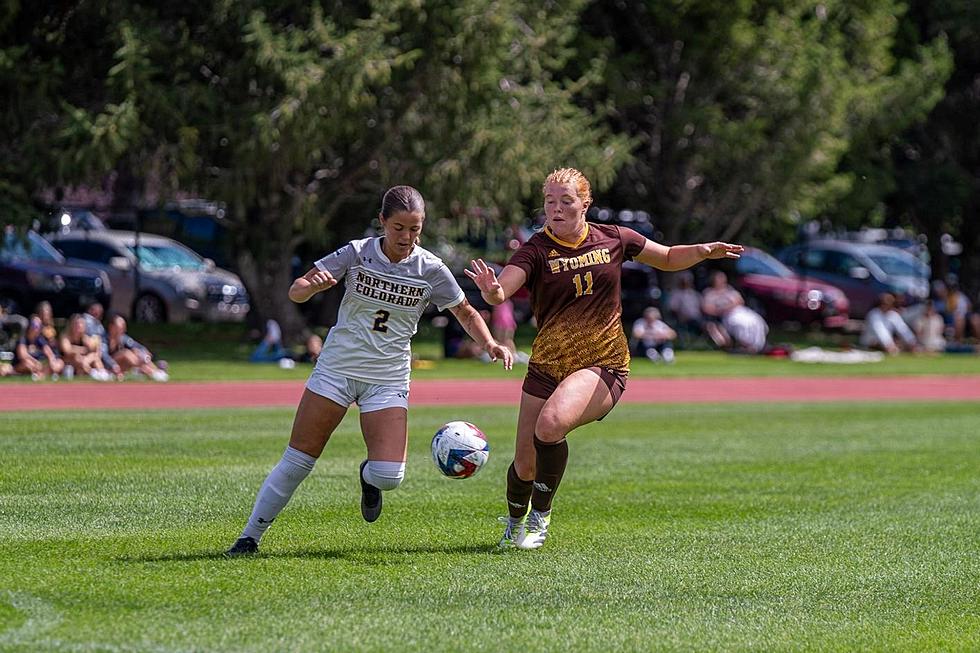 UW Ready for Final Non-Conference Home Match, ACC Road Game
The University of Wyoming soccer team wraps up the home portion of its non-conference slate and hits the road to battle an ACC school this week./ UW courtesy photo
* University of Wyoming press release
LARAMIE -- The University of Wyoming soccer team wraps up the home portion of its non-conference slate and hits the road to battle an ACC school this week. The Cowgirls host Idaho State on Thursday at 4 p.m. at the Madrid Sports Complex before playing at Louisville on Sunday at 3:30 p.m. at Dr. Mark and Cindy Lynn Stadium.
"I think it's exciting to look ahead and think about playing at Louisville," head coach Colleen Corbin said. "But at the same time, we have to get through Idaho State first."
Wyoming is fresh off a week where it played just one game but earned a clean card in a 2-0 victory over Northern Colorado. The game featured a goal at the Madrid Sports Complex off the foot of Maddi Chance and a score in the Indoor Practice Facility courtesy of Alyssa Glover.
Glover has now scored in three straight games to take the team lead with three goals. Chance and Jazi Barela each have two scores apiece.
Miyuki Schoyen's shutout in net was her second of the season. She's logged 15 saves in her four starts at goalkeeper, which is good enough for a GAA of 1.00.
Idaho State is off to a rocky start in 2023. The Bengals own an 0-6-0 record and are being outscored, 22-5, however, they've found some offensive footing of late, scoring twice in each of the last two games.
Idaho State was picked to finish ninth in the Big Sky Conference Preseason Coaches' Poll. That's a year after checking in at No. 8 in the standings.
"I know Idaho State hasn't had a great start to the year, but we understand that anyone in the country can beat us if we let them," Corbin said. "So, our biggest challenge today tomorrow and every day after is being consistent and just continuing to show up and compete and bring energy and be positive."
Louisville – which was picked 11th in the ACC Preseason Coaches' Poll – holds a 1-3-2 record and is set to play at Indiana on Thursday. The Cardinals are being outscored 6-5 on the season.
Molly Cochran paces Louisville offensively with a pair of scores this season. Erynn Floyd has started every match in net and has 15 saves, a GAA of 0.91 and three shutouts.
Sunday will provide a tall test for Wyoming, competing against a team that plays in the same conference as five of the last 15 national champions. That being said, the game for Wyoming is about something smaller internally.
"We have big goals, but if we want to achieve those things, we have to continue to do the little things right," Corbin said. "We have to show up every day and put our best foot forward. That to me is our biggest challenge today, tomorrow, the rest of the week and the rest of the season is to be consistent and to put our best brand of soccer out on the field every time we have the opportunity to."
Following the trip to Louisville, the Cowgirls remain on the road for their final non-conference game of the season. They travel o North Dakota on Sept. 14.
From Bison to Triceratops - All of Wyoming's Official Things
Every state in our nation has chosen things that represent the state in one way or another to be official state things. Like a flower, or animal.
Wyoming
is no different.
The Equality State, or the Cowboy State, depending on which state slogan you want to go with, has a state flower. But did you know we also have a state tree and a state fish? Yes, we even have a state code.
To be an official thing, a member of the state legislature must write and submit a bill to the legislature declaring that a thing will be the official state thing. Then the legislature votes to pass the bill, or not, if it passes, the governor signs the bill into law and we have a new official state thing.
Here is what we have so far, all of Wyoming's official things. Now you can win big on Wyo Trivia Night if that's a thing that exists.
- From Bison to Triceratops - All of Wyoming's Official Things