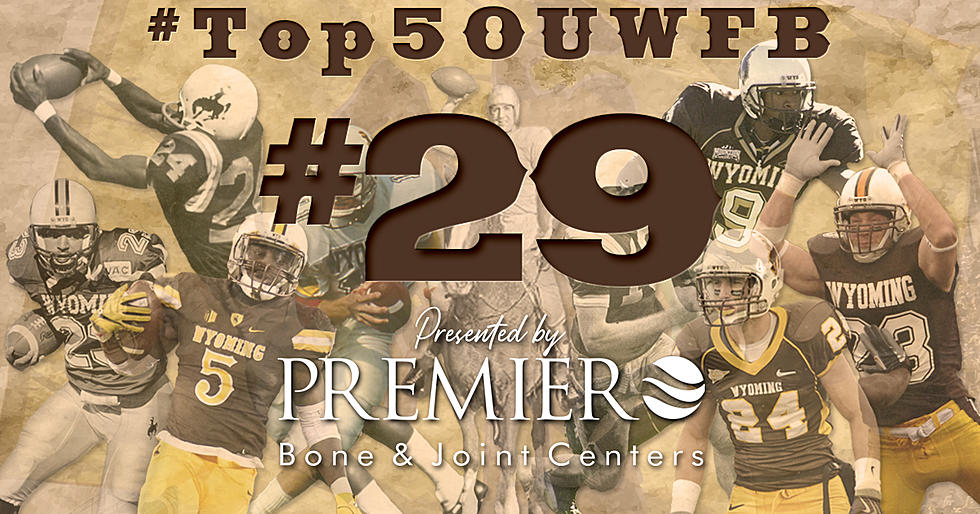 UW's Top 50 football players: No. 29
Jen Kost graphic/ UW courtesy photos
LARAMIE -- During this summer series we are going to countdown the Top 50 football players in Wyoming history, presented by Premier Bone & Joint Centers, Worthy of Wyoming.
The rules are simple: What was the player's impact while in Laramie? That means NFL stats, draft status or any other accolade earned outside of UW is irrelevant when it comes to this list.
This isn't a one-man job. This task called for a panel of experts. Joining me is Robert Gagliardi, Jared Newland, Ryan Thorburn and Kevin McKinney. We all compiled our own list of 50 and let computer averages do the work. Think BCS -- only we hope this catalog is more fair.
Don't agree with a selection? Feel free to sound off on our Twitter page @7220sports.
Marcus Epps
Safety, 2015-18, Burbank, California
Here's why: To be honest, my initial thought when Marcus Epps was brought up was: great player -- no way he belongs on this list.
Top 50 all-time? No. 29? With all the great safeties who have come through Laramie, Epps just isn't going to make it.
I was wrong. Way wrong.
That is really the beauty of this panel. Robert Gagliardi fought for Epps, and after doing my homework, he was right.
Look at these stats:
* 324 tackles
* 18.5 tackles for loss
* Nine interceptions
* 22 pass breakups
* Four fumble recoveries
* Five forced fumbles
Epps is just outside the Top 10 in career tackles. Same with tackles for loss. His nine interceptions ranks him sixth all-time, tied with guys like Tashaun Gipson, Julius Stinson, Steve McMillon, Michael Davis and Kevin McClain. Epps has the most interception return yards in school history with 211.
Not only was Epps a walk-on, did you know he raised a newborn throughout his career in Laramie?
While fellow safety Andrew Wingard was gobbling up the headlines -- and rightfully so -- Epps quietly put together one of the greatest careers in UW history.
The Minnesota Vikings took notice. They selected Epps in the sixth round of the 2019 NFL Draft. After being cut that same season, the Eagles snagged him off waivers. He's been a mainstay in the Philly secondary ever since. He already has two interceptions, too. He picked off former Heisman Trophy winner Kyler Murray for his first. The second came courtesy of former No. 1 overall pick, Alex Smith.
I was dead wrong about Epps. He belongs right here.
Gagliardi's take: Marcus Epps didn't earn any All-Mountain West honors during his career at Wyoming, but his impact for the Cowboys goes well beyond any sort of all-conference list.
Epps arrived at UW in 2014 as an unknown walk-on from Los Angeles. From there he earned a scholarship, became a three-time captain and was part of arguably the best safety combination in school history with Andrew Wingard.
Epps' nine interceptions is tied for the fifth-most in school history, and did you know his 211-career interception return yards is a school record, along with his 33.5-yard average on two interception returns in a 2016 game at Eastern Michigan?
Epps was one of three finalists for the Burlsworth Trophy his senior year, given to the most outstanding player in college football who started as a walk-on.
Epps' biggest accomplishment had nothing to do with football. It was becoming a dad while in college and juggling those duties — along with playing football and going to school — with grace and poise.
Epps was a free safety, but he was more than just a guy who played centerfield in UW's defense. He played nickel at times, which was a hybrid linebacker/safety position. The Cowboys used him a lot of different ways, which allowed Wingard to flourish at strong safety, as well as other players at other positions.
When doing these rankings, I cheated and put Epps and Wingard together as one. To me, you can't have one without the other, and I'm not sure if either one would have had careers or impacts at UW without each other.
Jake Dickert was Epps' position coach for two years at UW. That's not a long time, but the impact Epps made on Dickert was massive.
"Marcus is one of the most mature guys and players I've been around," said Dickert during an interview about Epps. "He is always prepared. We never have an issue with him in terms of school, and he always gets football work done. Through it all, he does everything with a smile on his face and a positive attitude.
"We're here to develop men. I don't know what impact I've had on him in this short time, but to see a guy make that transition and be responsible is one of my proudest moments as a coach."
I wrote a lot about Epps when I covered the Cowboys, but I was most proud of the story I did about a year after his son, Braxton, was born when Epps was a junior.
"It has been stressful at times, but it also has been the best year of my life watching him grow," Epps said in the article. "Going through all of his firsts like laughing, crawling and walking has been amazing.
"He's always happy when I come through that door. That's the greatest feeling in the world when he comes to me with that smile and I pick him up."
It's safe to say Epps grew a lot, too, while at UW — both mentally and physically.
How the panel voted: Cody Tucker (13), Robert Gagliardi (6.5), Jared Newland (NR), Ryan Thorburn (35), Kevin McKinney (NR)
Previous selections: No. 50, No. 49, No. 48, No. 47, No. 46, No. 45, No. 44, No. 43, No. 42, No. 41, No. 40, No. 39, No. 38, No. 37, No. 36, No. 35, No. 34, No. 33, No. 32, No. 31, No. 30
Cody Tucker: Brand Manger and creator of 7220sports.com. Tucker has covered the Cowboys since June of 2019, but was a season-ticket holder for nearly three decades. Tucker has also covered Michigan State University Athletics for the Lansing State Journal and Detroit Free Press and the NHL's Pittsburgh Penguins during his 10-year journalism career
Robert Gagliardi: Former sports editor and University of Wyoming beat reporter for WyoSports. Gagliardi covered the Cowboys from more than a quarter century. He also covered the team at the Branding Iron, the UW student newspaper. Gagliardi also co-authored the book: The Border War: The Bronze Boot Rivalry Between Colorado State and Wyoming
Jared Newland: Currently the local sales manager for Townsquare Media SE Wyoming, Newland worked with and around Wyoming athletics for 20 years, starting as a student athletic trainer in 1990. Newland has also served in the Sports Information Office, the Cowboy Joe Club, Wyoming Sports Properties and was a UW Athletics Hall of Fame Committee Member from 2002-14.
Ryan Thorburn: Currently covering the Oregon Ducks for The Register-Guard, Thorburn also covered the Cowboys in the early and mid-90's for the Branding Iron and Casper Star Tribune. He has also written four books about Wyoming Athletics: The Border War: The Bronze Boot Rivalry Between Colorado State and Wyoming, Cowboy Up: Kenny Sailors, The Jump Shot and Wyoming's Championship Basketball History, Lost Cowboys: The Story of Bud Daniel and Wyoming Baseball and Black 14: The Rise, Fall and Rebirth of Wyoming Football
Kevin McKinney: Currently the senior associate athletics director for external affairs at the University of Wyoming, McKinney also serves as the radio color commentator for Wyoming football and men's basketball. McKinney has been involved with UW Athletics in some capacity since 1972. He was also inducted into the Wyoming Association of Broadcasters Hall of Fame in 2015.
Wyoming's Cutest Furbaby Finalists