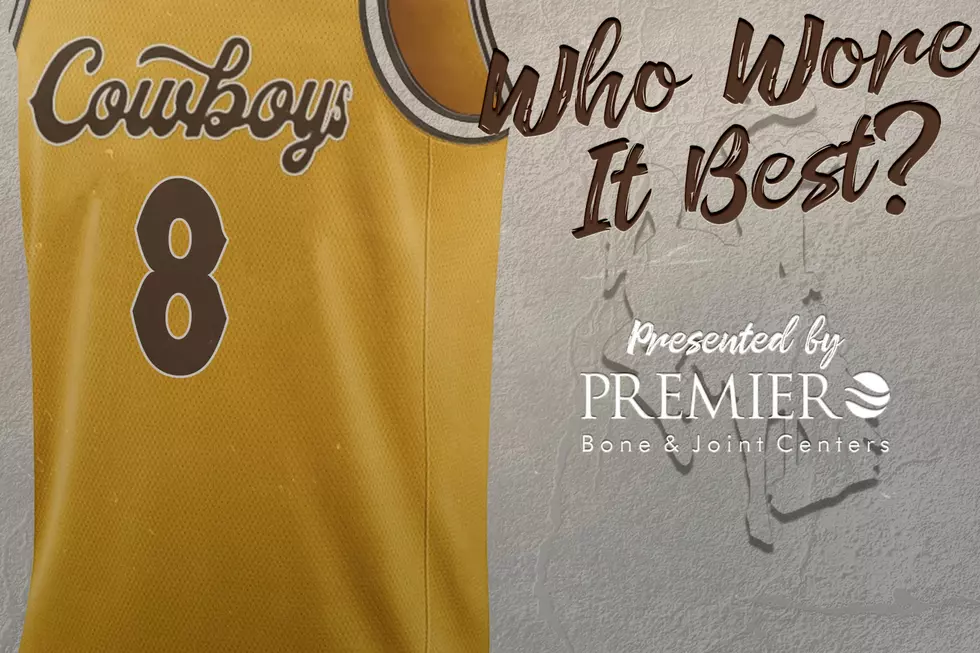 Which Wyoming hoopster wore it best? No. 8
Jen Kost graphic
LARAMIE -- Do you ever see a number on a Wyoming basketball jersey and think of all the great players to wear it?
Yeah, me too.
In this summer series, I'll give you my take on which Pokes' hoopster was the best ever to don each number. The criteria are simple: How did he perform at UW? What kind of impact did he have on the program?
No. 8 - Earl "Shadow" Ray
Guard, 1940-43; 1947, Casper, Wyo.
Résumé in Laramie
* Member of National Championship team in 1943
* Defeated NIT Champion St. John's in Red Cross benefit game
* UW Athletics Hall of Fame inductee in 1993
Why Ray?
Wondering how Earl Ray got the nickname "Shadow?"
"He was so little and fast, they thought he looked like a shadow running,'' Ray's wife, Eloise Ray, told the Associated Press in May of 2003, just days after the former Wyoming basketball player passed away at the age of 79.
While the 1942-43 National Champions are mostly remembered for featuring the pioneer of the jump shot, Kenny Sailors, this squad was loaded with talent -- mainly homegrown. Eleven of the 15 players on the roster hailed from the Cowboy State.
Ray was one of those.
The Natrona High School graduate was a track standout in the Oil City, especially in the pole vault. Aside from being a guard on the Cowboys basketball team in Laramie, Ray also played running back for the UW football team under head coach Bernard Oakes and eventually Bowden Wyatt.
Ray was an All-Conference player for the Cowboys in each season from 1941-42 and in 1947. He led the nation in kickoff return yards in '41 with 496 on just 23 opportunities. He did that again in '47.
There was a gap in Ray's playing days because of World War II. Like so many athletes of his time, Ray joined the Army.
After his playing days in Laramie, Ray returned to Casper where he was named the head basketball coach at his alma mater. In 1949, the Mustangs claimed a state championship. Ray was named the Coach of the Year.
Ray taught and coached in his hometown for 26 years. He was also a business owner, purchasing the Alibi Bar and Lounge and later acquiring the Viking Restaurant and Lounge. According to the AP, Ray was also a licensed real estate agent and served as president of the Wyoming Liquor Dealers Association.
Wyoming became the first team in the Rocky Mountain Region to win it all in 1943. The Cowboys finished the season 31-2 overall. Those two setbacks came courtesy of Duquesne and the Denver Legion team.
The Cowboys won 23 games in a row during that campaign. In the NCAA Tournament, UW knocked off Oklahoma and Texas before claiming the crown with a 46-34 victory over Georgetown.
Two days after winning it all, the Pokes outlasted NIT Champion St. John's in overtime, 52-47, to earn the title of World Champions of 1943, according to the UW Athletics Hall of Fame.
Who else wore No. 8
Ed McGinty (1932), Morris "Tuff" Samuelson (1951-52), Bill Fowler (1951-52), Bill Sharp (1952-53, 53-54), John Sharp (1952-53)
Look who wore the No. 7 best right HERE.
Check out our "Who Wore it Best" football series right HERE.
* All available rosters provided by the University of Wyoming Athletics Department. If we missed a player who wore this number, please email cody@7220sports.com
* A number of players wore different jersey numbers during their careers. From the 1930's through the 50's, players were issued a home and an away jersey.
Dome of Doom