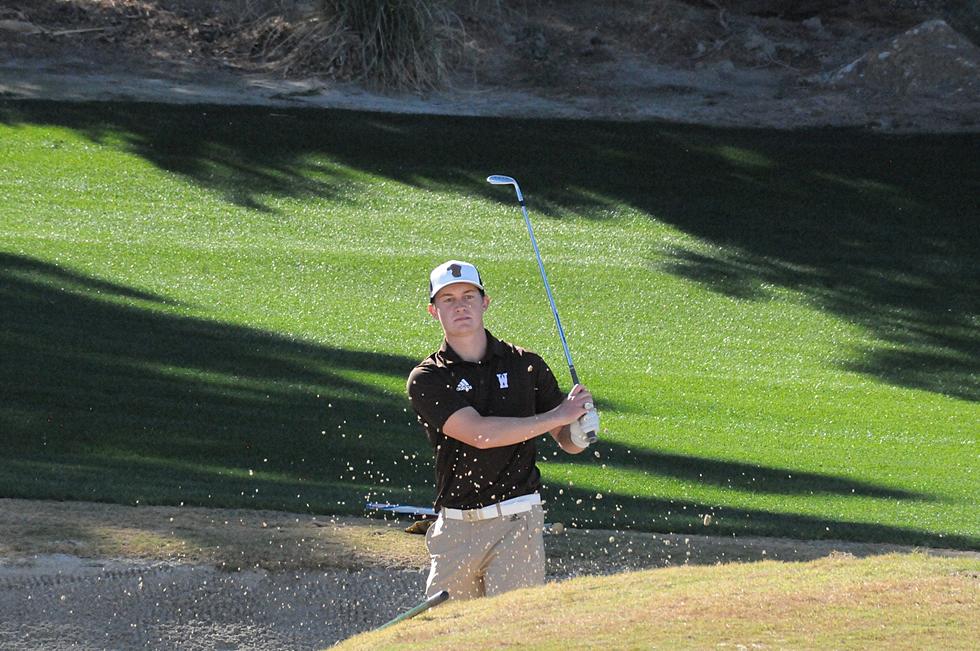 Wyoming Enters Sunday's Final Round in Second Place
After a 10-day break, the Wyoming Cowboys will return to play this Friday and Saturday at the University of Arizona N.I.T. The tournament will be played at the Omni Tucson National Golf Club in Tucson, Ariz./ UW courtesy photo
* University of Wyoming press release
MARICOPA, Ariz., --  After the second of three rounds at the GOLFWEEK National Golf Invitational (NGI) on Saturday, the Wyoming Cowboys kept themselves in contention for the team title as they finished the day in second place at 569 (-7).
The Cowboys trail tournament leader Texas State, which posted a 36-hole total of 565 (-11). Cowboy senior Tyler Severin continues to lead the race for the individual title.  Severin fired a 69 (-3) round on Saturday and sits atop the standings at 135 (-9) -- two strokes ahead of Kash Bellar of Ball State at 137 (-7).
Wyoming entered Saturday's second round holding a one-stroke lead over Penn State. The Cowboys lost some ground in the morning's opening nine holes, but UW came storming back in the afternoon.
The five Pokes combined for 12 birdies on the back nine, had only six bogeys and one double bogey to move back up the standings into second place just four strokes behind Texas State by the end of the day.
Severin posted his second straight under-par round, with a 69 (-3). Junior Jimmy Dales shot an even-par 72 on Saturday and moved up from 12th to 11th place at 142 (-2). Sophomores Jaren Calkins and Patrick Azevedo both posted rounds of 74 (+2) in the second round. Calkins is tied for 27th at 145 (+1). Senior Kirby Coe-Kirkham  shot a 75 (+3) Saturday for a total of 148 (+4). He and Azevedo are tied for 43rd in the field of 65 collegiate golfers.
"I'm really proud of how the guys hung in there after we got off to a little bit of a slow start," said UW Director of Golf Joe Jensen. "The guys didn't panic and just kept playing and following our process. It was really good to see them respond the way they did. That's not easy when you have the lead, lose it and then have to fight back.
"Tyler (Severin) had another really good round. It's been awhile since he was leading a tournament and he had to deal with everyone chasing him, but he handled the situation extremely well. We are going to approach the final round the way we have each round this year. We're going to follow our process, compete hard and see where we are at the end of the day."
The third and final round of the GOLFWEEK/NGI will tee off Sunday morning, beginning at 7:30 a.m., Pacific Time (8:30 a.m., Mountain) with the first grouping of Ball State, Stetson and Oral Roberts.
Wyoming will be paired with Texas State and Utah Valley and will begin teeing off at 8:15 a.m., P.T. (9:15 a.m., M.T.)
The GOLFWEEK National Golf Invitational is being played on the Ak-Chin Southern Dunes Golf Club.  The course measures 7,360 yards and plays to a par of 72.
Team Standings
1.   Texas State                          285-280=565 (-11)
2.   Wyoming                           280-289=569 (-7)
3.   Utah Valley                         286-235=571 (-5)
4.   Ball State                            286-287=573 (-3)
5.   Stetson                               290-284=574 (-2)
6.   Penn State                          281-294=575 (-1)
      Oral Roberts                        287-288=575 (-1)
8.   Troy                                    285-293=578 (+2)
9.   Washington State                283-298=581 (+5)
10. Valparaiso                           287-296=583 (+7)
11. George Washington            292-292=584 (+8)
12. Arkansas State                    294-291=585 (+9)
13. Santa Clara                         289-300=589 (+13)
Wyoming Cowboys
1    Tyler Severin                       66-69=135 (-9)
T11 Jimmy Dales                        70-72=142 (-2)
T26 Jaren Calkins                       71-74=145 (+1)
T43 Kirby Coe-Kirkham              73-75=148 (+4)
T43 Patrick Azevedo                  74-74=148 (+4)
30 Wyoming Attractions To Visit
- 30 Wyoming Attractions To Visit