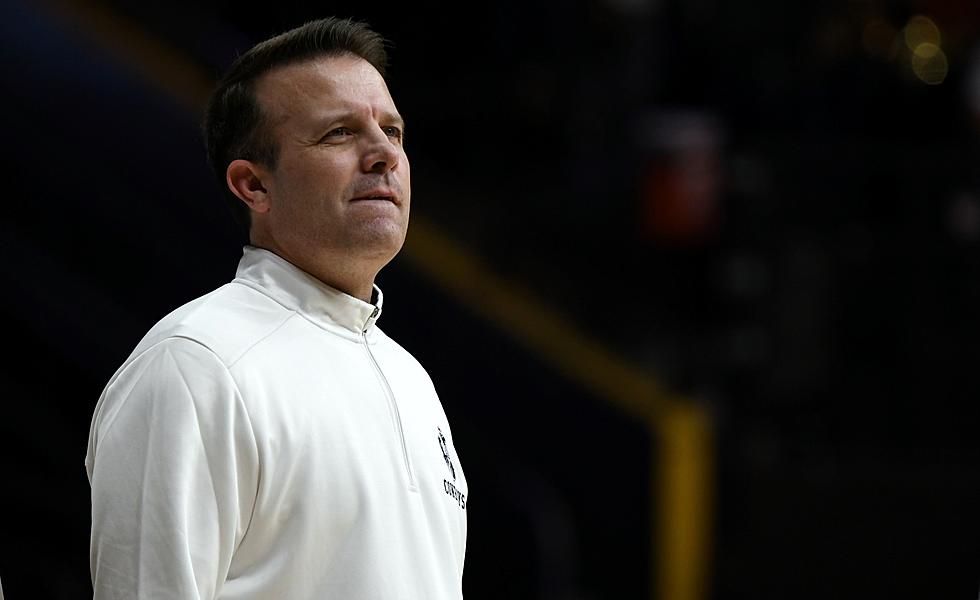 Wyoming Head Coach: 'Where's the Loyalty From the Fans?'
Jeff Linder's Cowboys moved to 19-3 overall and 8-1 in conference play Sunday with a 61-59 road win over Fresno State./ DJ Johnson photo
LARAMIE -- Wyoming snapped a four-game losing skid Tuesday night, knocking off Texas A&M-Commerce 91-76 inside a sparse Arena-Auditorium.
During his postgame press conference, Jeff Linder said he was proud of the way his team responded to the recent adversity. He raved about the collective toughness and grit of a starting lineup that featured a trio of players from the Allen Edwards' era, Hunter Maldonado, Kenny Foster and Hunter Thompson.
Noah Reynolds was the star of the show.
The sophomore guard netted a career-high 30 points on 11-of-15 shooting. He was dynamic in the paint and even added a pair of 3-pointers in the win.
"They had to find a way to come together," Wyoming's third-year head coach said. "During hard times, you can either falter or you can get better ... You have a team that represents Wyoming, you know, what the state of Wyoming is about with the level of toughness.
"I can lose if it looks right in terms of the effort and the discipline. I can lose that way."
For the first time since Nov. 18, the Cowboys didn't lose. Linder said his team took a step in the right direction.
Now, he's just waiting on you.
The announced attendance inside a building with the nickname "Dome of Doom" was 3,953. Linder noticed. He also pointed to a sequence late in regulation that was particularly concerning. Reynolds, who was having the best night of his young career, took a charge with less than three minutes remaining. Linder called it a "winning play" with the Cowboys lead swelling to double digits.
The head coach flailed his arms, imploring the home crowd to make some noise. The players did, too.
It didn't work.
"It's easy to come in and root and cheer when you win 20 games and everything is going great," Linder said to begin a near three-minute rant. "I thought Wyoming was a place where they stick with you whether it's good or bad. You know, for us to have the crowds that we've had, and for us to be in a game like that where you're up 10 and Noah Reynolds makes an unbelievable winning play -- charge -- and for nobody to get up and cheer and then not to bring any energy, it's just it's disappointing."
MORE UW HOOPS NEWS VIA 7220SPORTS:
* Second-half surge powers Cowboys past Commerce, 91-76
* Roaring Repeater Podcast: Happy Transfer Portal season
* Tuck's Takes: This Wyoming basketball team is not broken beyond repair
* Wyoming guard Noah Reynolds hushing the doubters
Linder wasn't done there, either.
Wyoming has played five home games this season. The best recorded attendance was Nov. 11 against Nicholls. Nearly 4,500 fans came through the turnstiles in the Cowboys' 11,000-plus seat arena.
"I mean, that's my guys," he said. "I have great kids that work their tail off to represent the University of Wyoming in the right way. And for them, they deserve more than what they're getting out there right now with the energy of those crowds. I'm not afraid to say it because, it's funny, when everybody wants all these kids to do all the right things, they want them to be loyal to the University of Wyoming and the state of Wyoming, but then, at the same time, where's the loyalty from the fans?
"It's easy to show up when these guys are winning, but you know what, we need the fans, we need them now. We need them when we're going through hard times."
Linder added his team won a handful of games last season that "maybe we shouldn't have" thanks to boisterous crowds inside the A-A. More than 7,500 showed up to watch the Cowboys outlast Border War rival Colorado State 84-78 in overtime. Three nights later, 7,063 fans watched Wyoming knock off eventual Mountain West champion Boise State, 72-65.
The largest crowd of the season -- 8,312 -- saw the 22nd-ranked team in the nation beat Air Force, 75-67. Another 7,855 were in the building for a win over Nevada in late February.
"How quickly they forget that, you know, now we lose a few games and we're only nine games in. We're only nine games in," Linder continued. "You have the Mountain West Player of the Year (Graham Ike) who hasn't played and you got the Mountain West, probably, second Player of the Year, Maldonado, who has been going through a separated shoulder, concussion and you don't have lineups in there.
"This is when we need the fans of Wyoming. I mean, this is when we need them, now, and we need them in the stands on Saturday."
The Cowboys (4-5) host Louisiana Tech (6-2). Tipoff is scheduled for 7 p.m.
Will you be there?
"It's just frustrating because I have a team full of guys -- we have a team GPA of 3.4 -- that don't get in trouble, guys that do everything right," Linder concluded. "And for them to have that kind of atmosphere when all we talk about is how everybody is so (loyal), I mean, no, we're only loyal when we're winning. So, it's disappointing."
UW: University of Wyoming Cowboys' Greatest Games From the First Decade of the 2000's