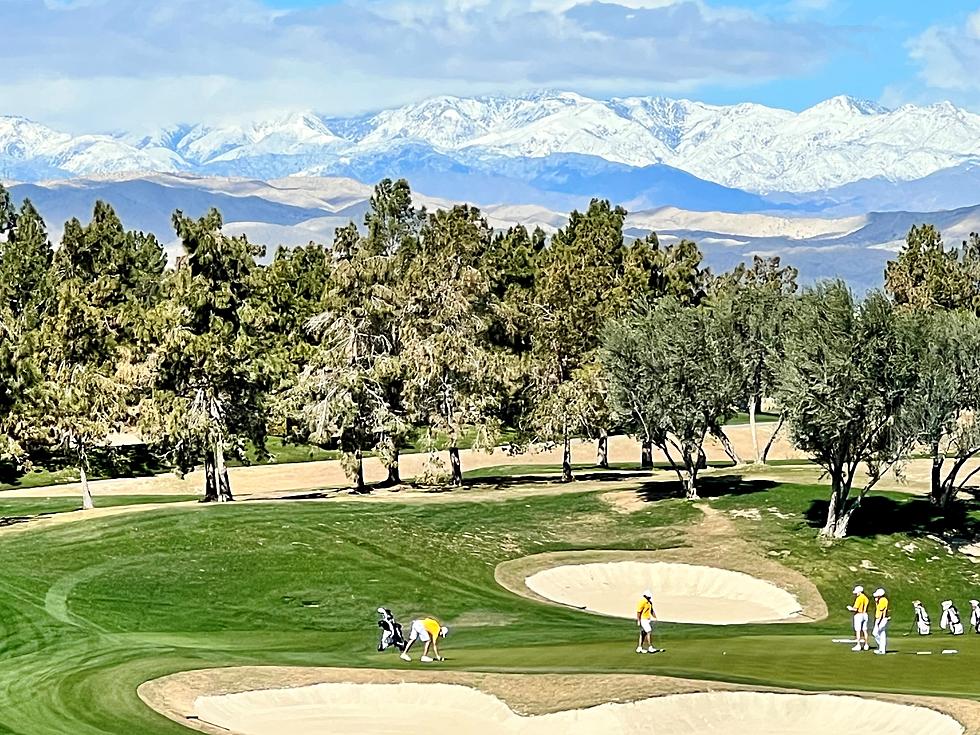 Wyoming in Third After Opening Round of Desert Intercollegiate
The Wyoming Cowboys came out of the gate strong on Wednesday in the opening round of the Wyoming Desert Intercollegiate, firing an opening round 290 (+2) to tie for third with the University of Utah./ UW courtesy photo
* University of Wyoming press release
PALM DESERT, Calif., -- The Wyoming Cowboys came out of the gate strong on Wednesday in the opening round of the Wyoming Desert Intercollegiate, firing an opening round 290 (+2) to tie for third with the University of Utah.
Wyoming is only one shot back of second-place Colorado, 289 (+1), and four shots back of first-place Fresno State, 286 (-2).
Sophomores Patrick Azevedo and Cade McLaughlin led the way for the Cowboys with opening rounds of 71 (-1) to tie for sixth place. Riley Bell of Sacramento State leads the individual competition after the first of three rounds, firing a 67 (-5) on Wednesday.
"It was a good first day," said Joe Jensen, Wyoming Director of Golf. "Today was an unusual weather day in Palm Desert with rainy and windy conditions. For us to be hovering around par as a team on a tough weather day is a good first round for us. Our lineup this week is a relatively young lineup. We've started several different lineups this season and all of our guys competed well today whether they were playing for the team or as individuals.
"This is a competitive field with Fresno State being a very competitive team in the Mountain West and Colorado being ranked in the Top-50 teams in the country and the highest ranked team in the tournament. I'm proud of the way we're playing and look forward to seeing what the guys can do tomorrow."
After Azevedo and McLaughlin, two other Cowboy sophomores, Jaren Calkins and Kristof Panke opened with rounds of 74 (+2) to tie for 28th. Senior Kirby Coe-Kirkham rounded out the Wyoming starting lineup with a 76 (+4) to tie for 49th. Three Cowboys playing as individuals were: sophomore Aidan Mann, tied for 12th at 72 (Even); senior Tyler Severin, tied for 28th at 74 (+2); and junior Jimmy Dales, tied for 42nd at 75 (+3).     
The 16-team field will tee off in the second of three rounds on Thursday morning beginning at 7 a.m., Pacific Time. The tournament will conclude on Friday with a third and final round.
The Wyoming Desert Intercollegiate is being hosted by the University of Wyoming at the Classic Club in Palm Desert, Calif. The Classic Club course measures 7,305 yards and plays to a par of 72.
Team Standings From the Wyoming Desert Intercollegiate
1.   Fresno State                        286 -2
2.   Colorado                            289 +1
3.   Wyoming                           290 +2
      Utah                                   290 +2
5.   Sacramento State                291 +3
6.   Hawaii                                293 +5
7.   UC Santa Barbara                294 +6
      CSU - Northridge                 294 +6
9.   Tarleton State                     295 +7
      Texas State                          295 +7
11. UT Arlington                       299 +11
12. UC Riverside                        301 +13
13. CSU - Fullerton                    302 +14
14. Southern Utah                     313 +25
15. Utah Tech                           314 +26
16. UC Irvine                             317 +29
Wyoming Cowboys Playing for Team
T6        Patrick Azevedo            71 (-1)
T6         Cade McLaughlin          71 (-1)
T28       Kristof Panke                74 (+2)
T28       Jaren Calkins                 74 (+2)
T49       Kirby Coe-Kirkham        76 (+4) 
Wyoming Cowboys Playing as Individuals
T12       Aidan Mann                  72 (Even)
T28       Tyler Severin                 74 (+2) 
T42       Jimmy Dales                  75 (+3)
30 Wyoming Attractions To Visit