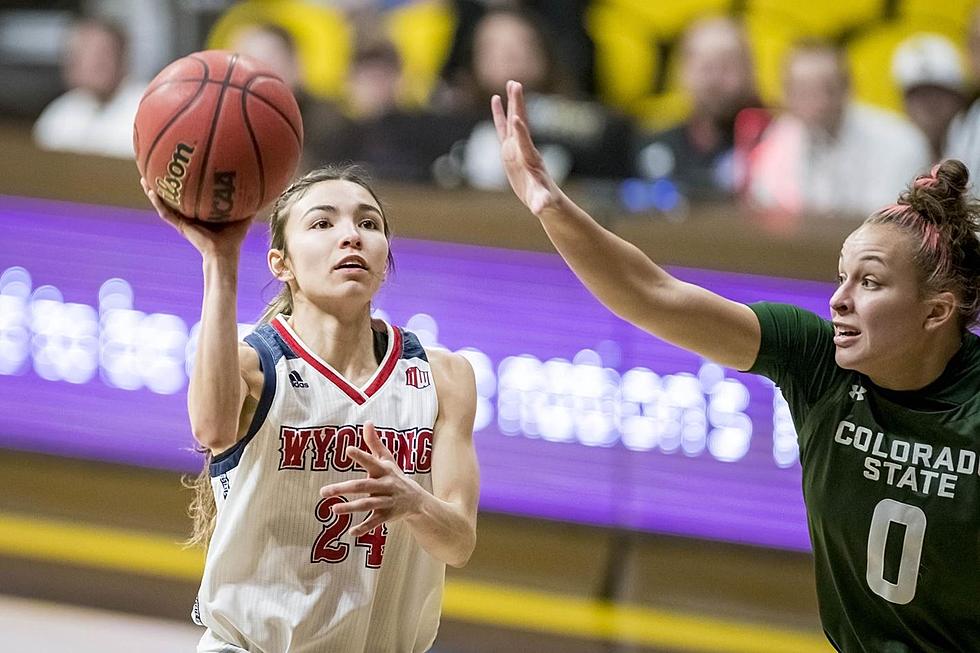 Wyoming opens tournament title defense against rival Rams
The Wyoming Cowgirl basketball team opens their defense of the 2021 Mountain West Tournament Title Monday night in Las Vegas as the Cowgirls face Border War rival CSU./ UW courtesy photo
* University of Wyoming Athletics media relations release
LAS VEGAS, Nev., -- The Wyoming Cowgirl basketball team opens their defense of the 2021 Mountain West Tournament title Monday night in Las Vegas as the Cowgirls face Border War rival Colorado State.
Tip-off against the Rams is set for 9:30 p.m. MT.
Monday's game will be broadcast live on the Mountain West Network and can be heard across the Cowgirl Radio Network with Keith Kelley on the call.
ABOUT THE COWGIRLS
The Cowgirls (15-11, 11-6 MW) enter the tournament as one of the hotter teams in the league, having won three-straight entering Monday and have won 9-of-11 overall.
Wyoming had a trio of student-athletes earn All-Mountain West honors Sunday, announced by the league office. McKinley Bradshaw was named to the All-Mountain West Team, Allyson Fertig was named the league's Freshman of the Year and was selected to the All-Freshman Team.
Quinn Weidemann, meanwhile, was named to the All-Defensive Team for the second consecutive season.
UW ended the regular season with three consecutive wins at home and closed the regular season with a 69-63 overtime win over Colorado State in overtime.
A trio of Cowgirl seniors led the way in the victory as Tommi Olson, Alba Sanchez Ramos and Quinn Weidemann combined for 42 points, 22 rebounds and 12 assists in the win.
Bradshaw ranks third in the league in scoring averaging 15.6 points per game while her 16.9-point scoring clip was fourth-best during conference-only games. Bradshaw has a pair of 30-plus point scoring outbursts this season, seven games where she has scored 20-or-more and 19 double-digit scoring contests.
Olson continues to rank high nationally in assist-to-turnover ratio as she ranks third in the nation with a 3.19 ratio. Olson also ranks 12th in the Mountain West with 3.3 assists per game. Olson has also been shooting well from the outside recently. Dating back to the Feb. 5 game at New Mexico, Olson is making nearly two 3-pointers per game and is shooting 15-for-35 (42.9-percent) from deep.
Olson and Weidemann continue to climb up the program's all-time record book. Weidemann, who now has 1,042 career points, ranks 23rd in program history.
Weidemann's 190 made 3-pointers in her career ranks seventh all-time while her 40.6-percent career 3-point percentage is fourth-best in program history and her 85.9-percent at the free-throw line ranks third all-time.
Weidemann is also 20th in program history with 234 assists. Olson, meanwhile, is 13th in UW history with 145 career steals and is 15th in career assists with 269.
In the last eight games, Wyoming is averaging 16.6 assists per game, including a season-high 21 in the Feb. 5 win at New Mexico. Over that span, the Cowgirls are assisting on over 68-percent of their made field goals.
The Cowgirls are 14-21 all-time in the Mountain West Tournament, including a 5-1 mark under head coach Gerald Mattinson.
SCOUTING COLORADO STATE
Colorado State is led by the second-leading scoring duo in the Mountain West as McKenna Hofschild ranks second in the league in scoring at 16.5 points per game while Upe Atosu is eighth with 14.8 per contest.
Combined, the tandem averages 31.3 points per game, which is only behind the Cavinder twins from Fresno State. Hofschild also leads the league in assists per game with 6.6 per.
Kendyll Kinzer leads the Rams with 60 mad 3-pointers, while Atosu is second on the team with 58 made 3-pointers and has a team-best 28 steals. Karly Murphy leads CSU and ranks third in the MW averaging nine rebounds per contest.
The Rams rank third in the conference in total scoring, averaging 69.1-points per game and is allowing opponents to score at a 63.6-point clip, which ranks fourth-best in the league.
CSU is third in team field goal percentage in the Mountain West shooting 41.7-percent overall and has a league-leading 38-percent opponent field goal percentage. The Rams are also No. 1 in the conference in team defensive rebounds with 30.5 per contest.
Ryun Williams, a Gillette native, is the winningest coach in program history. He is in his 10th season as head coach at Colorado State.
SERIES HISTORY AGAINST COLORADO STATE
The all-time series between the two programs is deadlocked at 54-54, thanks to Wyoming's overtime victory March 2 in the regular season finale against the Rams.
The Cowgirls and CSU have met seven previous times at the Mountain West Tournament, with the Rams holding a 5-2 advantage. UW's seven meetings with CSU at the MW Championship is more than any other opponent all-time.
10 Reasons Why You're Lucky to Be Living in Wyoming
Here Are the Top 10 Reasons Why You're Lucky to Be Living in Wyoming
- 10 Reasons Why You're Lucky to Be Living in Wyoming,