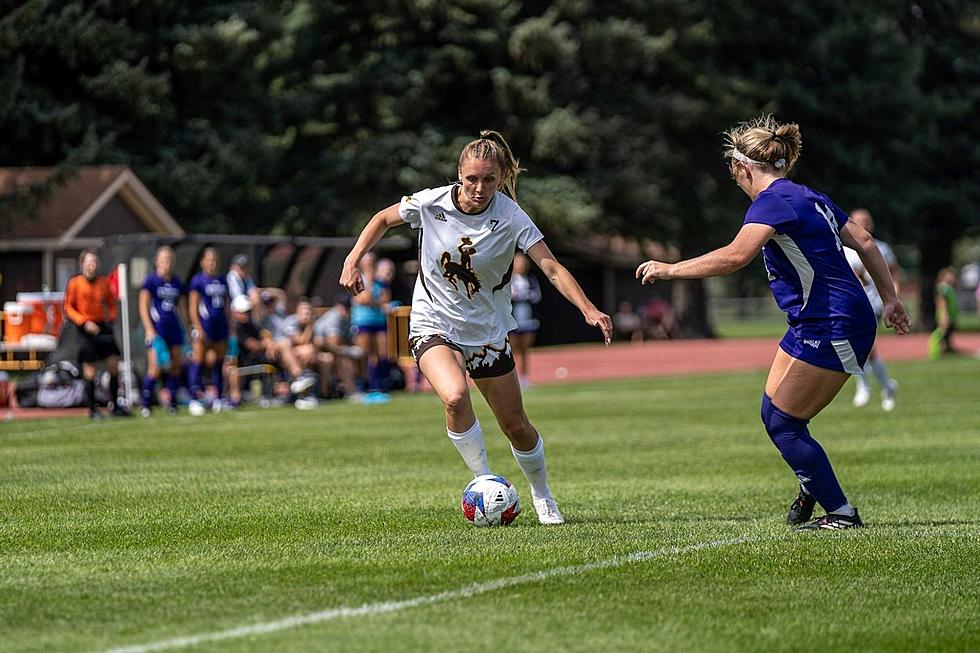 Wyoming to Host Rival Northern Colorado on Senior Day
The University of Wyoming soccer team returns home this weekend to celebrate its Senior Day with a non-conference rivalry match. The Cowgirls host Northern Colorado with the Front Range Derby trophy on the line Sunday at 1 p.m. at the Madrid Sports Complex./ UW courtesy photo
* University of Wyoming press release
LARAMIE -- The University of Wyoming soccer team returns home this weekend to celebrate its Senior Day with a non-conference rivalry match. The Cowgirls host Northern Colorado with the Front Range Derby trophy on the line Sunday at 1 p.m. at the Madrid Sports Complex.
Wyoming holds a 10-8-2 edge in the all-time series, however, the Bears have enjoyed the upper hand of late. They've claimed each of the last two meetings, both of which were two-score victories.
That doesn't sit particularly well with many of the Cowgirls. Eight Colorado natives are present on the roster, and they'd love to have that trophy back in their possession.
"This UNC rivalry is one that is personal for a lot of our players," head coach Colleen Corbin said. "They know girls that play on that team and have competed against many of them before in their club and high school environments. It's always a competitive and touch match up, and we are looking forward to being able to put our best foot forward and showcase how much talent our team truly has."
Sunday will also be celebratory, as nine Cowgirls will be honored. While it's not the last home match, Senior Day will take place before the game at 11 a.m.
It's a decorated and large group that will be recognized. It's one that claimed the program's second Mountain West Conference regular-season title last season.
"This senior class has been instrumental in building the foundation for our program since my staff and I arrived in Laramie two years ago," Corbin said. "They have completely bought in mentally, emotionally and physically and are committed to creating an environment and a culture that values each individual, is focused on competing for and winning championships and believes in joy and having fun."
Nikayla Copenhaver, Rae Gerking, Camille Hawley, Hannah Hagen, Faith Joiner, Sydney Miller, Miyuki Schoyen, Jamie Tatum, Amber Vokoun, Keelie Wortmann are the 10 set to be honored. One of those seniors, Tatum, has enjoyed a strong start to the season. She has a goal and an assist, and her score at Omaha on Sunday gave her 60 points in her career, which is the most in program history.
Jazi Barela is tied with Alyssa Glover for the team lead in goals this season with two. Copenhaver paces the team in assists with a pair of dimes.
Wyoming owns a 2-0-2 record on the season, having scored seven goals on the season whilst allowing five. Northern Colorado is still searching for that first win of the year, as it currently holds an 0-5-0 record.
The Bears are being outscored 16-2 through their quartet of contests. They were picked to finish in a tie for seventh in the Big Sky Conference Preseason Coaches' Poll.
Following the Northern Colorado match, Wyoming remains at home. The Cowgirls play host to Idaho State on Thursday at 4 p.m. at the Madrid Sports Complex.
From Bison to Triceratops - All of Wyoming's Official Things
Every state in our nation has chosen things that represent the state in one way or another to be official state things. Like a flower, or animal.
Wyoming
is no different.
The Equality State, or the Cowboy State, depending on which state slogan you want to go with, has a state flower. But did you know we also have a state tree and a state fish? Yes, we even have a state code.
To be an official thing, a member of the state legislature must write and submit a bill to the legislature declaring that a thing will be the official state thing. Then the legislature votes to pass the bill, or not, if it passes, the governor signs the bill into law and we have a new official state thing.
Here is what we have so far, all of Wyoming's official things. Now you can win big on Wyo Trivia Night if that's a thing that exists.
- From Bison to Triceratops - All of Wyoming's Official Things