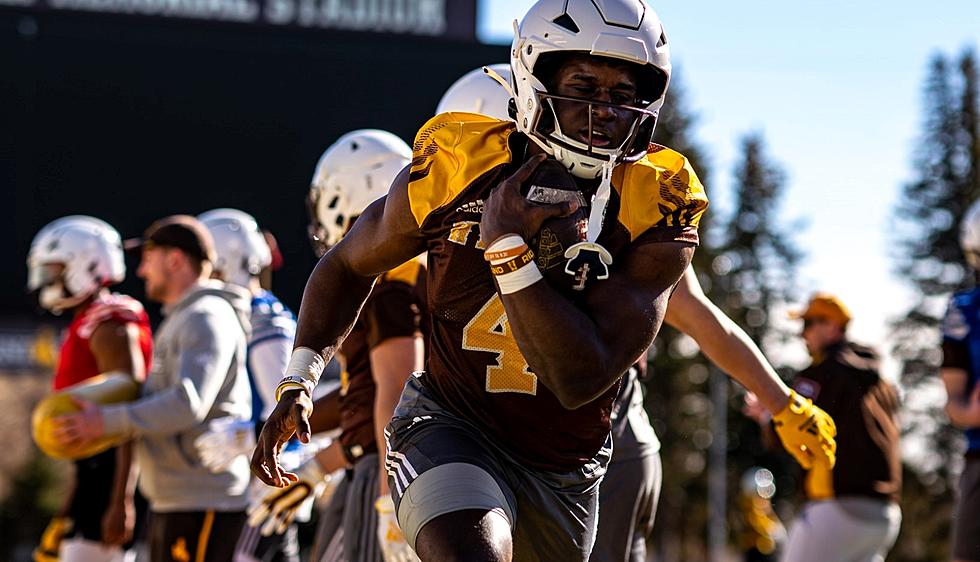 Wyoming's Harrison Waylee Could Return for Tilt in Texas
Harrison Waylee and the Cowboys began their final week of practice Tuesday, leading up to this Saturday's spring game inside War Memorial Stadium./ UW courtesy photo
LARAMIE -- Backfield help could be on the way.
Craig Bohl said Saturday after the Cowboys' 31-17 victory over Portland State that running back Harrison Waylee could make his debut when the team travels to Austin this weekend to take on the Texas Longhorns.
"Well, we're going to see how he does in practice," Wyoming's head coach said. "He's been running up and down the sidelines. We integrated him some in practice last week."
The 5-foot-10, 200-pound Northern Illinois transfer underwent "knee reconstruction" in the offseason and was sidelined during fall camp. Waylee's target date to return, Bohl said, would be Week 3.
Waylee rolled up nearly 2,000 yards on the ground during his three seasons in DeKalb, including a career-best 899 last fall. The Johnston, Iowa product also found the end zone 11 times during his time stint in the Huskies' backfield.
MORE UW FOOTBALL NEWS VIA 7220SPORTS:
* Cowboys limp to finish line in win over Portland State
* Three Stars of the Game: Pokes vs. Vikings
* Cowboys hold off PSU late, win 31-17
* Behind the numbers: Wyoming vs. PSU
* Turning point, unsung hero and what's next for UW football
* Tuck's Takes: Wyoming, this is your wake-up call
* 7220sports.com Kickoff Show: Fooling around with the FCS
* Gear up for game day: Portland State
* Know Wyoming's foe: Portland State Vikings
Wyoming got an up-close-and-personal look at Waylee in September of 2021. The then-freshman gashed the Cowboys to the tune of 179 rushing yards and a pair of scores in a wild 50-43 road victory for Bohl's bunch.
A week prior, Waylee rushed for 144 yards and a touchdown in a road upset at Georgia Tech.
"He's a different type of back," Bohl said. "So, we'll see how he functions, but I'm really encouraged that he's coming back in this next game."
Wyoming ranks 341 yards on 83 carries through the first two weeks. That's an average of 4.1 yards per. Sam Scott leads the way with 114 yards on just 18 attempts. Quarterback Andrew Peasley has also rolled up 111 yards on 21 carries.
If there's been a glaring issue so far it's been with ball security.
UW running backs have fumbled three times in wins over Texas Tech (2) and Portland State. Jamari Ferrell and DQ James coughed it up in the 35-33 double-overtime victory over the Red Raiders. Scott fumbled on the Cowboys first offensive possession of the afternoon Saturday against the visiting Vikings.
"You know what, fumbles in our offense, since we're a run-first offense, we can't have them and we've had three in two games. That's three too many," Bohl said. "I felt like as a head coach, I did not expose them to enough full contact. So, I own that one.
"We had a tough game against Texas Tech, but we need to wake up and smell the coffee. So, we've got to get that corrected."
The Pokes and Longhorns will meet Saturday night inside Darrell K Royal-Texas Memorial Stadium in Austin. Kickoff is slated for 6 p.m. MST. The game will be televised on the Longhorn Network.
LOOK: Pokes' unis through the years