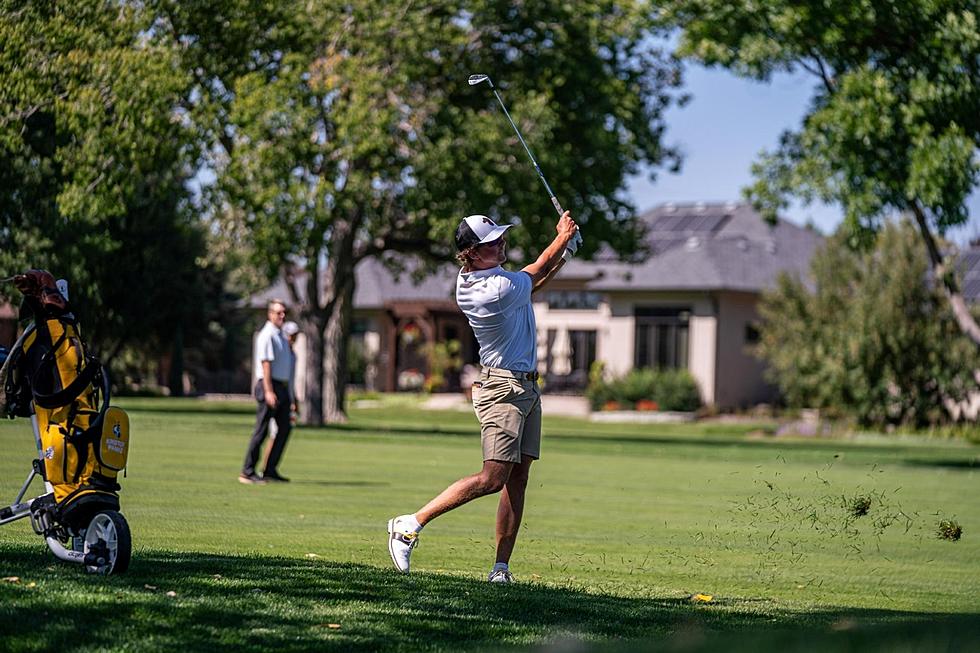 Wyoming's Panke Tied for 8th at Tucker Intercollegiate
The Wyoming Cowboys came out of the gates fast on Monday morning in the first round of the William H. Tucker Intercollegiate being played at the University of New Mexico Championship Course in Albuquerque, N.M./ UW courtesy photo
* University of Wyoming press release
Albuquerque, N.M., --  The Wyoming Cowboys came out of the gates fast on Monday morning in the first round of the William H. Tucker Intercollegiate being played at the University of New Mexico Championship Course in Albuquerque, N.M.
Wyoming fired an opening round 286 (-2) and was in eighth place at the end of the first 18 holes. At the end of the day's second round, the Pokes found themselves in 12th place out of 20 teams at 581 (+5).
UW junior Kristof Panke led the way for the Cowboys, shooting rounds of 70 (-2) and 69 (-3) for a two-round total of 139 (-5) and is tied for eighth place, only four strokes out of the lead.
"We played well in the morning round, but didn't play as well this afternoon," said Joe Jensen, University of Wyoming Director of Golf and Head Men's Golf Coach. "This is a championship course and it challenged us this afternoon. Kristof (Panke) put together two consistent rounds and is right near the top of the standings. We need to take a look at what we did right as a team in this morning's round, try to regain that tomorrow and come out with a strong final round."
Wyoming's other four golfers competing in the tournament are: graduate Jimmy Dales and junior Jaren Calkins, who are both tied for 56th place at 147 (+3); junior Patrick Azevedo, who is tied for 64th at 148 (+4) and junior Davis Seybert, who is tied for 83rd at 151 (+7).
Texas Tech holds a two-stroke lead over host New Mexico entering Tuesday's final round. The Red Raiders posted a 36-hole total of 558 (-18). New Mexico is in second at 560 (-16), followed by San Francisco at 562 (-14) and San Diego State at 563 (-13).
Tyran Snyders of Texas Tech holds a two-stroke advantage in the individual competition.
Snyders posted a two-round total of 135 (-9). There is a group of four other individuals tied for second at 137 (-7). Those four include: Jakob Melin of San Francisco, Gustav Frimodt of TCU, Shea Lague of San Diego State, and Albert Boneta of New Mexico.
The UNM Championship Course has hosted numerous NCAA regionals and national championship tournaments through the years. This year's William H. Tucker Intercollegiate is the 68th edition of the tournament that was first played in 1955.
This year's Tucker Intercollegiate field is one of the top fields in the country.
The 20-team field includes five teams that advanced to the 2023 NCAA Championships. Those five teams are: host New Mexcio, BYU, Colorado, San Francisco and Texas Tech. Wyoming also enjoyed postseason success last year, finishing second in last year's inaugural GOLFWEEK National Golf Invitational.
The UNM Championship Course measures 7,546 yards and plays to a par of 72.  Tuesday's final round is scheduled to tee off at 7:45 a.m., Mountain Time, with a shotgun start.
Team Standings
1.   Texas Tech                          278-280=558 (-18)
2.   New Mexico                        280-280=560 (-16)
3.   San Francisco                      283-279=562 (-14)
4.   San Diego State                   289-274=563 (-13)
5.   UNLV                                  278-289=567 (-9)
6.   Long Beach State                 278-290=568 (-8)
7.   TCU                                    285-285=570 (-6)
8.   Brigham Young                   289-282=571 (-5)
9.   Kansas State                        285-290=575 (-1)
10. Southern California             291-285=576 (Even)
11. Colorado                            290-287=577 (+1)
12. Wyoming                           286-295=581 (+5)
13. San Diego                           297-286=583 (+7)
     UTSA                                  294-289=583 (+7)
15. New Mexico State               294-290=584 (+8)
16. Texas El Paso                       295-291=586 (+10)
     Santa Clara                         301-285=586 (+10)
18. Hawaii                                299-296=595 (+19)
19. UC Santa Barbara                307-291=598 (+22)
20. Utah Tech                           302-301=603 (+27)
Wyoming Cowboys
T8  Kristof Panke                      70-69=139 (-5)
T56 Jimmy Dales                        73-74=147 (+3)
T56 Jaren Calkins                       70-77=147 (+3)
T64 Patrick Azevedo                  73-75=148 (+4)
T83 Davis Seybert                      74-77=151 (+7)
UW: University of Wyoming Cowboys' Greatest Games From the First Decade of the 2000's