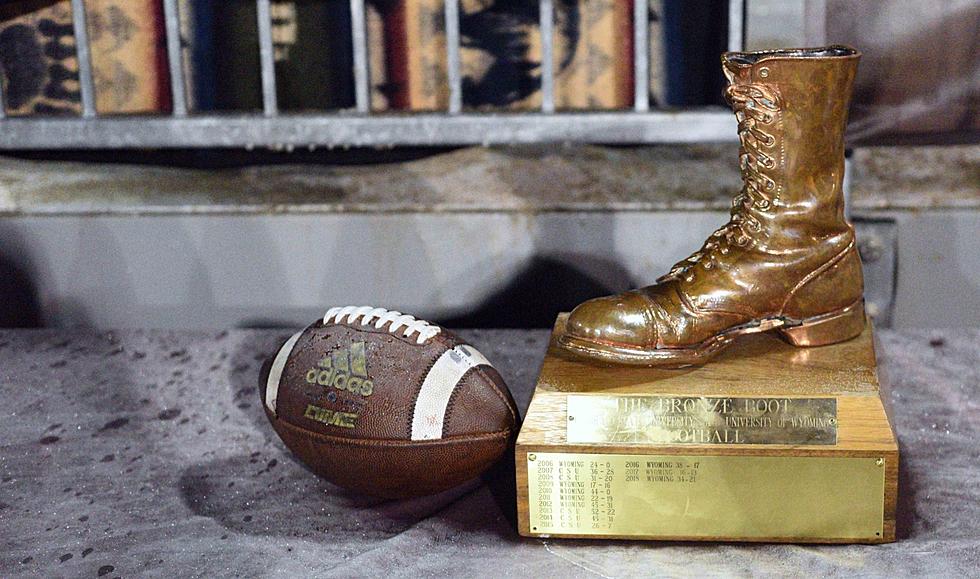 Annual Bronze Boot Run to be Held Thursday
The Bronze Boot, the traveling Trophy that goes to the winner of the annual Wyoming-CSU football game, accumulates frost during the 2021 meeting in Laramie./ DJ Johnson photo
* University of Wyoming press release
LARAMIE -- The annual Bronze Boot Run will take place on Thursday, Nov. 2 beginning at Canvas Stadium in Fort Collins, Colo., early in the morning with the Colorado State ROTC detachment running the game ball to the state border on U.S. Highway 287.
The Bronze Boot Run Ceremony will take place at Noon at the state border with the two athletics directors, Tom Burman from Wyoming and Joe Parker from Colorado State, and the two head coaches, Craig Bohl from Wyoming and Jay Norvell from Colorado State, participating in the ceremony.
MORE UW FOOTBALL NEWS VIA 7220SPORTS:
* 'Dynamic' Tory Horton poses problems for Pokes secondary
* Wyoming-CSU meet Friday in 115th Border War
* Wyoming Cowboys in the NFL: Week 8
* Wyoming Football: News and notes ahead of CSU
* Around the MTN: Winning is for the birds
* Tuck's Take: Boise Buzzsaw Caught Pokes off Guard. Seriously?
* Behind the numbers: Wyoming vs. Boise State
* Boise State blows out Cowboys, 32-7
* Rants & Raves: Boise State Edition
* Turning point, unsung hero and what's next for UW football
* LIVE FILE: Wyoming Cowboys vs. Boise State Broncos
* 7220sports.com Kickoff Show: Time to reverse the curse
* Gear Up For Game Day: Boise State
Spirit Teams from both schools will also participate in the ceremony. At the conclusion of the ceremony, the University of Wyoming ROTC detachment will then take the game ball from the CSU ROTC detachment and run the ball down 287 to Wyoming's War Memorial Stadium. The ceremony is open to the public.
The 115th Edition of the Border War game between the two rivals will be played Friday, Nov. 3 at 6 p.m., Mountain Time at Wyoming's War Memorial Stadium. The Bronze Boot traveling trophy was introduced to the series in 1968.
This will be the 56th consecutive season that the two border rivals will play for the Bronze Boot.
POKES: The Seven Best Games In The History Of The Wyoming-CSU Border War Rivalry (Naturally, they were all Wyoming wins)