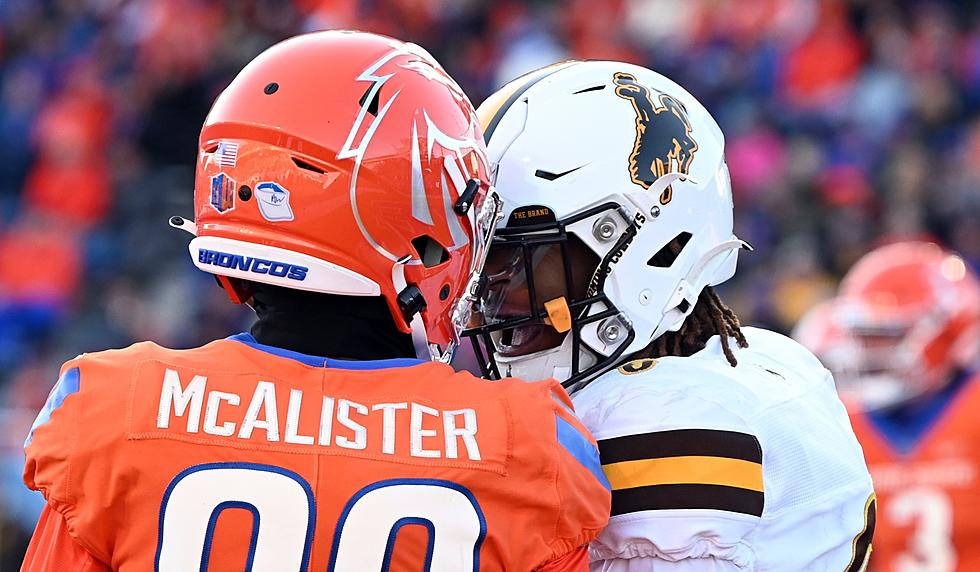 Turning point, unsung hero and what's next for UW football
Wyoming cornerback Kolbey Taylor and Boise State wide receiver Eric McAlister exchange some words during the Cowboys 32-7 loss to the Broncos Saturday night inside Albertsons Stadium./ DJ Johnson photo
BOISE, Idaho -- Turning Point? How about the opening play of the game?
Wyoming lines up four-wide, quarterback Andrew Peasley takes the shotgun snap, delays, and eventually sticks the ball into the gut of Harrison Waylee, who dashed through the Boise State defense for an 11-yard gain out to the 36-yard line.
Good start, right?
Wrong.
The yellow hanky lying on Boise's famous blue turf was aimed at Wes King, the Cowboys starting left guard. The offense? Holding.
That served as a microcosm for the entire disaster that unfolded over the next four hours.
Wyoming's first-half drive charts looked like this: Punt, punt, Interception, punt, touchdown, punt, punt, punt.
Don't let that single score fool you, either. That came one play after Boise State's Stefan Cobbs muffed a first-quarter punt at his own 19-yard line. Peasley connected with John Michael Gyllenborg one play later.
That was the visitors lone scoring drive of the afternoon: 1 play, 19 yards, 5 seconds.
"They were ready to play and we weren't," Craig Bohl said bluntly.
Why?
"Well, that's what I'm trying to figure out," Wyoming's 10th-year head coach said. "I mean, those are pretty complex answers. They weren't. Like I said, that's my responsibility to figure that out. I mean, for me to come up and give you an answer right now would be less than honest. It's disappointing."
MORE UW FOOTBALL NEWS VIA 7220SPORTS:
* LIVE FILE: Wyoming Cowboys vs. Boise State Broncos
* 7220sports.com Kickoff Show: Time to reverse the curse
* Gear Up For Game Day: Boise State
* Jayden Clemons: 'I definitely had to fight that demon'
* Easton Gibbs: 'It's meant to be'
* Show us your picks: Week nine
* Know Wyoming's Foe: Boise State Broncos
* Boise State a 'different animal' inside Albertsons Stadium
* Wyoming QB Andrew Peasley focused on finishing, finding extra 2%
* Adversity, until now, hasn't been part of John Hoyland's story
* Wyoming Cowboys in the NFL: Week 7
* Wyoming High School playoffs shouldn't conflict with Border War
Clayton Stewart was the busiest guy in the building, capping the day with four more punts in the second half. If you're keeping track at home, the senior was forced into action nine times, including six straight.
Boise State played more than half of this game without its star running back Ashton Jeanty. You know, the guy who leads the country in all-purpose yards per outing with more than 180. He was well on his way to doing that again tonight -- six carries, 53 yards -- before spending the final 30 minutes of this rout in street clothes.
Eric McAlister took center stage instead, snagging seven passes for 160 yards, most of which came at the expense of Wyoming's sophomore cornerback Kolbey Taylor. The redshirt sophomore receiver hauled in a 49-yard touchdown from Taylen Green on the Broncos' first drive of the night.
Special teams, once again, looked anything but as the home team connected on an easy 2-point conversion on the following snap. Those eight points, turns out, were plenty. There was still nearly 50 minutes left in regulation. More time for Boise State's quarterback duo of Madsen Maddux and Green to make lightwork of the Cowboys' defense.
Wyoming is now 0-9 all-time here in Boise and a depressing 1-17 in this overall series.
The Mountain West bullies dished out wedgies, swirlies and stole the Pokes' lunch money in this one. For a second consecutive season, Andy Avalos' squad also likely dashed any hopes of a conference title.
What on earth happened?
"Honestly, I don't know," a dejected Jordan Bertagnole said postgame, deep in the bowels of Albertsons Stadium. "We just kind of got beat in every phase of the game. That's really all I got."
Truer words have never been spoken.
Boise State 32, Wyoming 7
UNSUNG HERO
Finding any positives in this debacle was no easy task, but there were ... a couple.
Wyoming safety Andrew Johnson gobbled up the loose change on that Cobbs' fumble that led to the only score of the day for the visitors. The Cheyenne product provided one bright spot for this much-maligned special teams unit.
Wyett Ekeler finished with a forced fumble against the Broncos. It likely kept points off the board. With Green weaving his way for 19 yards through the Cowboys' defense deep in UW territory, the junior safety stripped the lanky QB from behind. The ball bounced into the hands of Taylor, who scooped it up and bolted 40 yards.
That was Ekeler's second strip of the season, tying him with Easton Gibbs for the team lead.
Pretty slow day in the hero department.
QUOTABLE
"We just got our butts kicked. And the real challenge is, is discerning and separating out, OK, was it a complete meltdown or what good things are there? What things can we glean from it? What personnel do we need to look at changing? What schematics do we need to look into changing? We've done a lot of good things this year, but we're going to play a team (CSU) that just beat this team. So, short week, unbelievably disappointing loss. We haven't had that kind of effort in quite some time and I need to take responsibility for that. You know, for some reason, that team just was not ready to play."
-- Wyoming head coach Craig Bohl after the Cowboys' 25-point setback against Boise State Saturday in Idaho
"I think there's a lot of things, but for the offense, we couldn't get the flow going, you know? I think it was just kind of out of place and things weren't clicking. So, all I have to say."
-- Wyoming QB Andrew Peasley on what went wrong in Saturday's lopsided loss to the Broncos 
"We can't let this one stick with us too long. You know, we have a 24-hour rule. Now, it's a 12-hour rule. We're going to jump on CSU in 16 hours. So, we have to review this, we have to seriously look at ourselves in the mirror and get on CSU right away tomorrow."
-- Wyoming's left tackle Frank Crum on the short week leading up to the annual Border War with the rival Rams
"I mean, if you saw us tonight I wouldn't say you were wrong."
-- Wyoming defensive tackle Jordan Bertagnole when asked how he would respond to fans who say this team will never win a big game, beat Boise State or seriously compete for a league championship 
WHAT'S NEXT?
Ready for war? The Cowboys better be. Rival Colorado State rides into town for a Friday night showdown. Kickoff is slated for 6 p.m. and the game will be televised on CBS Sports Network. Wyoming (5-3, 2-2) won last year's meeting 14-13 inside Canvas Stadium in Fort Collins. In fact, the Cowpokes have claimed victories in 10 of the last 14 in the series, including the last two. CSU (3-5, 1-3) owns a 59-50-5 overall advantage. This will be the 115th meeting all-time.
(Correction: This story initially gave credit to Jaden Williams for a forced fumble in the first half. That stat actually belongs to Wyett Ekeler. We regret this mistake.)
University of Wyoming's Top 50 Football Players
The rules are simple: What was the player's impact while in Laramie? That means NFL stats, draft status or any other accolade earned outside of UW is irrelevant when it comes to this list.
This isn't a one-man job. This task called for a panel of experts. Joining 7220's Cody Tucker are Robert Gagliardi, Jared Newland, Ryan Thorburn, and Kevin McKinney.
We all compiled our own list of 50 and let computer averages do the work. Think BCS -- only we hope this catalog is fairer.
Don't agree with a selection? Feel free to sound off on our Twitter:
@7220sports
- #Top50UWFB
Gallery Credit: 7220Sports.com
- University of Wyoming's Top 50 Football Players