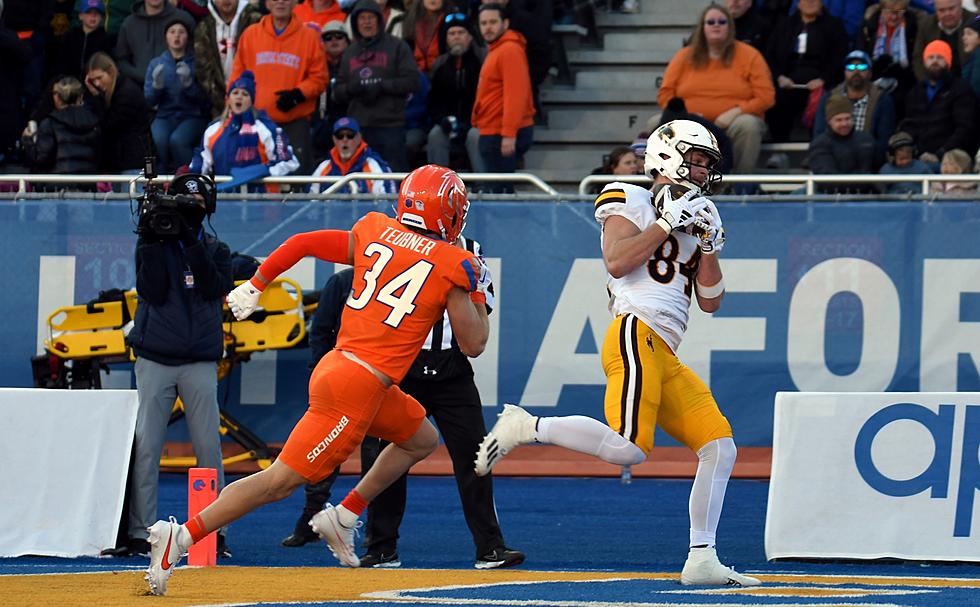 Behind the numbers: Wyoming vs. Boise State
Wyoming tight end John Michael Gyllenborg hauls in a 19-yard touchdowns pass from Andrew Peasley in the first half of a 32-7 loss to Boise State Saturday inside Albertsons Stadium./ DJ Johnson photo
BOISE, Idaho -- The numbers were not pretty for the visitors Saturday afternoon in Idaho's Treasure Valley.
Wyoming dropped an uninspiring 32-7 tilt inside Albertsons Stadium against a Boise State squad that has now won 16 of 17 meetings in the series. The Cowboys' unwanted losing streak against the Broncos in this building now sits at nine in a row.
That's how many times they've played here.
"We just got our butts kicked," Wyoming head coach Craig Bohl said postgame.
That's a massive understatement. The stats below will bear that out:
17
That's the number of times Wyoming has lost to Boise State in 17 tries. The lone win for the Cowboys came back in 2016. Since, they have dropped seven straight in the series. Wyoming is also now 0-9 against the Broncos all-time inside Albertsons Stadium.
2-2
Wyoming's conference record now after that loss to Boise State. The Cowboys also fell at Air Force in their last outing. The two victories have come against New Mexico and Fresno State. The Broncos are now 3-1 in the Mountain West and one Hail Mary in Fort Collins away from being a perfect 4-0.
19-40
That's Wyoming's road record in the Bohl era, dating back to 2014. The Pokes have dropped all three road games this fall: Texas, Air Force and Boise State.
112
That's Wyoming's yardage total against Boise State. Just 27 of those came on the ground. Harrison Waylee carried the ball 10 times for 18 yards. His longest rush of the game was eight yards.
1.1
That's how many yards per rush the Pokes racked up on 24 attempts.
1-11
Wyoming picked up only a single third down in this game. That came early in the first half on an 8-yard throw from Andrew Peasley to Ayir Asante.
0
That's how many times Wyoming's offense crossed the 50-yard line in this game. Yes, they did score from 19 yards out on a strike from Peasley to tight end John Michael Gyllenborg in the first quarter, but that came after a muffed punt. The one time the Cowboys reached the 50-yard line was after Kolbey Taylor returned a fumble to the UW 49. They gained one yard on three plays before punting.
7
That's how many offensive yards the Cowboys amassed in the fourth quarter. They picked up just 27 in the second and 18 in the third.
85
That's how many yards Peasley threw for on 10-of-20 passing. He also tossed an interception in this one, his first since the Cowboys outlasted Appalachian State 22-19 on Sept. 23.
5
That's how many flags were thrown on the Cowboys in this game, including a holding call on guard Wes King on the opening snap of the afternoon. That accounted for 37 yards.
9
That's how many punts came off the right foot of Wyoming punter Clayton Stewart in this one, including six straight to end the game. He averaged 41.3 yards per boot and twice pinned the Broncos inside their own 20-yard line.
71
That's the completion percentage both Maddux Madsen and Taylen Green combined for Saturday afternoon on 15-of-21 passing. Boise State's two quarterbacks also threw for a total of 216 yards and two touchdowns.
18
That's how many rushing yards the Cowboys had through the first two quarters. That came on 11 carries. For the math folks, that's an average of 1.6 yards per carry. Waylee had seven yards on the same number of attempts.
87
That's how many first-half yards Wyoming amassed, 69 of which came through the air. The Cowboys managed just 27 yards in the second quarter. Boise State, on the flip side, finished the half with 236 total yards, including 115 on the ground.
1-of-8
That's the visitor's third-down stats through the first 30 minutes of this one. The Cowboys had a total of four first downs in the first half.
3
Treyton Welch and Gyllenborg both led Wyoming with this many catches against Boise State. The two tight ends combined for 52 yards and Gyllenborg snagged the one score of the day.
160
Wide receiver Eric McAlister finished with that many yards on a game-high seven catches. He even hauled in a 49-yard touchdown on the Broncos' opening drive of the game.
17:41
That's how long the Broncos offense was on the field in the first half, compared to just 12:19 for the Pokes. Boise State ended up holding onto the ball for 38:31.
0
That's how many sacks -- and QB hurries -- Wyoming had in the game. The Cowboys picked up one tackle for loss through the first 30 minutes. They finished with five, led by linebackers Easton Gibbs and Shae Suiaunoa, who both finished with 1.5.
11
That's how many tackles Gibbs and Suaiaunoa finished with to lead the Cowboys.
2
That's how many lost fumbles Boise State had in the first half. Green was cruising into the red zone when Wyett Ekeler hammered the Broncos' signal caller, forcing the ball loose. Punt returner Stefan Cobbs muffed a first-quarter punt that was recovered by Andrew Johnson at the Boise State 19-yard line. Peasley hit Gyllenborg in the corner of the end zone on the very next play.
35,189
That's how many fans were in attendance inside Albertsons Stadium on a sunny Saturday afternoon in Boise.
115
On Friday night in Laramie, Wyoming and Colorado State will meet for the 115th time. The Rams lost at home to Air Force 30-13 Saturday inside a snow-covered Canvas Stadium. The Cowboys have won two straight in the series and 10 of the last 14. Kickoff is scheduled for 6 p.m. Mountain Time and the game will be televised on CBS Sports Network.
MORE UW FOOTBALL NEWS VIA 7220SPORTS:
* Boise State blows out Cowboys, 32-7
* Rants & Raves: Boise State Edition
* Turning point, unsung hero and what's next for UW football
* LIVE FILE: Wyoming Cowboys vs. Boise State Broncos
* 7220sports.com Kickoff Show: Time to reverse the curse
* Gear Up For Game Day: Boise State
* Jayden Clemons: 'I definitely had to fight that demon'
* Easton Gibbs: 'It's meant to be'
* Show us your picks: Week nine
* Know Wyoming's Foe: Boise State Broncos
* Boise State a 'different animal' inside Albertsons Stadium
* Wyoming QB Andrew Peasley focused on finishing, finding extra 2%
* Adversity, until now, hasn't been part of John Hoyland's story
* Wyoming Cowboys in the NFL: Week 7
* Wyoming High School playoffs shouldn't conflict with Border War
University of Wyoming's Top 50 Football Players
The rules are simple: What was the player's impact while in Laramie? That means NFL stats, draft status or any other accolade earned outside of UW is irrelevant when it comes to this list.
This isn't a one-man job. This task called for a panel of experts. Joining 7220's Cody Tucker are Robert Gagliardi, Jared Newland, Ryan Thorburn, and Kevin McKinney.
We all compiled our own list of 50 and let computer averages do the work. Think BCS -- only we hope this catalog is fairer.
Don't agree with a selection? Feel free to sound off on our Twitter:
@7220sports
- #Top50UWFB
Gallery Credit: 7220Sports.com
- University of Wyoming's Top 50 Football Players