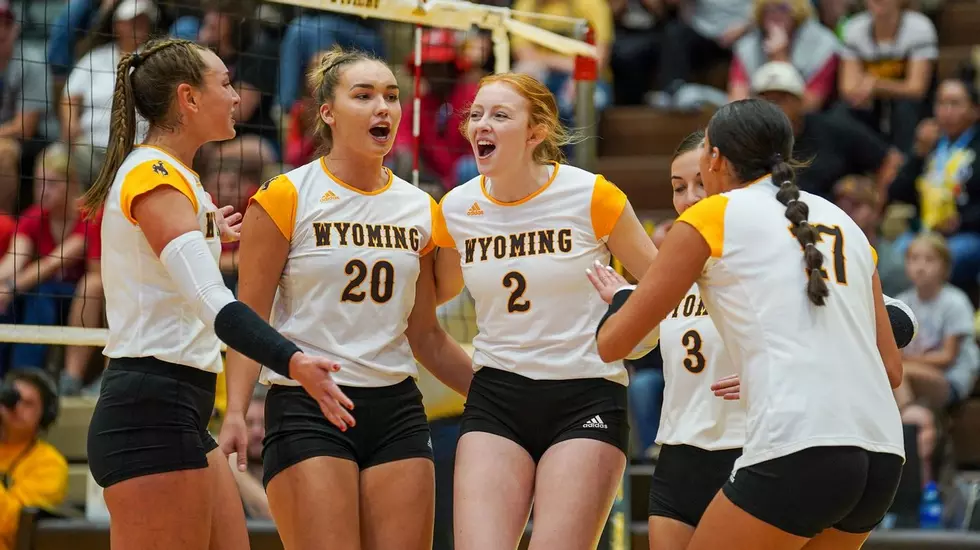 Cowgirls to Host 'Volleyball 101′ Event
The Wyoming volleyball team has its first full week of conference travel this week as the Cowgirls hit the road to face New Mexico at 6:30 p.m., Thursday, September 29 and Air Force Saturday, October 1 at 4 p.m./ UW courtesy photo
* University of Wyoming press release
LARAMIE -- The Wyoming Cowgirl volleyball program will be hosting a "Volleyball 101" night Friday, August 11 from 6 to 8 p.m., in the Wildcatter Stadium Club & Suites. This event gives UW fans a chance to have some fun, meet the team and learn more about volleyball.
During this informational event, fans will have the chance to meet the UW team and coaching staff and enjoy some light appetizers while also gaining some more volleyball knowledge.
Some of the topics, intended to engage and teach fans about the game will include, volleyball officials' calls and signals, including what can and cannot be challenged, along with rules to the game.
MORE UW FOOTBALL NEWS VIA 7220SPORTS:
* Wyoming's John Hoyland named to Groza Watch List
* Pokes Practice Report: Hello, my name is ...
* Scouring some changes on the Cowboys '23 roster
* Ethan Drewes no longer with the Wyoming football program
* Wyoming football kicks off fall camp Wednesday in Laramie
* Preseason recognition continues to roll in for Easton Gibbs
* Jordan Bertagnole Named to the 2023 Outland Trophy Watch List
* Missed opportunity fuels Wyoming RB LJ Richardson
* Wyoming center Fia Tulafono has said goodbye to the fries
There will also be information on NILs, Collectives and the transfer portal. In addition, there will be a Cowgirl Trivia portion of the evening and a chance to meet the Cowgirls.
Cost of the event is $20. If you would like to attend, please RSVP to assistant coach Darshaya Gallard by emailing darshaya.gallard@uwyo.edu. Please make checks payable to the Cowboy Joe Club.
UW: University of Wyoming Cowboys' Greatest Games From the First Decade of the 2000's