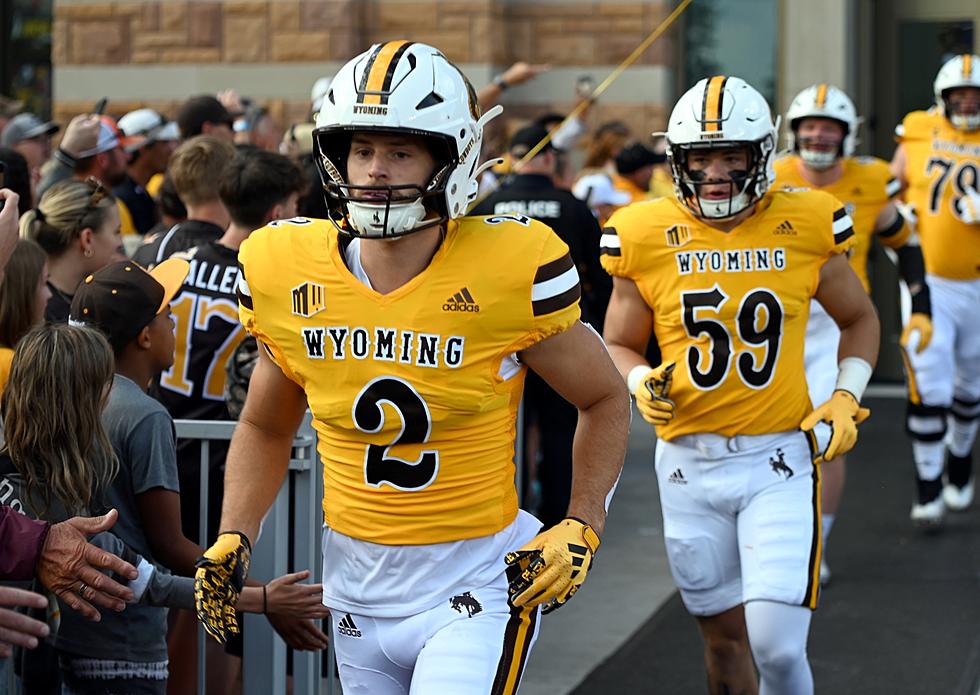 'Crook' Brown Making Big Plays in Wyoming Secondary
Wyoming sophomore nickel corner Wrook Brown was named the Mountain West Defensive Player of the Year after snagging two turnovers in win over App State./ DJ Johnson photo
LARAMIE -- The birthday wishes were plentiful Saturday.
Wrook Brown's automatic response to each one of those: "We'll see how happy it is, if we win or not."
The Cowboys did just that and the sophomore defensive back had plenty to do with the 22-19 outcome, including scooping up a lazily thrown second-quarter lateral to the boundary and snagging a game-saving interception that thwarted an Appalachian State comeback with just 18 ticks remaining in regulation.
That earned him the fitting nickname "Crook."
"I saw out of the corner of my eye the ball kind of floating up there," Brown said. "I took a step off my man and it felt like slow motion. I didn't know if I would have enough hang time to hold on to it."
"That interception was huge," Wyoming head coach Craig Bohl added. "... He high-pointed it about as high as Wrook can go and came up with the big interception."
"That was a nice little birthday gift for Wrook there," linebacker Easton Gibbs said. "We were happy for him and happy for our team. That was a big one."
The collective gasp of the more than 21,000-plus inside War Memorial Stadium was audible. The 21-year-old was ambushed. Rightfully so. That pick sealed one of the most improbable wins in program history.
The defense was on the field for 90 plays and more than 40 minutes. It gave up 27 first downs and 10-of-19 third-down conversions.
"It was great to celebrate with my teammates on the field and on the sideline," Brown added with a grin. "I got patted on the helmet so much I had to take my helmet off. They were going to give me a concussion or something. It was great."
MORE UW FOOTBALL NEWS VIA 7220SPORTS:
* Wyoming football staff punching back in NCAA Transfer Portal
* Around the MTN: Air Force defense taking center stage
* Wyoming Cowboys host New Mexico on Homecoming this Saturday 
* BREAKING: DQ James dismissed from Wyoming football program
* Brown, Hawkins earn Mountain West Player of Week honors
* Game time set for Wyoming-Fresno State tilt
* Wyoming Football: News and notes ahead of New Mexico
* UW's Peasley on dismal outing: 'I just know that I need to be better'
The party raged on in the locker room where Brown said quarterback Andrew Peasley not only presented him with a game ball, he also orchestrated a rendition of Happy Birthday from the front of the room.
"That was really cool," the Salado, Texas native said. "That was really nice of Peas."
Brown also added seven tackles against the Mountaineers, four of which were solo. That performance, coupled with the turnovers, earned him Mountain West Defensive Player of the Week honors.
Shy and unassuming, Brown rubbed his hands together and smiled.
"It means a lot," he said, adding that his mom broke the news to him in a text message. "I feel like you could have given that to a lot of people on the defense. So, I'm grateful that they chose to give it to me."
With New Mexico coming to town Saturday, this is a full-circle moment for Brown.
Then a redshirt freshman, he was vaulted into the starting lineup last October against the Lobos in Albuquerque. He responded with 10 tackles, including one for loss, in his debut. He also broke up a third-down pass.
The 5-foot-11, 188-pound nickel corner made his way out of the visiting locker room and into a postgame media scrum. His teammates still give him grief that he was mistaken for support staff or even a punter.
If you thought he was anxious in front of the microphones and cameras, he said you should've seen him throughout the week leading up to that outing.
"They were pretty bad," he said about his nerves at the time. "It's one of those things where maybe you don't eat as much before the game as you should. Once you get on the field, it changes a little bit, but it's really just the days before that are pretty bad. I'm not worried about walkthroughs anymore, I know what I'm doing.
"Yeah, it's a weird feeling when you're worried all day about a walkthrough. That's never happened to me before."
Bohl told Brown in the offseason not to get too comfortable in his starting role. Buck Coors was pushing him in the spring. Malique Singleton was in the running, too.
He heeded that warning.
Brown has 23 tackles through four games this fall. He has broken up a pass and has two interceptions, the first one setting up the Cowboys first points in an opening-day upset over Texas Tech.
Did Brown think he would be earning league awards and making game-changing plays this early in his career? That was the hope.
Was this the best birthday he's ever had?
"Absolutely," he said with a smile.
University of Wyoming's Top 50 Football Players
The rules are simple: What was the player's impact while in Laramie? That means NFL stats, draft status or any other accolade earned outside of UW is irrelevant when it comes to this list.
This isn't a one-man job. This task called for a panel of experts. Joining 7220's Cody Tucker are Robert Gagliardi, Jared Newland, Ryan Thorburn, and Kevin McKinney.
We all compiled our own list of 50 and let computer averages do the work. Think BCS -- only we hope this catalog is fairer.
Don't agree with a selection? Feel free to sound off on our Twitter:
@7220sports
- #Top50UWFB
- University of Wyoming's Top 50 Football Players