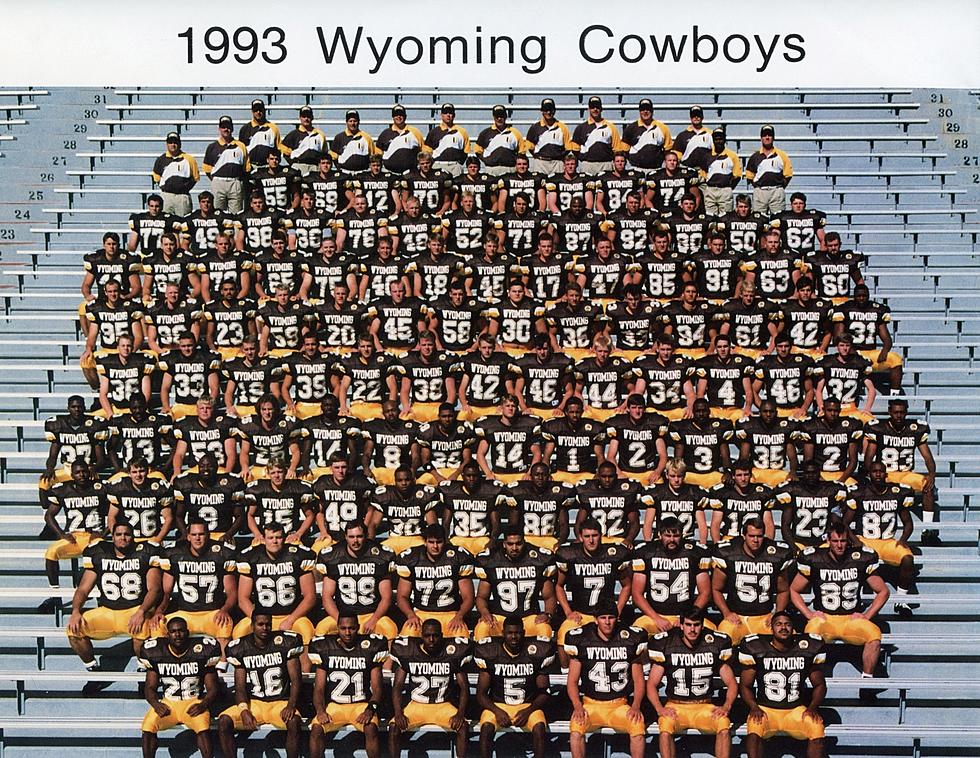 Gear Up For Game Day: Colorado State
1993 Wyoming Cowboys football team./ UW courtesy photo
LARAMIE -- As always, I love to utilize this space each week during the season to not only give you the important info -- game time, TV channel, betting lines, etc. -- but also drop a bit of randomness on your plate.
Bill Clinton was in the oval office.
A gallon of gas, on average, was just $1.11.
Groundhog Day, Aladdin and Loaded Weapon 1 were three of the biggest box office hits.
The year, 1993. That's also the last time the Wyoming Cowboys won a conference championship. Thirty years. Crazy to think about, right? Sad, too. That was also a shared WAC title. If only the No. 23 Pokes could've knocked off New Mexico. That rainy day in Albuquerque, a last-second field goal just couldn't find its way through the uprights.
New Mexico 10
Wyoming 7
Joe Tiller's team finished in a three-way tie for first place with Fresno State and BYU. They would play Kansas State in the Copper Bowl, falling to the Wildcats -- and their rookie play caller, Dana Dimel -- in Tucson, 52-17.
That Wyoming team reeled off seven straight victories after an opening day loss to Oregon State. That included taking down Kurt Warner's Northern Iowa squad, 45-42, inside War Memorial Stadium. The Cowboys also beat Utah, Air Force and Trent Dilfer's Bulldogs during that stretch.
MORE UW FOOTBALL NEWS VIA 7220SPORTS:
* Know Wyoming's Foe: CSU Rams
* Fort Collins native Gage Brook living out his dream in Laramie
* Annual Bronze Boot run to be held Thursday
* 'Dynamic' Tory Horton poses problems for Pokes secondary
* Wyoming-CSU meet Friday in 115th Border War
* Wyoming Cowboys in the NFL: Week 8
* Wyoming Football: News and notes ahead of CSU
* Around the MTN: Winning is for the birds
* Tuck's Take: Boise Buzzsaw Caught Pokes off Guard. Seriously?
* Behind the numbers: Wyoming vs. Boise State
Those players are all back in town this weekend for the annual Border War. That includes the likes of Ryan Yarborough, Marcus Harris, Ryan Christopherson and many, many others.
According to my colleague Jared Newland, more than 30 of those former Cowboys will be in attendance tonight. Former assistant coach Mike Van Diest and Tiller's widow and daughter, Arnette and Julie, respectively, will also be in Laramie.
The team will be recognized during the initial timeout of the first quarter.
30th anniversary of the 1993 Western Athletic Conference Champion Wyoming Cowboys Football Team.  Coached by the late Joe Tiller. This is the last conference champion (tri champion) football team in Wyoming history.
Finished 8-4 overall, 6-2 in the WAC
Was ranked as high as No. 23 during the season
Earned a Copper Bowl berth (back when there were only 19 bowl games)
Led by All-American Wide Receiver Ryan Yarborough along with First Team All-WAC players, Mike Jones (TE) and Kurt Whitehead (DE)
Seven (7) Players from the 1993 roster went on to be drafted to the NFL and Nine (9) played in the NFL
Players who were NFL Draftees
Ryan Yarborough, John Burrough, Ryan Christopherson, Brian Gragert, Marcus Harris, Steve Scifres and Lee Vaughn
Players who played in the NFL
Ryan Yarborough, Rob Bohlinger, John Burrough, Ryan Christopherson, Joe Cummings, Thomas Williams, Steve Scifres, Lee Vaughn and Tyrone Williams
NOTABLE PLAYERS ATTENDING:
Offense: The entire starting offensive line: Steve Scifres, Cody Kelly, Greg Scanlan, Jarrod Heidemann and Mike Fitzgerald
TE: Mike Jones
WRs: Ryan Yarborough, Eddie Pratt
RB: Ryan Christopherson
Defense:
DL: Tyrone Williams, Thomas Williams, Tyson Hopkins
LBs: Joe Cummings, Mark Brook, Ryan Folsom, Cory Talich
DBs: Kenny Johnson, Rob Levin, Darnell Roary
Others: Marcus Harris (freshman who played on special teams and only caught one pass as a freshman), Rob Bohlinger and Ryan Oman were both back-up offensive linemen who were starters the next season.
Here is all you need to know -- and the links -- for Friday's Border War tilt:
WHO: Colorado State (3-5, 1-3) at Wyoming (5-3, 2-2)
WHEN: Friday, Nov. 3 at 6 p.m. MST
WEATHER: High of 56, low 33, winds at 10-15 mph
WHERE: War Memorial Stadium, Laramie, Wyo. (29,181 capacity)
TRAVEL: WyoRoad.info
STREAMING: CBS Sports Network
TV: CBS Sports Network
RADIO: Cowboy Sports Network
TICKETS: Wyoming Ticket office
BOX SCORE: ESPN
ROSTERS: Wyoming / Colorado State
HISTORY: Colorado State leads the all-time series 59-50-5
ODDS: Wyoming (-6.5)
HEAD COACHES: Craig Bohl / Jay Norvell
POKES: The Seven Best Games In The History Of The Wyoming-CSU Border War Rivalry (Naturally, they were all Wyoming wins)