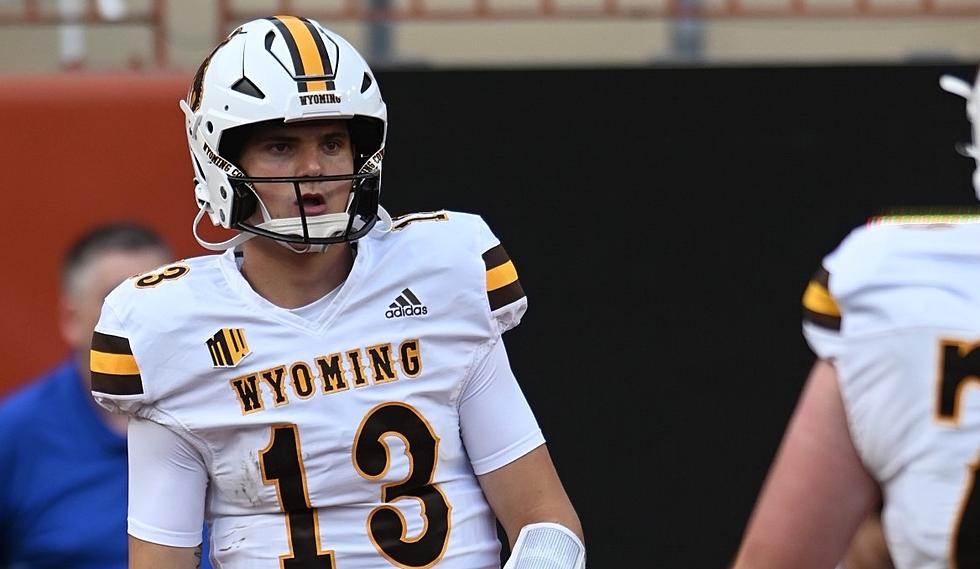 Fort Collins Native Gage Brook Living Out His Dream in Laramie
AUSTIN, TX - SEPTEMBER 16: Wyoming Cowboys QB Gage Brook during warm ups prior to the college football game between Texas Longhorns and Wyoming Cowboys on September 16, 2023, at Darrell K Royal-Texas Memorial Stadium in Austin, TX. (Photo by John Rivera/Icon Sportswire via Getty Images)
LARAMIE -- The verbal commitment was a hollow one.
Sure, Gage Brook was excited for the opportunity to step under center on the Northern Colorado football team, but his heart was elsewhere.
His father, Mark Brook, was a four-year letterwinner at Wyoming, suiting up at defensive end and linebacker for the Cowboys from 1992-95. Wendi Brown, his mother, was a standout volleyball player in Laramie. She played for the Cowgirls from 1991-94. His sister is currently a defender on the school's soccer team. Taylor Brook, now a junior, helped lead UW to a Mountain West title in 2022.
Guess where Gage wanted to go to school?
After suffering a pair of severe ankle injuries while playing quarterback at Rocky Mountain High School, the Fort Collins product saw his moment slipping away. His phone stopped ringing. That included his conversations with Wyoming's offensive coordinator Tim Polasek.
"He was straight up honest and pretty much said, you need repetitions," Brook recalled. "He wasn't sure if I'd be able to get that."
That all changed when Caden Becker made the position switch to defensive end and Hank Gibbs left in the NCAA Transfer Portal before eventually landing in Greeley. Becker eventually left the program, too.
That left just Andrew Peasley, Evan Svoboda and Jayden Clemons in the QB room. Wyoming head coach Craig Bohl said during the spring he wasn't comfortable having just three signal callers on the roster, not to mention incoming freshman Kaden Anderson was still recovering from a torn ACL.
There was an opening.
Brook took it.
"This is what I've wanted to do forever," The 6-foot-4, 219-pound true freshman said. "You know, I was fortunate to get the opportunity to come here. So, you know, once I got that phone call, I was all in -- ready to go. I mean, I've grown up with Brook jerseys and little plaques and stuff with Wyoming stuff here and there. So, I mean, it's great to be up here. It's actually feeling real."
The speed of the college game, eye-opening, Brook admitted last August. Imagine the blur on the field when you had just missed the better part of the last two prep seasons due to injury? Learning the playbook, at that time, was also a lofty task.
"I think, just with time, it'll start getting better," he said with a grin.
Any memorable moments early in camp? Brook said he doesn't view it that way, instead taking each day to improve. He said he always asks himself a question at the end of practice: Did I get better today?
Bohl was certainly impressed.
"He's doing some good things out there," he said of Brook. "We're encouraged about him. He certainly passes the eyeball test with his stature."
MORE UW FOOTBALL NEWS VIA 7220SPORTS:
* Annual Bronze Boot run to be held Thursday
* 'Dynamic' Tory Horton poses problems for Pokes secondary
* Wyoming-CSU meet Friday in 115th Border War
* Wyoming Cowboys in the NFL: Week 8
* Wyoming Football: News and notes ahead of CSU
* Around the MTN: Winning is for the birds
* Tuck's Take: Boise Buzzsaw Caught Pokes off Guard. Seriously?
* Behind the numbers: Wyoming vs. Boise State
* Boise State blows out Cowboys, 32-7
* Rants & Raves: Boise State Edition
* Turning point, unsung hero and what's next for UW football
* LIVE FILE: Wyoming Cowboys vs. Boise State Broncos
* 7220sports.com Kickoff Show: Time to reverse the curse
* Gear Up For Game Day: Boise State
Brook threw for 2,817 yards during his high school career. He completed 178-of-332 passes and tossed 21 touchdown passes. He also added 237 yards on the ground in just 17 games.
Though Brook won't play in Friday night's Border War against his hometown team, he said this game has always been special for him. His focus, he says, remains on growing as a college quarterback. This week, though, he hopes to bring some bragging rights back down Highway 287.
"I've never been a Rams fan," he said. "I still don't like that green."
Yes, Brook said, he proudly displayed his Pokes gear in the hallways in high school. Did he get any grief?
"Surprisingly, there's a lot of Cowboys fans everywhere," he continued. "There's quite a few in Fort Collins. I mean, it's great to see. I think Cowboys fans kind of spread across a lot more areas than you think."
CSU didn't show interest in Brook. Neither did any of the other local schools outside of UNC. It was hard hearing classmates say he would go on to do big things on the football field, he added, when in reality, there was little to no interest in the oft-injured senior.
That's something he won't soon forget, either.
"You know, I think, in the long run, it's actually going to make me probably a better player just because I haven't been given anything," Brook said. "I really decided this is what I wanted to do, because it's not coming easy."
Wyoming and CSU are set to kickoff at 6 p.m. inside Laramie's War Memorial Stadium. The game will be televised on CBS Sports Network.
(This interview with Gage Brook was conducted in mid-August.)
LOOK: Pokes' unis through the years