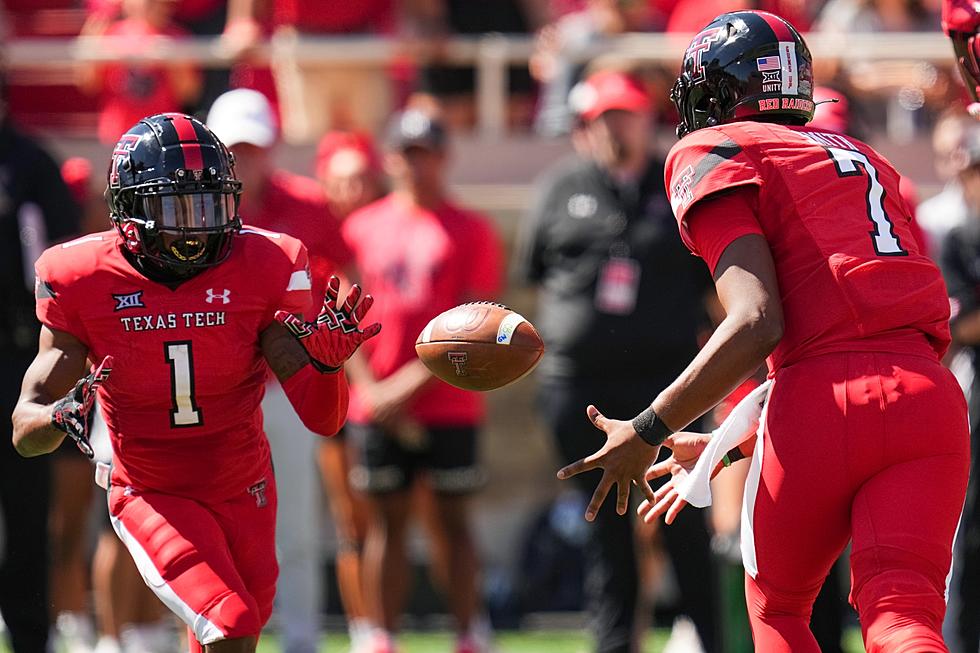 Know Wyoming's foe: Texas Tech Red Raiders
LUBBOCK, TEXAS - SEPTEMBER 24: Donovan Smith #7 of the Texas Tech Red Raiders flips the ball to Myles Price #1 of the Texas Tech Red Raiders during the first half against the Texas Longhorns at Jones AT&T Stadium on September 24, 2022 in Lubbock, Texas. (Photo by Josh Hedges/Getty Images)
LARAMIE -- If you are squeamish, you might want to avert your eyes.
* Jerand Bradley: 51 catches, 744 yards, 6 TDs
* Xavier White: 45 catches, 572 yards, 3 TDs
* Myles Price: 51 catches, 513 yards, 2 TDs
* Loic Fouonji: 34 catches, 451 yards, 3 TDs
* Nehemiah Martinez: 32 Catches, 394 yards, 2 TDs
If Texas Tech didn't have enough production from its potent passing attack, this offseason it added another outside threat in Drae McCray. The 5-foot-9, 185-pound junior snagged 75 balls for 1,021 yards and nine touchdowns last fall at Austin Peay.
Oh, by the way, the Red Raiders' running back, Tahj Brooks, almost became the sixth member of this offseason to catch 30 passes in 2022. He hauled in 27 for 164 yards and a score.
It's no wonder Wyoming cornerbacks coach Benny Boyd dropped a few expletives the first time he watched Tech's film.
So, how do the Cowboys even begin to slow down this well-manicured machine Saturday night in Laramie?
"We just need to do our job, you know, and maintain our techniques and not let the speed of the game -- and who's in front of us -- change or dictate how we do our job," Boyd said. "We have to continue to focus on what our responsibility is to help our football team find success on that snap."
MORE UW FOOTBALL NEWS VIA 7220SPORTS:
* No one gambles on fourth down like Texas Tech does
* Red Raiders feature a 'Freak' edge rusher
* Texas Tech arriving early in hopes of adjusting to altitude
* Wyoming hosts Texas Tech Saturday in '23 season opener
* Wyoming HC on Tyler Shough: 'I think he's outstanding'
* Wyoming Football: News and Notes Ahead of Texas Tech
* Wyoming's young safety depth facing major test in opener
* PODCAST: Let's put a bow on Pokes training camp
* Pokes Practice Report: Texas Tech is officially on the clock
* Wyoming WR Alex Brown: 'I think this will be a big year for me'
* Throwback Thursday: Neff's rainbow turns tide for Cowboys
* UW quarterback Evan Svoboda trying to win 'race to maturity'
* Senior Bowl eyes pair of Pokes, Easton Gibbs, Cole Godbout
* Ayir Asante looking to add new element to Pokes offense
* Q&A with Wyoming DC Jay Sawvel
Wyoming's secondary certainly has its hands full, especially the lone new starter on this defense, Kolbey Taylor.
Head coach Craig Bohl referred to the 6-foot-4, 190-pound sophomore from Houston as the "X-factor" in the season opener. Taylor appeared in eight games last fall, starting the final two. He played just four snaps of the Arizona Bowl before being shown the gate after a helmet-to-helmet blast early in the first quarter.
"(He) has shown some real promise, but we're going to get tested," Bohl said.
Is he up for the challenge?
"Man, my mindset going into this game is just taking it play by play," Taylor said. "Whatever happens, happens."
Boyd said he has no choice. The unquestioned MVP of the offseason was praised for his maturation during the summer. His teammates noticed the drastic change. So did his coaches.
"He has prepared as well as any corner has prepared since I've been here," Boyd said. "He's really matured: what he's done in the offseason, how he leads us in the meeting room, how he leads himself on the practice field. So, it's going to be a big challenge for him. I know adversity is going to come, but my big thing is, when adversity does happen, we have to bounce back."
* Head coach: Joey McGuire (2nd year at Texas Tech) 8-5 overall record
* Offensive coordinator: Zach Kittley (2nd year); Defensive coordinator: Tim DeRuyter (2nd year)
* Record in 2022: 8-5 overall, 5-4 in Big XII play
* Offense in 2022: Average 34.2 ppg, 461.4 ypg (159.4 rush, 302 pass)
* Defense in 2022: Allow 29.2 ppg, 425.5 ypg (168.8 rush, 256.8 pass)
* Key Returners - Offense: Tyler Shough (QB - 106-177, 1,304 yds, 7 TD, 4 INT; 72 rush, 269 yds, 4 TD), Tahj Brooks (RB - 147 rush, 691 yds, 7 TD), Cam'Ron Valdez (RB - 18 rush, 169 yds), Jerand Bradley (WR - 51 catch, 744 yds, 6 TD), Xavier White (WR - 45 catch, 572 yds, 3 TD), Myles Price (WR - 51 catch, 513 yds, 2 TD), Baylor Cupp (TE - 12 catch, 132 yds, 2 TD)
* Key Returners - Defense: Dadrion Taylor-Demerson (S - 73 tackles, sack, 5 PBU, 3 INT, 2 FF, 2 FR), Jaylon Hutchings (NT - 48 tackles, 1.5 sacks, FF, FR), Jesiah Pierre (LB - 40 tackles, 4.5 sacks, PBU, FF), Rayshad Williams (CB - 37 tackles, 7 PBU, INT, FR), Malik Dunlap (CB - 33 tackles, 12 PBU, INT), Tony Bradford Jr. (DT - 32 tackles, 5.5 sacks)
* Overview: Don't be surprised to see Texas Tech snap the ball with more than 30 seconds remaining on the play clock. Bohl said the Red Raiders might be the fastest team in the country when it comes to that category. Joey McGuire, Tech's second-year head coach, said that won't change, even with the near 4,000-foot jump in elevation. Tyler Shough has never lost a game during his time in Lubbock that he has started and finished. The senior signal caller is 8-0. Finishing, though, has been the issue for the 6-foot-5, 230-pound Arizona product, who has missed time in each of the past two seasons with shoulder and collarbone injuries. Yes, Tech is known for its potent passing attack and spreading the field sideline to sideline, but the visitors can also run the football. Tahj Brooks and Cam'Ron Valdez combined for 860 yards on just 165 attempts. That's an average of better than 5.2 yards per carry. Brooks also found the end zone eight times. The Red Raiders offensive line is 10 deep, according to McGuire. Nine have started a college football game. Like the Cowboys, the strength of this Tech defense lies in its front seven, led by 305-pound tackles Jaylon Hutchings and Tony Bradford Jr. Tyree Wilson, last spring's No. 7 selection in the NFL Draft, is no longer lingering on the edge. He has been replaced by Myles Cole and Syracuse transfer Steve Linton. Defensive coordinator Tim DeRuyter has coached Von Miller and Kayvon Thibodeaux, both early first-round draft picks. Safe to say he knows a solid linebacker when he sees one. With 18 starters returning from an 8-5 squad a year ago, McGuire is making no bones about it -- Tech's goal this season is to unseat TCU and Kansas State and lead the Red Raiders to a Big XII championship. Those title dreams begin Saturday night inside War Memorial Stadium. Kickoff is set for 5:30 p.m. MST and the game will be televised on CBS.
* Thoughts on Texas Tech: "This team we're playing against, first of all, coach (Joey) McGuire, while I don't know him, he enjoys a great reputation. They really had an outstanding season last year. I do know coach (Tim) DeRuyter, their defensive coordinator, a veteran coach. (They) obviously have a great quarterback in (Tyler) Shough. He's outstanding. They have some receivers, (Jerand) Bradley and (Myles) Price. (Tahj) Brooks is the running back their offensive line is huge. Over on defense, the defensive tackle (Jaylon) Hutchings is a really good player. (Malik) Dunlop was an All-Big XII corner. They handily won their bowl game. We're facing a really good, quality opponent at home. So, it's going to be an exciting test for us. -- Wyoming head coach Craig Bohl
University of Wyoming's Top 50 Football Players
The rules are simple: What was the player's impact while in Laramie? That means NFL stats, draft status or any other accolade earned outside of UW is irrelevant when it comes to this list.
This isn't a one-man job. This task called for a panel of experts. Joining 7220's Cody Tucker are Robert Gagliardi, Jared Newland, Ryan Thorburn, and Kevin McKinney.
We all compiled our own list of 50 and let computer averages do the work. Think BCS -- only we hope this catalog is fairer.
Don't agree with a selection? Feel free to sound off on our Twitter:
@7220sports
- #Top50UWFB
- University of Wyoming's Top 50 Football Players