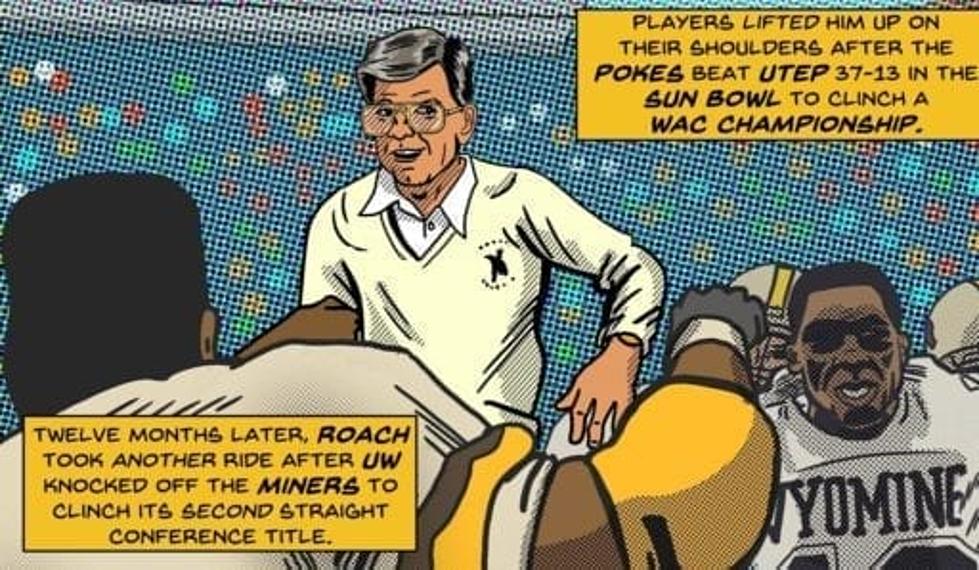 Paul Roach, Legendary Wyoming Football Coach, Dies at 95
Wyoming head coach Paul Roach was carried off the field after the Cowboys won the WAC title in 1987./ Chad Blakely graphic
LARAMIE -- Approachable. Egoless. Selfless.
Those are just a few words former players, colleagues and friends used to describe Paul Roach.
Winner is another.
Though he spent more than four decades in football, Roach was only a head coach for four of those, all of which came at the University of Wyoming. Roaming the sidelines in Laramie from 1987-90, he led the Cowboys to back-to-back Western Athletic Conference Championships during his first two seasons and three bowl games while compiling an overall record of 35-15.
He was also named the WAC Coach of the Year in 1987 and '88.
Roach, who also served as the Athletics Director at UW from 1986-96, still owns the third-highest winning percentage in program history (.700), behind only Phil Dickens (.720) and Bob Devaney (.750).
Roach passed away Sunday. He was 95.
"Coach Roach was one of the most understanding, don't-sweat-the-small-stuff coaches that I had," former UW All-American wide receiver Ryan Yarborough said on Monday. "He helped me look beyond my current situations so I could focus on where I wanted to be. After talking to him, I felt I could take on anything. He was definitely a greater man than coach, for me, at age 18.
"I'm blessed to have spent a part of my life with him."
Roach's first stint on the high plains came as a member of Lloyd Eaton's staff from 1962-69. The Cowboys reached new heights in those days, defeating Florida State 28-20 in the 1966 Sun Bowl before cracking the Top 10 the following season and appearing in a New Year's Day game.
After an unblemished regular season, No. 6 Wyoming faced off with LSU in the annual Sugar Bowl in rain-soaked New Orleans. The Cowboys would fall 20-13 in front of nearly 80,000 fans inside Tulane Stadium.
The program made just one bowl appearance in the two decades following that loss to the Tigers. Roach took the reins during a tumultuous time in Laramie. Wyoming was looking for its third head coach in as many season after Dennis Erickson left for the vacancy at Washington State in 1987 after just one season.
Roach, then the AD, made that roster a promise during the offseason.
"The story was -- Dennis left, and left him in a lurch, of course -- he went in and he says, 'I will get you a good coach,'" recalled Kevin McKinney, UW's longtime color broadcaster and athletics administrator. "He called another team meeting, he came in and goes, I got you a good coach -- it's me. (They probably thought) 'He's 58 years old, what does he know?' It didn't take long."
Former defensive end Mitch Donahue vividly remembers that meeting.
"We were thinking, 'who is this old guy?'" the two-time WAC Defensive Player of the Year joked back in 2019. "We didn't have the internet back then. We had no idea Roach coached with John Madden and Bart Starr in Green Bay."
Shawn Wiggins, the first 1,000-yard receiver in school history, said it was a natural fit.
"He was just a good person, man," he said back in 2021. "He could relate to us. You've got this old gentleman -- I guess we can call him old -- that can relate to kids our age, at the time, you know, he knew his stuff. He had a lot of respect. He had a lot of respect in the community, within the state, and, you know, within the country."
Wyoming would go 10-3 during Roach's first season at the helm, including a perfect 8-0 mark in conference play. The Cowboys took on Iowa in the Holiday Bowl, dropping a 20-19 heartbreaker to the Hawkeyes inside Jack Murphy Stadium. Roach's team would make a return trip to San Diego the following December after winning 11 games and again rolling through the WAC schedule unscathed.
No. 12 Oklahoma State and its Heisman Trophy winning running back, Barry Sanders, awaited. The Pokes from Stillwater rolled to a 62-14 victory. Sanders rushed for 222 yards and five touchdowns in the rout.
After a 5-6 season in 1989, which included non-conference games against Louisville, Washington State and OSU, Roach got the ship righted in 1990, what would be his final year with a headset.
The Cowboys jumped out to a 9-0 start before dropping three straight to end the regular season. UW finished fourth in the standings but still found itself in the postseason, facing off with California in the Copper Bowl. Another nail biter ensued. So did another loss. The Golden Bears scratched out a 17-15 in victory.
Roach would name Joe Tiller his successor while he shifted his focus fulltime to the administrative side of athletics. He held the AD position until 1996. Roach was inducted into the Univ. of Wyoming Athletics Hall Of Fame in 1999.
McKinney called Roach a "great boss."
"He's one of the most remarkable guys I have ever known," he said Monday. "... He just wanted to help Wyoming. He never acted as if he was the athletics director and the head coach. He was always approachable. You know, I rarely saw him get upset. He always kept his cool and kept a pretty even personality. He had a great sense of humor.
"He was a good friend. You know, what he did for Wyoming is just unbelievable."
Roach began his coaching career at Hettinger High School High School in North Dakota back in 1952. He moved on to Dickinson High School (N.D.) from 1954-56 before accepting his first collegiate gig at North Dakota State (1957-61). He went on to coach at Wyoming (1962-69) and Wisconsin (1970-71) before landing his first job in the NFL. That was on Madden's staff in Oakland where he coached the Raiders from 1972-74.
Roach eventually landed in Green Bay (1975-76) and Denver (1977-80) before leaving the game for six years.
He arrived in Laramie an unknown to the current locker room. He left a legend.
"I owe a lot to Paul Roach," Donahue said. "He is a great man. He was a players' coach. He loved us and we loved him."
MORE UW FOOTBALL NEWS VIA 7220SPORTS:
* Tuck's Takes: Peasley's gritty performance propels Pokes
* Three stars of the game: Pokes vs. Red Raiders
* Behind the numbers: Wyoming vs. Texas Tech
* Wyoming wins double-OT thriller over Texas Tech, 35-33
* Rants & Raves: Texas Tech Edition
* Turning point, unsung hero and what's next for UW
* 7220sports.com Kickoff Show: Let's get this party started
* Gear Up for Game Day: Texas Tech
* Know Wyoming's Foe: Texas Tech Red Raiders
University of Wyoming's Top 50 Football Players
The rules are simple: What was the player's impact while in Laramie? That means NFL stats, draft status or any other accolade earned outside of UW is irrelevant when it comes to this list.
This isn't a one-man job. This task called for a panel of experts. Joining 7220's Cody Tucker are Robert Gagliardi, Jared Newland, Ryan Thorburn, and Kevin McKinney.
We all compiled our own list of 50 and let computer averages do the work. Think BCS -- only we hope this catalog is fairer.
Don't agree with a selection? Feel free to sound off on our Twitter:
@7220sports
- #Top50UWFB
- University of Wyoming's Top 50 Football Players