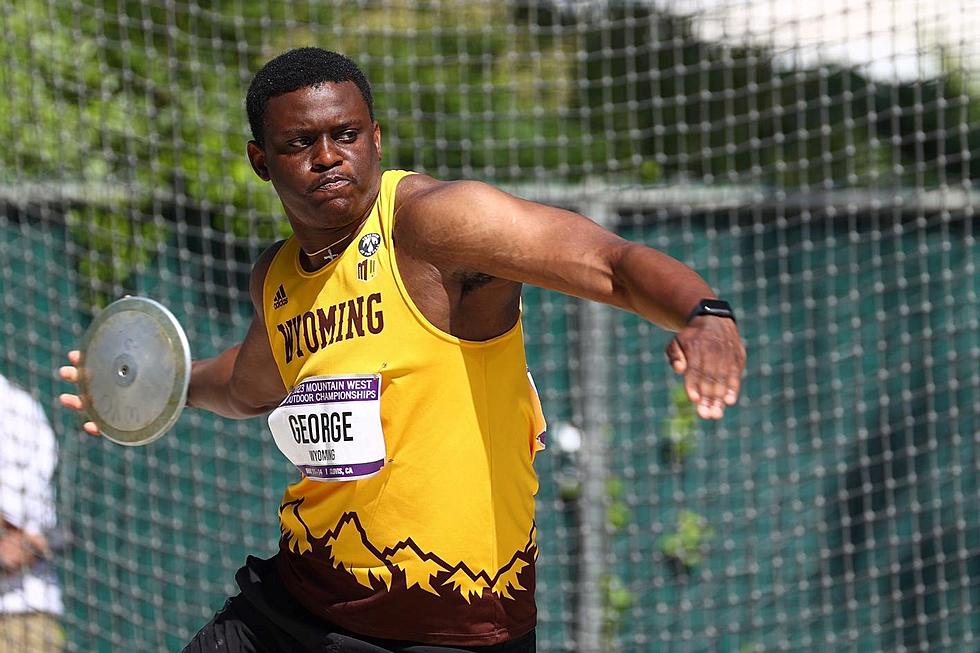 Pokes Take Sixth at Mountain West Track and Field Championships
On Championship Saturday at the 2023 Mountain West Conference Meet the University of Wyoming Track & Field Teams competed hard to make the podium and score points for the Brown & Gold./ NCAA courtesy photo
* University of Wyoming press release
CLOVIS, Calif. — On Championship Saturday at the 2023 Mountain West Conference Meet the University of Wyoming Track & Field Teams competed hard to make the podium and score points for the Brown & Gold. 
Tarique George took the first podium of the day and sixth overall of the Championships for the Pokes as he went 181-4 in the Discus. The mark was good for a third place finish and six points for the Cowboys. 
Jefferson Danso and Kaliff Guevara both put points on the board for the Cowboys in the Triple Jump. Danso went 47-9.25 for a fifth place finish while Guevara took the eighth spot in the event. 
Jacob White and Mason Norman both placed for the Pokes in the 5K. White ran a 14:02.60 to take fourth and earn five points for the Cowboys. Katelyn Mitchem took sixth for the Cowgirls in the same event running a time of 16:18.85 gaining three points for Wyoming. 
Jaheim Ferguson and Caige McComb went fifth and seventh in the 400 Hurdles running times of 52.61 and 53.67. Jaymison Cox ran a 47.49 in the 400M final for a seventh place finish for the Cowboys. Cox moved into the No. 5 spot all time at UW earlier in the season in the event. 
Aumni Ashby got the Cowgirls on the board in one of the first events of the day. The Cowgirl senior went 40-10.25 in the Triple Jump for eighth place. 
Janae Ramirez took eighth place in the 400 Hurdles clocking a time of 1:01.02. In the final event of the Championships the Cowboys 4x400 Relay team took fourth with a time of 3:13.22. 
After all was tallied the Cowboys placed sixth as a team with 72 points while the Cowgirls took 10th with 20.5 points. 
Full results for the three-day event can be found at https://rt.trackscoreboard.com/meets/51123/events
Up Next for the Cowboys and the Cowgirls will be the NCAA West Regionals to be hosted in Sacramento, Calif., in two weeks. The top 48 from the West Region in each event will qualify. List to come shortly. 
Stay up to date on Wyoming Track & Field by following @wyo_track on Twitter. 
Ten Of The Oldest Saloons In Wyoming
Old West history is even better with a cold beer in your hand. Join us for a bar crawl as we pay a virtual visit to the ten longest-running saloons in the Cowboy State.
Ten of the Oldest Saloons In Wyoming