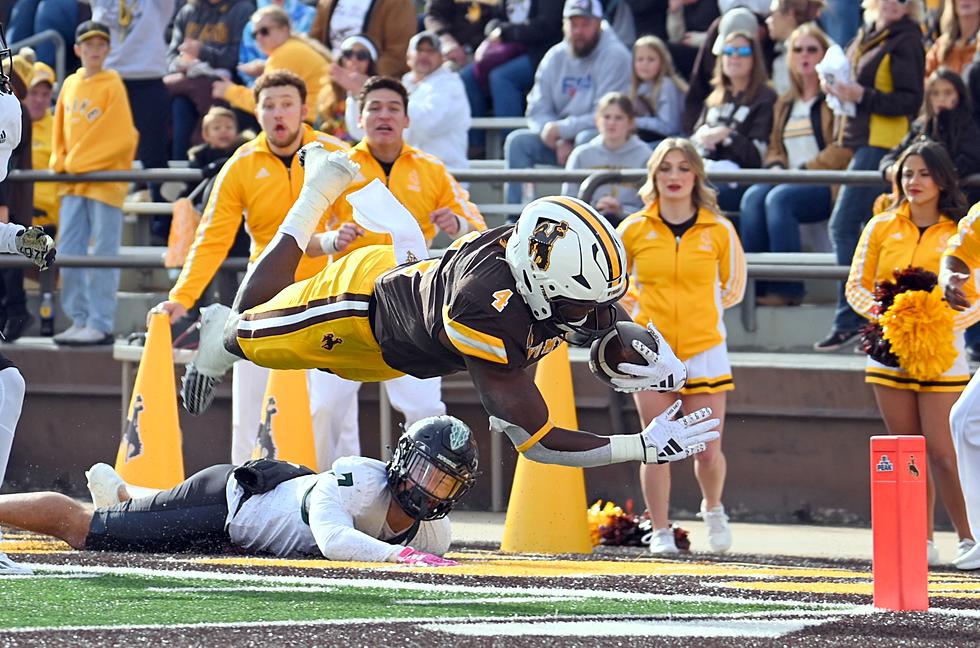 Rants & Raves: Hawaii Edition
Wyoming running back Harrison Waylee dives into the end zone in the second quarter, capping a 28-yard touchdown run./ DJ Johnson photo
LARAMIE -- When the main gripe of the day is about streaming Hawaii Spectrum TV on a cellphone, things have obviously gone pretty well.
Wyoming sure loves winning trophy games. They retained the Bronze Boot after knocking off hated Colorado State earlier in the month and Saturday hung on to the Paniolo Trophy for another year after a 42-9 dismantling of Hawaii inside War Memorial Stadium.
Unfortunately, the ultimate hardware -- the one with former Mountain West commissioner Craig Thompson's name etched into it -- will call somewhere else home this fall.
If only the Cowboys could win on the road, huh? That's something they have an opportunity to do next Saturday night in Reno.
Until then, let's take a look at the rants and raves from this big win:
FIRST HALF
SECOND HALF
MORE UW FOOTBALL NEWS VIA 7220SPORTS:
* Turning point, unsung hero and what's next for UW football
* Behind the numbers: Wyoming vs. Hawaii
* Live File: Hawaii Rainbow Warriors at Wyoming Cowboys
* 7220sports.com Kickoff Show: Will Bohl be back in '24?
* Gear up for game day: Hawaii
* Know Wyoming's Foe: Hawaii Rainbow Warriors
* Around the MTN: UNLV QB Jayden Maiava the real deal
* Cowboys, Hawaii battle for Paniolo Trophy at noon Saturday
* Wyoming's battered, bruised Cole Godbout 'gutting it out'
* Wyoming Cowboys in the NFL: Week 10
* Wyoming Football: News and notes ahead of Hawaii
University of Wyoming's Top 50 Football Players
The rules are simple: What was the player's impact while in Laramie? That means NFL stats, draft status or any other accolade earned outside of UW is irrelevant when it comes to this list.
This isn't a one-man job. This task called for a panel of experts. Joining 7220's Cody Tucker are Robert Gagliardi, Jared Newland, Ryan Thorburn, and Kevin McKinney.
We all compiled our own list of 50 and let computer averages do the work. Think BCS -- only we hope this catalog is fairer.
Don't agree with a selection? Feel free to sound off on our Twitter:
@7220sports
- #Top50UWFB
Gallery Credit: 7220Sports.com
- University of Wyoming's Top 50 Football Players