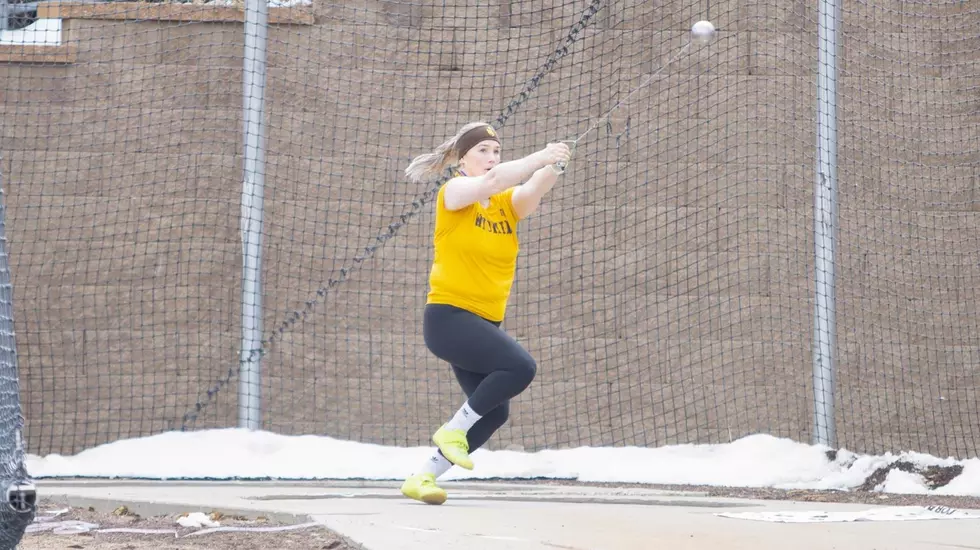 Reid, Stellern sweep discus at Kit Mayer Classic
Cosette Stellern picked up the win on the women's side with a mark of 150-3 last weekend at the Colorado School of Mines in Golden./ UW courtesy photo
GOLDEN, Colo. — A contingent of University of Wyoming Track & Field throwers competed on Sunday at the Kit Mayer Classic hosted by the Colorado School of Mines. 
Wyoming swept the Discus with wins by Cowboy Nathan Reid and Cosette Stellern. Reid's throw of 170-2 is a personal best and is his first win as a Cowboy for the native Jamaican. Stellern, a graduate of Cheyenne East, picked up the win on the women's side with a mark of 150-3.
Stellern was also the highest placing Cowgirl on Sunday in the Shot Put with a third-place finish. 
"It was great to get some wins along with a number of PRs and season bests," UW assistant coach Carrie Lane said. "Coach Melanie Heslop did a fantastic job this week preparing the group for the today's competition."
Anna Gillis started off the day for Wyoming with a second place mark in the Hammer Throw with a throw of 181-3. Daniel Carrillo had his highest placing as a Cowboy on the day, taking second place with a PR of 54-1.75 in the Shot Put. 
RESULTS 
COWBOYS 
Discus: 1. Nathan Reid 170-2 (PR), 2. Mikey DeRock 165-5
Shot Put: 2. Daniel Carrillo 54-1.75 (PR), 3. Mikey DeRock 52-1.25, 6. Nathan Reid 46-4
Hammer Throw: 5. Hap Frketich 182-11, 8. Daniel Carrillo 142-10
COWGIRLS 
Discus: 1. Cosette Stellern 150-3
Hammer Throw: 2. Anna Gillis 181-3, 8. Jordan Christensen 136-5, 10. Mateya Mobley 133-2
Shot Put: 3. Cosette Stellern 43-5.75, 6. Jordan Christensen 41-6, 8. Mary Carbee 39-10.5, 9. Mateya Mobley 39-3.25
Javelin: 3. Ally Serbick 99-8
Up next on the schedule for the Wyoming Track and Field teams is the Jack Christiansen Invitational next weekend, April 24th, hosted by Colorado State.
* University of Wyoming press release
KEEP READING: Here are the best places to retire in America