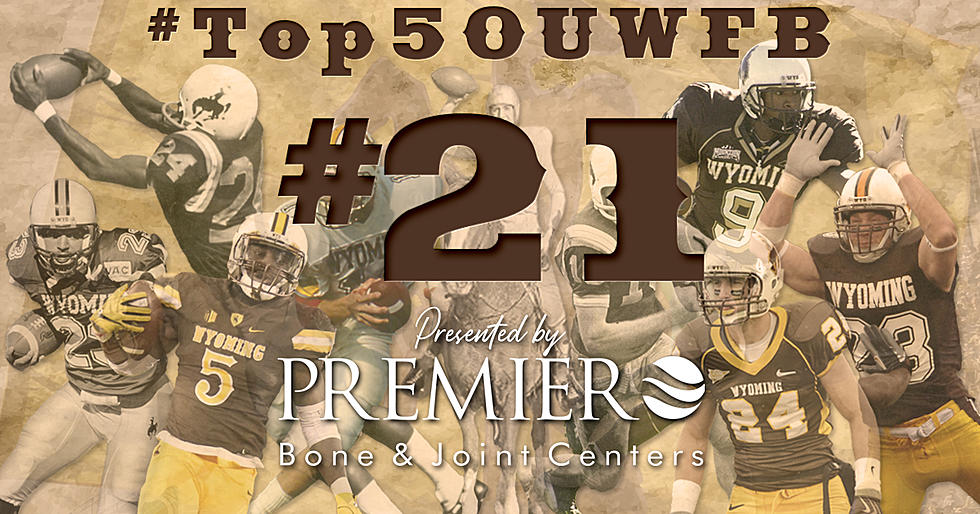 UW's Top 50 football players: No. 21
Jen Kost graphic/ UW courtesy photos
LARAMIE -- During this summer series we are going to countdown the Top 50 football players in Wyoming history, presented by Premier Bone & Joint Centers, Worthy of Wyoming.
The rules are simple: What was the player's impact while in Laramie? That means NFL stats, draft status or any other accolade earned outside of UW is irrelevant when it comes to this list.
This isn't a one-man job. This task called for a panel of experts. Joining me is Robert Gagliardi, Jared Newland, Ryan Thorburn and Kevin McKinney. We all compiled our own list of 50 and let computer averages do the work. Think BCS -- only we hope this catalog is more fair.
Don't agree with a selection? Feel free to sound off on our Twitter page @7220sports.
Pat Rabold
Defensive tackle, 1984, 1986-88, Glencoe, Illinois
Here's why: You may have noticed above that Pat Rabold didn't play football in 1985.
He was busy undergoing a spinal fusion.
When he came back into the fold the following year, Dennis Erickson and Co. moved him to the offensive line. So, keep in mind that Rabold didn't record a single sack during his first three years on campus.
Why is that significant?
Aside from Mitch Donahue's 49 quarterback takedowns -- which took him four years, by the way -- no one got to the signal caller more times than Rabold.
As a junior, Paul Roach moved him to defensive tackle and he responded with 14 sacks. His senior year, he added 16 more. In just two seasons -- 26 games in total -- Rabold registered 30 sacks. All of those came from the interior. They are still atop the record books at fourth and third all-time, respectively.
How's that for dominant?
And think about this -- Rabold and Donahue were on the same defensive line in those two seasons.
Yikes.
Rabold wasn't only masterful as getting to the guy under center, he also recorded 185 tackles and six tackles for loss to go along with four forced fumbles. There were 27 quarterback hurries mixed in there, too.
Rabold was named second team All-WAC as a junior. The following year he earned AP All-American status and was named the conference's Defensive Player of the Year.
Is it a shocker that the Pokes won back-to-back titles, went 21-3 during that two-year span and played in a pair of Holiday Bowls?
Rabold went on to be selected by the Buffalo Bills in the 1989 NFL Draft. He went in the ninth round. Rabold was enshrined in the Wyoming Athletics Hall of Fame in 2004.
Tucker's take: Those Holiday Bowl appearances mentioned above typically don't bring back a ton of great memories for UW fans.
In '87, the Cowboys really let one get away when they fell to the Iowa Hawkeyes 20-19 in San Diego. Then there was the Barry Sanders experience the next winter. The score of that game against Oklahoma State -- 62-14 -- paled in comparison to what the Heisman Trophy winner did that night, rushing for 222 yards and tacking on five touchdowns.
Despite that, Rabold was a bright spot for the Cowboys in both setbacks.
Against the Hawkeyes, the junior tallied seven tackles and two sacks. Against the Cowboys in orange, he added 11 stops and three tackles for loss.
Here's what a competitor sounds like.
"They have an outstanding football team," Rabold told the Associated Press after the '88 loss to OSU. "I wouldn't begin to deny that. But we couldn't make any tackles, they ran by us, they ran over us. They did nothing wrong, and we did nothing right.
"We were embarrassed out there. It's a shame we couldn't have shown more pride and at least stopped them toward the end. Their backup people even killed us."
That was Rabold's final football game in a Wyoming uniform.
This group -- Rabold, Donahue, Jeff Knapton, David Edeen, Doug Rigby, Craig Schlichting, Galand Thaxton, Robert Midgett, Mike Schenbeck, and others -- was special. I recently asked Schenbeck what made these guys so good aside from just the overall talent.
"We all loved each other," he said.
Simple enough.
This was a case of "iron sharpens iron," but Rabold was truly unique. A position-less player who underwent an extensive, career-threatening surgery is No. 2 in sacks all time in Laramie.
Cowboy tough? You bet
How the panel voted: Cody Tucker (22), Robert Gagliardi (29), Jared Newland (19), Ryan Thorburn (15), Kevin McKinney (44)
Previous selections: No. 50, No. 49, No. 48, No. 47, No. 46, No. 45, No. 44, No. 43, No. 42, No. 41, No. 40, No. 39, No. 38, No. 37, No. 36, No. 35, No. 34, No. 33, No. 32, No. 31, No. 30, No. 29, No. 28, No. 27, No. 26, No. 25, No. 24, No. 23, No. 22
Cody Tucker: Brand Manger and creator of 7220sports.com. Tucker has covered the Cowboys since June of 2019, but was a season-ticket holder for nearly three decades. Tucker has also covered Michigan State University Athletics for the Lansing State Journal and Detroit Free Press and the NHL's Pittsburgh Penguins during his 10-year journalism career
Robert Gagliardi: Former sports editor and University of Wyoming beat reporter for WyoSports. Gagliardi covered the Cowboys from more than a quarter century. He also covered the team at the Branding Iron, the UW student newspaper. Gagliardi also co-authored the book: The Border War: The Bronze Boot Rivalry Between Colorado State and Wyoming
Jared Newland: Currently the local sales manager for Townsquare Media SE Wyoming, Newland worked with and around Wyoming athletics for 20 years, starting as a student athletic trainer in 1990. Newland has also served in the Sports Information Office, the Cowboy Joe Club, Wyoming Sports Properties and was a UW Athletics Hall of Fame Committee Member from 2002-14.
Ryan Thorburn: Currently covering the Oregon Ducks for The Register-Guard, Thorburn also covered the Cowboys in the early and mid-90's for the Branding Iron and Casper Star Tribune. He has also written four books about Wyoming Athletics: The Border War: The Bronze Boot Rivalry Between Colorado State and Wyoming, Cowboy Up: Kenny Sailors, The Jump Shot and Wyoming's Championship Basketball History, Lost Cowboys: The Story of Bud Daniel and Wyoming Baseball and Black 14: The Rise, Fall and Rebirth of Wyoming Football
Kevin McKinney: Currently the senior associate athletics director for external affairs at the University of Wyoming, McKinney also serves as the radio color commentator for Wyoming football and men's basketball. McKinney has been involved with UW Athletics in some capacity since 1972. He was also inducted into the Wyoming Association of Broadcasters Hall of Fame in 2015.
Wyoming Cowboys football players in the NFL: Then and now