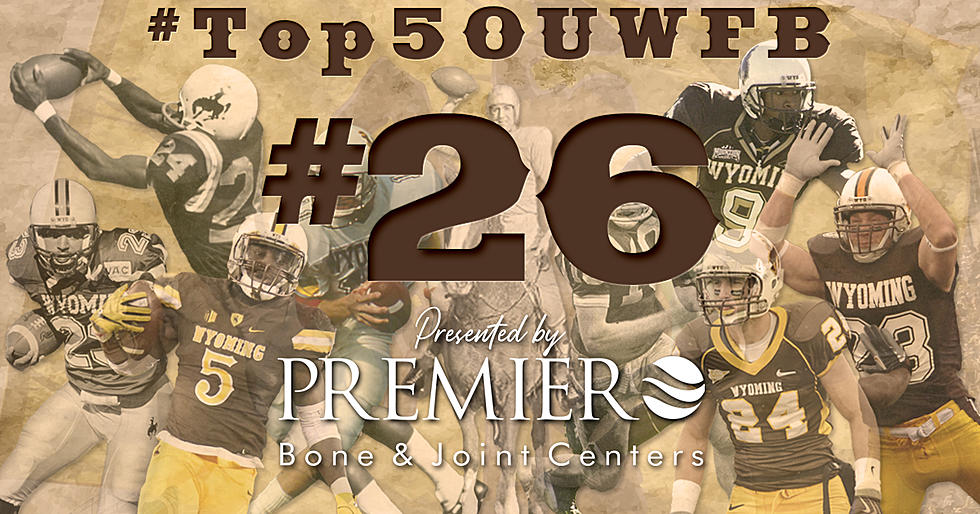 UW's Top 50 football players: No. 26
Jen Kost graphic/ UW courtesy photos
LARAMIE -- During this summer series we are going to countdown the Top 50 football players in Wyoming history, presented by Premier Bone & Joint Centers, Worthy of Wyoming.
The rules are simple: What was the player's impact while in Laramie? That means NFL stats, draft status or any other accolade earned outside of UW is irrelevant when it comes to this list.
This isn't a one-man job. This task called for a panel of experts. Joining me is Robert Gagliardi, Jared Newland, Ryan Thorburn and Kevin McKinney. We all compiled our own list of 50 and let computer averages do the work. Think BCS -- only we hope this catalog is more fair.
Don't agree with a selection? Feel free to sound off on our Twitter page @7220sports.
Paul Toscano
Quarterback/ safety, 1965-67, Congers, New York
Here's why: As a senior, Wyoming quarterback Paul Toscano was named the Player of the Year in the Western Athletic Conference. Obviously that came with a first-team selection, too. He is one of only two Cowboys in history to finish in the Heisman Trophy voting.
He helped lead the Cowboys to their best season in school history and a trip to the Sugar Bowl that season.
"Pitchin' Paul" was one of the best signal callers in the nation, finishing sixth overall in passing with nearly 1,800 yards through the air. At the time, it was the greatest single-season performance in Wyoming lore. Toscano set or tied 11 passing records. He led the WAC in total offense after adding 124 rushing yards to the state sheet.
Oh, by the way, Toscano started his career in Laramie as a safety.
A darn good one for two seasons, too.
He hadn't played quarterback since high school, but when the Pokes were thin at that position, Lloyd Eaton let it all ride on the right arm of Toscano. All he did was deliver all that good stuff written above.
His Wyoming Athletics Hall of Fame plaque states that Toscano was a "Storybook" player. He's certainly one of the most versatile players to ever wear a Cowboy uniform.
Toscano was drafted by the Houston Oilers in the seventh round of the 1969 NFL Draft after earning Most Outstanding Back as a member of the North Squad in the Senior Bowl.
McKinney's take: Paul Toscano might be one of the most remarkable student-athletes in Cowboy football history.
For two seasons he was an outstanding safety for the Wyoming defense. His junior year saw him produce six pass interceptions, as the leader of a nationally-renowned defense. That nationally-ranked defense was instrumental in helping the Cowboys race to a 10-1 season in 1966, and a victory over Florida State in the Sun Bowl.
The Cowboys entered the 1967 campaign without a proven quarterback. Their starter from the previous season, Rick Egloff, had graduated. Toscano had played quarterback in high school, but not as a collegian. As good a defender as he was, he had zero experience as a quarterback.
Despite missing most of the spring with a muscle injury, he was named as the starter heading into the 1967 season. Totally untested, Toscano directed the Cowboys to a 10-1 record and a date with LSU in the 1968 Sugar Bowl. He finished that season throwing for 1,791 yards and 18 touchdowns while rushing an additional 94 times for another 124 yards and four touchdowns. He finished the season as the Pokes' total offense leader.  He was the leading ground-gainer in the Sugar Bowl itself.
From two completely different positions, one season as the quarterback of the defense (safety) and the other, quarterback of the offense, Wyoming's Toscano directed the Pokes to a 20-2 overall record in two seasons as well as two Western Athletic Conference Championships and two bowl games.
It will be hard for anyone to ever duplicate that feat!
How the panel voted: Cody Tucker (43), Robert Gagliardi (NR), Jared Newland (10), Ryan Thorburn (28), Kevin McKinney (23)
Previous selections: No. 50, No. 49, No. 48, No. 47, No. 46, No. 45, No. 44, No. 43, No. 42, No. 41, No. 40, No. 39, No. 38, No. 37, No. 36, No. 35, No. 34, No. 33, No. 32, No. 31, No. 30, No. 29, No. 28, No. 27
Cody Tucker: Brand Manger and creator of 7220sports.com. Tucker has covered the Cowboys since June of 2019, but was a season-ticket holder for nearly three decades. Tucker has also covered Michigan State University Athletics for the Lansing State Journal and Detroit Free Press and the NHL's Pittsburgh Penguins during his 10-year journalism career
Robert Gagliardi: Former sports editor and University of Wyoming beat reporter for WyoSports. Gagliardi covered the Cowboys from more than a quarter century. He also covered the team at the Branding Iron, the UW student newspaper. Gagliardi also co-authored the book: The Border War: The Bronze Boot Rivalry Between Colorado State and Wyoming
Jared Newland: Currently the local sales manager for Townsquare Media SE Wyoming, Newland worked with and around Wyoming athletics for 20 years, starting as a student athletic trainer in 1990. Newland has also served in the Sports Information Office, the Cowboy Joe Club, Wyoming Sports Properties and was a UW Athletics Hall of Fame Committee Member from 2002-14.
Ryan Thorburn: Currently covering the Oregon Ducks for The Register-Guard, Thorburn also covered the Cowboys in the early and mid-90's for the Branding Iron and Casper Star Tribune. He has also written four books about Wyoming Athletics: The Border War: The Bronze Boot Rivalry Between Colorado State and Wyoming, Cowboy Up: Kenny Sailors, The Jump Shot and Wyoming's Championship Basketball History, Lost Cowboys: The Story of Bud Daniel and Wyoming Baseball and Black 14: The Rise, Fall and Rebirth of Wyoming Football
Kevin McKinney: Currently the senior associate athletics director for external affairs at the University of Wyoming, McKinney also serves as the radio color commentator for Wyoming football and men's basketball. McKinney has been involved with UW Athletics in some capacity since 1972. He was also inducted into the Wyoming Association of Broadcasters Hall of Fame in 2015.
MEET: The Four Richest People in Wyoming