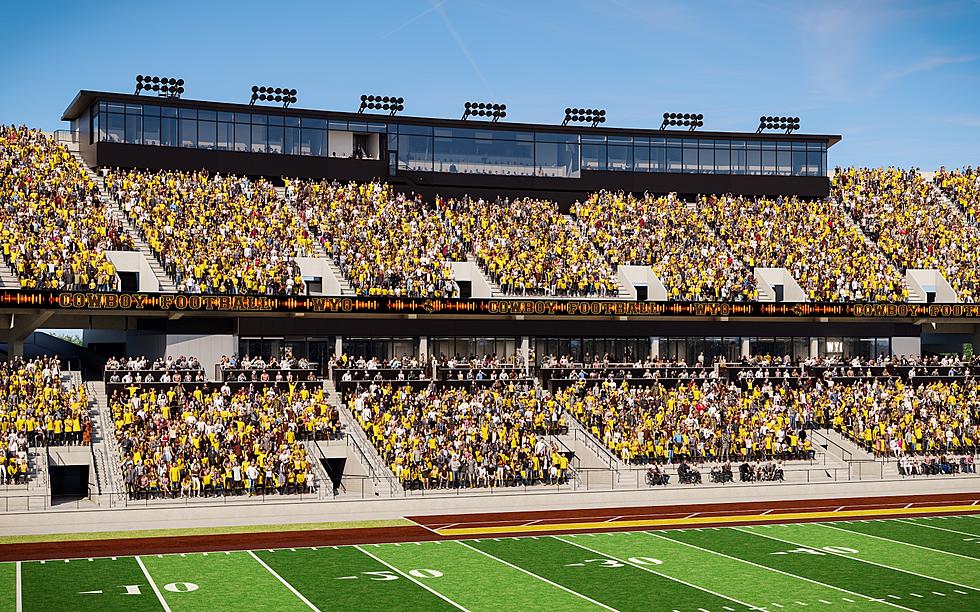 Wyoming Athletics Announces Plans for War Memorial Stadium Renovation
The University of Wyoming Athletics Department announced today, Nov. 7, its public awareness campaign, and detailed plans for the upcoming renovation to the West Side of War Memorial Stadium./ UW courtesy graphic
* University of Wyoming press release
LARAMIE -- The University of Wyoming Athletics Department announced today, Nov. 7, its public awareness campaign, and detailed plans for the upcoming renovation to the West Side of War Memorial Stadium.
Thanks to a significant investment from the Wyoming Legislature and $20 million in private funding, the "Restore the War" project is possible.
Following the conclusion of the 2023 football season, Wyoming will begin its two-phase "Restore the War," project, which will bring significant improvements to the West Side of War Memorial Stadium.
"For nearly 75 years, War Memorial Stadium has been home -- home not just to our incredible Cowboy student-athletes, but home to the Cowboy and Cowgirl community," remarked Athletics Director Tom Burman. "Six Saturdays each fall, we come together as a family to share our love for UW and to help propel our student-athletes in competition. We've seen historic wins, trophies raised, and share lifelong memories that can only be made at a place like UW. Now we must continue to invest in our home, War Memorial Stadium. This project is an opportunity to enhance the experiences we love through an investment in the very foundation that makes War Memorial Stadium so special to the State of Wyoming."
MORE UW FOOTBALL NEWS VIA 7220SPORTS:
* Wyoming Cowboys in the NFL: Week 9
* UNLV's Ricky White giving MW defenses fits
* Cowboys head to Vegas for key MW matchup
* Wyoming Football: News and notes ahead of UNLV
* Around the MTN: Just win, baby
* Gentry: 'I wouldn't change this for the world'
* Fort Collins native Gage Brook living out his dream in Laramie
Phase one of the project, set to begin immediately following the conclusion of football's 2023 home slate, will see the complete reconstruction of the lower west side. This portion of the project, which is scheduled to conclude ahead of the 2024 football season, will be highlighted by a new public concourse, improved seating options, and other critical improvements:
* Approximately 3,000 new chairback seats with cup holders, and increased width and leg room.
* New bleacher-style seating with increased width and leg room.
* New public concourse with added vomitories (entrance/exit points) into the War
* Memorial Stadium west side stands to improve traffic flow.
* Improved ADA access to the west side of War Memorial Stadium.
* New concourse and stadium lighting to improve spectator and student-athlete visibility and safety.
* Newly constructed restrooms, concession stands, and team store.
Phase two of the project will begin at the conclusion of the 2024 season. This phase will include a comprehensive renovation of the War Memorial Stadium Media and Broadcast Center and will allow for significant improvements in media and guest accommodation, improved access for local, regional, and national media, including national television networks, and improved gameday efficiency.
Phase two will also include construction of a new, premium club area that will rest between the seating blocks on the lower west side, and upper west side of the stadium. The new premium area will include 216 new loge-style seats which will allow fans to enjoy all the sights and sounds of Gameday in an outdoor setting. Seats will also come with access to a new, climate controlled indoor club experience with premium food and drink options, and a full-service bar.
Fans will enjoy the best pregame experience in the Mountain West and have the opportunity to step inside between the action on the field to accommodate all of your needs. All loge seats will include club access. Additional club access tickets will be available to those with seats purchased on the West Side and will become available based on priority points.
Phase two of the project is expected to be completed prior to the beginning of the 2025 football season.
In addition to the improvements to War Memorial Stadium, the project will also fund a new swimming and diving facility. Full details of that project will be announced at a future date.
The University of Wyoming Athletics department is also excited to announce the launch of www.RestoreTheWar.com, an interactive website which details the upcoming renovation to War Memorial Stadium. Fans are encouraged to visit the website to find further details, interactive FAQs, project renderings, and more important information.
Cowboy and Cowgirl supporters are also encouraged to contribute to the Cowboy Joe Club during this vital period of expansion and growth.
The Cowboy Joe Club provides scholarships and resources to Wyoming student-athletes and is essential for the continued success of Wyoming Athletics. Donating to the Cowboy Joe Club will also help you increase your priority points, which will be used to allot seats/access in both the new lower west side, loge area, and premium club area inside War Memorial Stadium.
For more information regarding the "Restore the War" project, how to contribute, or the Cowboy Joe Club, please visit RestoreTheWar.com, or call 307.766.6242.
University of Wyoming's Top 50 Football Players
The rules are simple: What was the player's impact while in Laramie? That means NFL stats, draft status or any other accolade earned outside of UW is irrelevant when it comes to this list.
This isn't a one-man job. This task called for a panel of experts. Joining 7220's Cody Tucker are Robert Gagliardi, Jared Newland, Ryan Thorburn, and Kevin McKinney.
We all compiled our own list of 50 and let computer averages do the work. Think BCS -- only we hope this catalog is fairer.
Don't agree with a selection? Feel free to sound off on our Twitter:
@7220sports
- #Top50UWFB
Gallery Credit: 7220Sports.com
- University of Wyoming's Top 50 Football Players