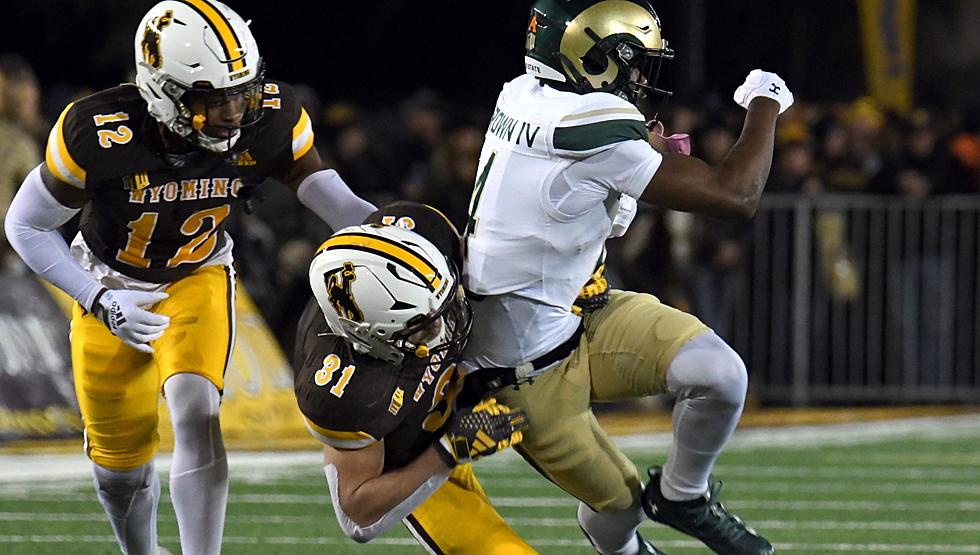 Around the MTN: Just Win, Baby
Wyoming safety Wyett Ekeler makes a tackle during the Cowboys 24-15 victory over Border War rival CSU last Friday in Laramie./ DJ Johnson photo
* A Mountain West press release contributed to this report
LARAMIE -- What games should Wyoming fans be giving the most attention?
Look no further than the Cowboys Friday night tilt in Sin City against upstart UNLV. Win and you're right back in the thick of the Mountain West race with just a couple of weeks remaining in the regular season. Lose and the Rebels will very much solidify themselves in that very conversation.
Another game to keep an eye on will take place in San Jose where the Spartans will host rival Fresno State. The No. 25 Bulldogs need another loss on their résumé to help Wyoming's cause. However, a loss to SJSU will keep Brent Brennan's team in the hunt.
Boise State also needs to end up in the loss column one more time this season. Because of the head-to-head win over the Cowboys, the Broncos still hold the tie-breaker.
MORE UW FOOTBALL NEWS VIA 7220SPORTS:
* Gentry: 'I wouldn't change this for the world'
* Three Stars of the Game: Pokes vs. Rams
* Wyoming captures 115th Border War with 24-15 win over CSU
* Behind the numbers: Wyoming vs. CSU
* Turning point, unsung hero and what's next for UW football
* Live File: CSU Rams at Wyoming Cowboys
* 7220sports.com Kickoff Show: Who wants it more?
* Gear up for game day: Colorado State
* Know Wyoming's Foe: CSU Rams
* Fort Collins native Gage Brook living out his dream in Laramie
* Annual Bronze Boot run to be held Thursday
* 'Dynamic' Tory Horton poses problems for Pokes secondary
* Wyoming-CSU meet Friday in 115th Border War
* Wyoming Cowboys in the NFL: Week 8
* Wyoming Football: News and notes ahead of CSU
That likely won't happen this Saturday with New Mexico heading to The Blue, but Andy Avalos' squad still has a trip to Utah State and a home meeting with first-place Air Force on the slate.
Bottom line: Wyoming needs to worry about winning. Destiny was stripped after that debacle inside Albertsons Stadium two weeks ago.
"You're hearing some of the outside noise of us maybe playing in a Fiesta Bowl and all these different scenarios out there, you have to take care of business," UW head coach Craig Bohl said. "That means being focused on the opponent and the task at hand."
Wyoming and UNLV are set to kickoff at 8:45 p.m. Mountain Time inside Allegiant Stadium and the game will be televised on FS1.
MOUNTAIN WEST STANDINGS:
Air Force 8-1, 5-0
Fresno State 8-1, 4-1
UNLV 7-2, 4-1
Boise State 4-5, 3-2
Wyoming 6-3, 3-2
San Jose State 4-5, 3-2
Utah State 4-5, 2-3
Nevada 2-7, 2-3
Colorado State 3-6, 1-4
New Mexico 3-6, 1-4
San Diego State 3-6, 1-4
Hawaii 3-7, 1-4
Here are some other news and notes from around the Mountain West landscape:
All 12 Mountain West teams are in action in Week 11, starting with a Friday night matchup featuring Wyoming at UNLV. No. 25 Fresno State puts its new national ranking to the test at San José State on Saturday, while league-leading Air Force visits Hawai'i.
Fresno State (8-1, 4-1 MW) returned to the AFCA poll at No. 25 this week. The Bulldogs, who spent two weeks in national rankings earlier this season, are the first team out of the Associated Press poll. After suffering its first defeat of the season, Air Force (8-1, 5-0 MW) dropped out of both polls from No. 17 but is receiving votes in both this week and is the first team out of the AFCA rankings. UNLV (7-2, 4-1) is also receiving votes in the AFCA poll.
UNLV put up its largest point total of the season and the eighth-largest margin of victory in program history in its 56-14 win at New Mexico in Week 10, which clinched the Rebels' first winning season in a decade and moved them within a game of first place in the MW standings. UNLV managed three scoring drives of under 10 seconds, first taking advantage of a 59-yard punt return by junior Jacob De Jesus to set up Jayden Maiava's 30-yard touchdown pass to junior wide receiver Ricky White III on the Rebels' first play from scrimmage for a drive that lasted all of seven seconds. Junior defensive back Jett Elad's 62-yard fumble return to the New Mexico 5-yard line in the second quarter set up senior running back Donavyn Lester's 5-yard TD run, which took just six seconds off the clock, and Maiava and White connected again for a 58-yard TD on the first play of a third-quarter drive that took just eight seconds. Maiava earned his third MW Freshman of the Week honor this season for his efforts, while White was named the MW Offensive Player of the Week for the first time in his career.
White is coming off his fourth game this season with at least 150 receiving yards, the most in the FBS. With six career games with 150 receiving yards, he is tied with Fresno State's Davante Adams for third most in MW history behind Colorado State's Rashard Higgins and Boise State's Thomas Sperbeck (seven each).
Wyoming (6-3, 3-2), which will play on Friday for the second straight week, got back in the win column with a 24-15 win over Colorado State in Week 10. Graduate quarterback Andrew Peasley went 15-for-22 for 140 yards and two touchdowns, while junior running back Harrison Waylee carried 29 times for 128 yards. Juniors Easton Gibbs, Wyett Ekeler and Shae Suiaunoa had seven tackles each to pace the Cowboys on defense, with Gibbs and Suiaunoa each logging an interception. Wyoming became bowl-eligible for the seventh time in the last eight seasons with the win over its border rival.
Fresno State outlasted Boise State 37-30 in Week 10 to move just a game out of first place in the MW. The Bulldogs got a career-high 255 all-purpose yards from junior running back Malik Sherrod, who had 21 carries for a career-high 132 yards and a touchdown, four catches for 28 yards, and a 95-yard kickoff return for a touchdown. His all-purpose total was the 10th-best in a game in program history, while the kickoff return for a TD was the 11th in program history and the first since 2008. Sherrod was honored as the MW Special Teams Player of the Week for his return, which came as time expired in the first half. Sophomore quarterback Mikey Keene threw for 290 yards and a TD on 24-for-38 passing, while senior safety Dean Clark had a team-best eight tackles and sophomores Al'zillion Hamilton and Phoenix Jackson each had an interception.
Idle last week, San José State enters Saturday's contest having won three straight to move over .500 in league play. All three wins have come by 21 points or more, marking the first time the Spartans have had a streak of three straight games with victories of at least 21 points since a four-game streak in 1990. SJSU blanked Hawai'i 35-0 last time out, posting its first shutout since 2013. Senior running back Kairee Robinson rushed 17 times for 146 yards and two touchdowns, extending his scoring streak to eight games. Senior quarterback Chevan Cordeiro was 16-for-26 for 251 yards and two TDs in his return to Hawai'i, where he spent the first four years of his career. Junior cornerback Kenyon Reed had a team-best six tackles, with two of them for loss, and defensive backs Jay'Vion Cole and Andrew Jenkins each had interceptions.
Air Force saw its 13-game winning streak snapped with its 23-3 loss to Army at Empower Field at Mile High in Denver, Colorado, in Week 10. Jayden Goodwin and Bo Richter each had double-digit tackles in the setback, totaling 12 and 10, respectively. Senior quarterback Zac Larrier threw for 93 yards on 9-of-22 passing and ran for 45 on 20 attempts. The Falcons continue to lead the FBS in rushing with an average of 284.2 per game, while the defense continues to be one of the top units in the FBS, ranking fifth in the FBS in scoring defense (14.4 ppg) and third in total defense (239.6). Air Force is 5-0 in the MW for the first time in program history, while it's one win shy of matching its best-ever conference start of 6-0, last done in 1985 in the WAC.
Hawai'i (3-8, 1-4) earned its first MW win of the season in week 10, downing Nevada 27-14 on the road. The Rainbow Warriors jumped out to a 17-0 halftime lead thanks to a career-long 50-yard field goal from senior Matthew Shipley, a 1-yard Dalen Morris run and the first of two TD connections between junior quarterback Brayden Schager and redshirt freshman wide receiver Pofele Ashlock. Hawai'i worked around a pair of second-half Nevada touchdowns on the strength of another Schager-to-Ashlock TD and another 50-yard field goal from Shipley, who became the first player in program history with two 50-yard field goals in the same game.
Utah State (4-5, 2-3) topped San Diego State in double overtime in Week 10, 32-24. Sophomore safety Ike Larsen had the defensive play of the game, intercepting a fourth-down pass in the second overtime and returning it 62 yards to seal the win for the Aggies. Larsen was named the MW Defensive Player of the Week for his efforts, which also included eight tackles. Graduate quarterback Cooper Legas came off the bench in the second half and went 11-for-15 for 167 yards and two TDs on the day, with one of them going to junior wide receiver Jalen Royals, who moved into a share of the FBS lead with his 11th TD catch of the season. Senior wide receiver Terrell Vaughn also had a TD catch and is ninth in the FBS with nine. The Aggies host Nevada in Week 11.
Nevada (2-7, 2-3) saw its two-game winning streak end with its setback to Hawai'i in Week 10. Junior running back Sean Dollars, who did not play in a Week 9 win over New Mexico, returned for the Wolf Pack and had a game-high 16 carries for 55 yards and two touchdowns. Both scores came in the third quarter, as Dollars scored on runs of 2 and 7 yards. Redshirt freshman quarterback AJ Bianco threw for 76 yards and ran for 63, both team highs. Nevada's defense has settled in lately, pitching shutouts in the first quarter in each of its last three games after allowing opening-drive touchdowns in five of its first six contests.
Boise State (4-5, 3-2) hosts New Mexico in Week 11. The Broncos dropped a 37-30 decision at Fresno State in Week 10, with Jonah Dalmas's 52-yard field goal with 31 seconds left making it a one-possession game before the Bulldogs recovered the ensuing on-side kick. Dalmas hit three field goals on the evening to become the program's career leader with 69, which ranks second in MW annals. Freshman quarterback Maddux Madsen was 22-for-42 for a career-high 258 yards and a TD, while senior running back George Holani ran for 79 yards and a score. Midseason All-American running back Ashton Jeanty missed the game with an injury.
New Mexico (3-6, 1-4) dropped its second straight with its Week 10 loss to UNLV. Senior running back Jacory Croskey-Merritt was a bright spot for the Lobos, as he ran for a game-high 86 yards on a game-high 21 carries and caught a 1-yard touchdown pass. Fellow senior running back Andrew Henry was the only other New Mexico player to find the end zone, as he ran for a 3-yard score early in the second quarter. The Lobos were undone by big plays on special teams and quick strikes from UNLV, which had three TD drives under 10 seconds.
San Diego State (3-6, 1-4) kicks off its final road swing of the season when it visits Colorado State in Week 11. The Aztecs fell in double overtime to Utah State in Week 10, rallying from a 10-point fourth-quarter deficit and forcing extra time on Jack Browning's 23-yard field goal with 33 seconds left in regulation. Senior quarterback Jalen Mayden went 25-for-39 for 265 yards and three TDs, while junior linebacker Cody Moon paced the Aztec defense with a season-best 13 tackles, including a career-high 10 solo stops.
Colorado State (3-6, 1-4) suffered a 24-15 setback to rival Wyoming in Week 10, seeing the Cowboys turn interceptions on consecutive drives into touchdowns in the 115th edition of the rivalry. Redshirt freshman quarterback Brayden Fowler-Nicolosi was 24-for-42 for 220 yards and two TDs, becoming the program's freshman record-holder with 2,696 passing yards this season. Junior defensive back Jack Howell had a game-high 10 tackles, while graduate DB Dom Jones had an interception the CSU's offense eventually cashed in for a touchdown.
UNLV junior wide receiver Ricky White III has been named the Mountain West Offensive Player of the Week, while Utah State sophomore safety Ike Larsen has been tabbed MW Defensive Player of the Week. Fresno State junior running back Malik Sherrod earned MW Special Teams Player of the Week honors and UNLV quarterback Jayden Maiava was selected as the MW Freshman of the Week.
The weekly honor is the fifth of Larsen's career, the third of Maiava's career and the first for White and Sherrod.
OFFENSIVE PLAYER OF THE WEEK
RICKY WHITE III, UNLV
Junior, Wide Receiver, Marietta, Ga. / Marietta HS / Michigan State
Had eight catches for 165 yards and two touchdowns in just two and a half quarters of UNLV's 56-14 win at New Mexico.
Averaged 20.6 yards per catch, with five of his catches going for first downs.
On UNLV's first offensive play of the game, caught a 30-yard touchdown pass to open the scoring.
Hauled in a 42-yard catch to the New Mexico 7-yard line in the second quarter, with UNLV scoring two plays later.
His final play of the day was a 58-yard touchdown grab in the third quarter.
DEFENSIVE PLAYER OF THE WEEK
IKE LARSEN, UTAH STATE
Sophomore, Safety, Smithfield, Utah / Sky View HS
Had eight tackles (six solo), including a tackle for loss, in Utah State's 32-24 double-overtime win at San Diego State.
Also had the game-sealing interception in double overtime, picking off a fourth-down pass at the 15-yard and line and returning it 62 yards.
His 2-yard tackle for loss came on a third-down play in the first quarter, forcing an SDSU punt.
SPECIAL TEAMS PLAYER OF THE WEEK
MALIK SHERROD, FRESNO STATE
Junior, Running Back, Oxnard, Calif. / Pacifica HS
Had a 95-yard kickoff return for a touchdown on the final play of the first half of Fresno State's 37-30 win over Boise State.
The kickoff return TD was the 11th in program history and first since 2008.
It was the longest kickoff return for a touchdown by Fresno State since 2007.
Also rushed for 132 yards and a touchdown and had four catches for 28 yards, finishing the day with 255 all-purpose yards.
FRESHMAN OF THE WEEK
JAYDEN MAIAVA, UNLV
Redshirt Freshman, Quarterback, Las Vegas, Nev. / Liberty HS
Went 13-for-18 for 247 yards and a career-high three touchdowns in UNLV's 56-14 win at New Mexico, despite not playing in the fourth quarter.
Threw touchdowns of 30, 43 and 58 yards.
Completed 72 percent of his passes and fashioned a 242.5 passing efficiency rating.
Ranks second among FBS freshmen in completion percentage (64.9) and third in passing efficiency rating (150.7).
Became just the second player in MW history to be named Freshman of the Week at least three times.
PRESS PASS: Roaming The War
Wyoming Cowboys vs. Montana State Bobcats
Gallery Credit: DJ Johnson/ 7220sports.com
-PRESS PASS: Roaming The War