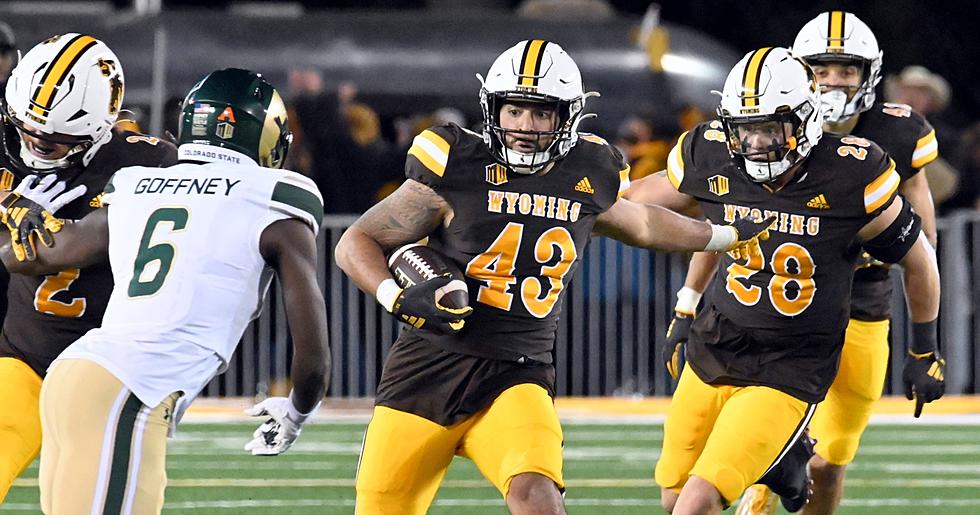 Turning point, unsung hero and what's next for UW football
Wyoming linebacker Shae Suiaunoa waits for blockers as he returns a Brayden Fowler-Nicolosi third-quarter interception./ DJ Johnson photo
LARAMIE -- Easton Gibbs simply hovered.
Dropping back in coverage, Wyoming's senior linebacker sat back and peered into the eyes of Colorado State quarterback Brayden Fowler-Nicolosi.
The redshirt freshman signal caller took the bait.
Gibbs, who was admittedly a bit "too wide" on the play, broke on the toss over the middle that was intended for tight end Dalin Holker. He reached out and snagged the gift before being brought down at the Rams' 38-yard line.
"I was kind of just flowing with the ball," said Gibbs, who also added seven tackles, a sack and a pair of QB pressures in the Cowboys' 24-15 victory over its most-hated rival. "I just saw it go up and I made a break on it. I was kind of reading the eyes and knew we needed a spark. I was glad I could provide it."
Wyoming had a dog fight on its hands, holding on to a slim 10-7 lead with 8:13 remaining in the third quarter.
MORE UW FOOTBALL NEWS VIA 7220SPORTS:
* Live File: CSU Rams at Wyoming Cowboys
* 7220sports.com Kickoff Show: Who wants it more?
* Gear up for game day: Colorado State
* Know Wyoming's Foe: CSU Rams
* Fort Collins native Gage Brook living out his dream in Laramie
* Annual Bronze Boot run to be held Thursday
* 'Dynamic' Tory Horton poses problems for Pokes secondary
* Wyoming-CSU meet Friday in 115th Border War
* Wyoming Cowboys in the NFL: Week 8
* Wyoming Football: News and notes ahead of CSU
* Around the MTN: Winning is for the birds
* Tuck's Take: Boise Buzzsaw Caught Pokes off Guard. Seriously?
That crucial interception came on a 3rd-and-5. It clearly didn't work. In fact, CSU finished the night 0-of-10 on that money down. Holker, who entered this meeting with 620 receiving yards and six touchdowns, was limited to just three grabs for 33 yards.
"There's no doubt about it," Wyoming head coach Craig Bohl said about Gibbs' pick turning the tide in this one. "It was on their side of the field. It was a great break. Huge momentum changer. Yep, it was big time."
Andrew Peasley fired an 11-yard pass into the back corner of the end zone six snaps later. Ayir Asante left his man in the dust, patiently waited for the ball to come down into his hands and tapped both feet in the gold paint before getting shoved out of bounds.
Wyoming's linebacker corps wasn't done quite yet.
On the ensuing CSU drive, Fowler-Nicolosi, again staring his intended target -- Justus Ross-Simmons -- down in the middle of the field, made yet another mistake. This time weakside linebacker Shae Suiaunoa stepped in front of the throw and returned it eight yards to the opposing 46.
The Cowboys' next drive took eight plays. Running back Sam Scott plowed his way through the Rams' front en route to the end zone. That one was from six yards out.
Wyoming was rolling, taking a commanding 24-7 lead.
"We thought turnover margin was really going to be important," Bohl continued. "I think, obviously, those two interceptions had a big, big impact in the game. It certainly changed the point spread."
The Cowboys' head man wasn't the only one who felt that way, either.
"A couple of mistakes early in the third quarter put us in a hole, and we can't make those," CSU head coach Jay Norvell said postgame. "So, I take the responsibility. Brayden got caught with the clock coming down on the shallow and threw the ball into double coverage on the vertical pass.
"It happens sometimes for young guys. We have to find a way to overcome."
Fowler-Nicolosi finished the night with 220 yards on 24-of-42 passing. He tossed two touchdowns to go along with those interceptions. He also fumbled late in the fourth quarter, leading to a 61-yard return to the 3-yard line by defensive end Tyce Westland.
Wyoming improved to 6-3 overall and 3-2 in Mountain West play. Arguably just as important -- if not more so -- Bohl's 'Boys have now claimed the Bronze Boot in seven of the last eight meetings, including three straight in the series.
CSU is now 1-19 in its last 20 rivalry games against Wyoming, Colorado and Air Force. The lone win came over the Cowboys in an empty Canvas Stadium in a COVID-shortened 2020 season.
"We were coming in here, a rivalry game, and like I said, coming off last week, so we just had added motivation," Gibbs said, referring to a lopsided 32-7 loss at Boise State. "Especially it being, you know, my last Border War -- I know it's special for the state and for the people -- so I just lay it all out there."
Wyoming 24, CSU 15
UNSUNG HERO
DeVonne Harris didn't tally a sack in this win over the Rams, but you'd be hard pressed to find a more disruptive force on the Cowboys' defense in this one.
The 6-foot-4, 230-pound edge rusher, affectionately known as "speed goggles" because of the rec specs he wears under his helmet, finished with just five tackles, including two solo stops in the victory. He added a pass breakup and three QB hurries.
That's what Wyoming's defense is supposed to look like, right?
"Yeah, we talked about it," Gibbs said. "Like, we've had spurts where we have been really good and we had spurts where we've been really bad. But we have not had a complete game yet. I don't think we have yet, either. I think this is probably as close as we've been all year. So, we're going to keep striving to get to that mark."
As long as No. 93 is making QB's uncomfortable, that shouldn't be a problem.
Harris now has 28 tackles to go along with a team-leading three sacks.
QUOTABLE
"I mean, it's surreal. I was on the Cowboy Walk today and I was like, man, there's only two more of these. But, I mean, we all knew this was a big week. We did not play well last week and we all knew we kind of had to get that chip back that we were missing last week. I think we did."
-- Wyoming linebacker Easton Gibbs on the reality of playing in his final Border War Friday night in front of 27,905 fans inside War Memorial Stadium
"Absolutely. I was leaving nothing out there and I own that personal foul 100%. I take pride in protecting my guys and if that's the sword I have to fall on, that's it, you know? I own that and I take pride in protection, for sure."
-- Wyoming's left tackle Frank Crum, who was hit with an unsportsmanlike conduct penalty on the Cowboys' final drive of the night.
"You know, I know he's down right now. He feels like he let his teammates down. I just don't think that's the case. I think we have to find ways to play better. As coaches, we have to help. He's our quarterback. It doesn't matter if he's a freshman. We have to find ways to help him. Nobody really cares if we're playing a freshman quarterback or we have guys hurt. Nobody cares. So, it's our job to help them get better."
-- CSU head coach Jay Norvell on his young signal caller Brayden Fowler-Nicolosi
"Obviously, there's a lot of emotion in football, and to come out with the W like that, you know, I get pretty excited. I'm like a little kid."
-- Wyoming QB Andrew Peasley on jumping into the student section to celebrate with fans after the final buzzer Friday night.
"I know I'm going to get quite a bit. Two-yard line? I could've dove that in. It was still so fun just running down that field. Nothing like it."
-- Wyoming defensive end Tyce Westland on whether or not he is going to get a hard time from his teammates for not scoring on that scoop and 61-yard run
WHAT'S NEXT?
How about some more Friday night football? Wyoming will travel to Sin City next week to take on the upstart UNLV Rebels inside Allegiant Stadium. The Cowboys own a slight 14-11 advantage in the series but have won six of the last eight meetings, including a 45-14 drubbing in Las Vegas back in 2020. The Rebels, led by first-year head coach Barry Odom, have been the surprise of the conference, winning six of their first seven games. UNLV dropped a heartbreaker at Fresno State last Saturday, suffering its first MW loss of the 2023 campaign. The Cowboys and Rebels are slated for an 8:45 p.m. Mountain Time kickoff and the game will be televised on FS1.
POKES: The Seven Best Games In The History Of The Wyoming-CSU Border War Rivalry (Naturally, they were all Wyoming wins)